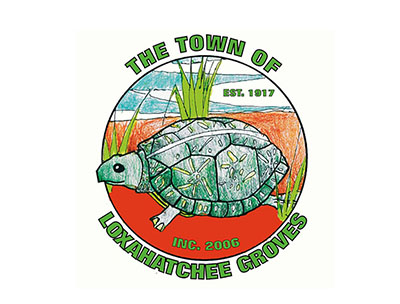 The Loxahatchee Groves Town Council approved a beautification grant from the Solid Waste Authority on Tuesday, Nov. 16 to install shelters, benches and recycling bins along Okeechobee Blvd.
Assistant Town Manager Francine Ramaglia said a window of opportunity came up with an idea to help beautify certain locations along Okeechobee Blvd. that could use aesthetic improvements.
"The Solid Waste Authority put out a grant of $750,000 to do beautification and also to decrease light and misuse of public property," Ramaglia said. "The grant is for five monument signs, some that we already have and are in the county right of way. This is to beautify the ones that are there and to add landscaping, and also to add lighting, which improves safety and detracts from loitering, littering and other types of activity that we currently have and don't want to have. It also establishes community pride and identifies our borders coming into and going out of the town."
In addition to the monument signs, multimodal structures would be provided for trash and recycling stations that would be in an enclosure to prevent spillover, as well as bike racks for the multipurpose trail on Okeechobee Blvd., if the board came to an interlocal agreement.
"We felt shocked, I guess you could say, to have received almost 50 percent of the $750,000 that they were giving out," Ramaglia said. "The grant was advertised to all the municipalities in Palm Beach County, and of those municipalities, we came out on top, with $350,000 out of the $750,000."
She said there is a catch that the town has to continue to use the right of way to place the trash and recycling, benches and multimodal stations.
"To do that, the Solid Waste Authority has given us 120 days to work with the county on the permit," Ramaglia said. "When we spoke with them, they said as long as it looks like we're proceeding with the permit, we do have the opportunity, and it is written in the contract, that the 120 days can be extended."
She said the town would need to provide a site plan to the county that would not have the design, but simply the location of the multimodal stations. One half of the check will be written upon receipt of the permit, and the other half upon completion of the project.
Ramaglia said the stations could be located on town or county property, but not private property.
Resident Mary McNicholas, who also works on lobbying issues for Loxahatchee Groves, said if the town can keep the structures maintained, she felt it would beautify the area.
"It talks about solar lighting, which I assume would be very low and dim," she said. "That's an important thing, because we like our stars, but you can see the trash. It does look like a blighted area. I hate to say that, because I do live here, and I take pride in what we do and clean up here."
Town Engineer Larry Peters said the community has one existing monument sign, and the others would be built.
"This started out with just the beautification of that one monument," Peters said. "Just across the street there is another monument for another town that is beautiful and maintained. Ours is despicable. It has no irrigation, it has no flowers, it's not maintained."
He said the sign in front of town hall could be part of the grant, and more monument signs could be installed at B Road, as well as one near Loxahatchee Groves Elementary School on Okeechobee Blvd., and possibly at D Road, Folsom Road and Crestwood Blvd.
Ramaglia said a conceptual drawing must be drawn quickly so the town can apply for the grant.
"We have to come up with a site plan so that we can, within 120 days, come to an agreement with Palm Beach County that they will let us use their right of way," she said.
Council members asked about placement of the stations, whether they could have them at school bus stops, and how far they would be from the road.
Peters said this stage is to get the town started on the process. "It's conceptual," he said. "We had an opportunity to get some money to beautify the town. You can place them wherever you wish."
He added that the grant is at no cost to the town, other than public works services estimated at $110,000.
Councilwoman Phillis Maniglia made a motion to approve applying for the grant, which carried 5-0.