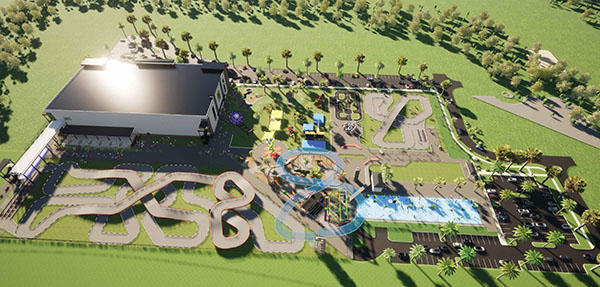 Westlake officials are hoping the Adrenaline World amusement park will become a fun destination for families throughout southeast Florida and a local jobs creator.
Plans for the park were approved by the Westlake City Council on Monday, Nov. 22.
"We are so excited to bring this new recreation venue to Westlake," said John Carter, vice president of Minto Communities, the master developer of the 3,800-acre municipality. "Adrenaline World will be a huge attraction and source of fun for families in Westlake and all across Palm Beach County."
Westlake City Manager Ken Cassel said he expects the 14.4-acre park to become a regional draw, pulling in family fun-seekers from as far away as Broward and St. Lucie counties.
"Plus, we think it will create a lot of jobs in the area, part-time and full-time. Especially for young people just out of high school," Cassel said.
Palm Beach Gardens resident Johan Kriek, one of the principals in the venture, said that Adrenaline World plans to employ more than 200 people once it opens in the spring of 2023, featuring the longest go-kart track in Florida.
"This is about family fun and excitement… to an extreme so that your adrenaline pumps," said Donaldson Hearing of the architectural firm Cotleur & Hearing, representing the park's developers. "That's what it's all about. It's really, really exciting, and it's totally family oriented with fun for all ages."
Located in the Westlake Landings development at Persimmon Blvd. just west of Seminole Pratt Whitney Road across from the planned Publix shopping center, Adrenaline World will contain multiple indoor and outdoor recreation venues.
The indoor recreation building will contain an arcade, virtual reality games, various themed climbing structures, a trampoline park, laser tag arenas and miniature golf. Party rooms for birthdays and special events will be available for rent, and food service will be provided as an amenity to those using the facilities.
The outside portion of Adrenaline World will be home to a multi-level go-kart track, along with a small-kid training track. All go-karts will be powered by sustainable electric batteries to reduce noise and eliminate exhaust fumes.
Additional outdoor entertainment will include a dinosaur park, splash pad, rope course and cloud climb.
"We'll have an observation deck, which can be utilized for some of the party events, but also an opportunity to grab something from the food services venue, and for parents to go out and watch their kids," Hearing said.
Use of Adrenaline World activities will be by appointment only, booked online in advance. Patrons will pay in advance for the use of the amenities in two-hour blocks of time. Hours of operation will be 2 p.m. to 10 p.m. on weekdays and 9 a.m. to midnight on weekends and holidays.
Construction is expected to start in 2022 as part of the 2.2 million square feet of commercial space approved for Westlake, along with 4,500 homes.
This would be the first major investment outside of Great Britain, where the Adrenaline World concept originated, for Kriek and his business partner, David Lloyd. Both are retired professional tennis players.
Born in South Africa in 1958, Kriek won two Australian Open titles and reached the semifinals at the French Open and U.S. Open, as well as the quarterfinals of Wimbledon. He became an American citizen in 1982. Kriek also is founder of the Global Water Foundation, a nonprofit organization dedicated to delivering clean water to the world's neediest communities.
Lloyd was born in 1948 in Great Britain and was a member of several of that country's Davis Cup teams.
Following his retirement from professional tennis, Lloyd worked as a coach at a tennis club, where he hatched the idea of creating a family friendly health club focused on tennis.
By 2013, Lloyd had 89 clubs with 440,000 members and some 6,000 employees. After selling the clubs, he went into real estate development in the United Kingdom and the Caribbean.