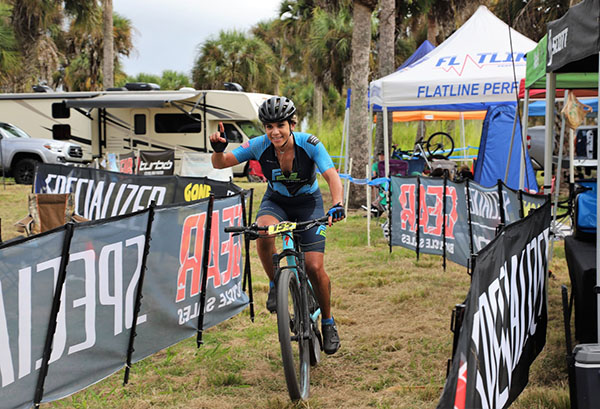 Longtime Loxahatchee resident and equestrian enthusiast Crystal Pena has performed an about face on her career in the equestrian world and is now an accomplished mountain bike racer.
For years, Pena, now 26, was a regular on the show jumping and barrel racing scene in the western communities, at one point operating her own equestrian services company.
However, she had to sell her horses in 2019. When COVID-19 hit, in search of a hobby to fill her time, Pena purchased a mountain bike as a weekend activity. It wasn't until September 2020 that she really became committed to the sport. That's when she bought her current mountain bike, a Specialized Epic. "At that moment, I knew I was hooked!" Pena recalled.
There are major differences between owning a horse and owning a mountain bike, but there are some similarities, too.
"The big difference between owning a horse and owning a mountain bike is that you don't have to feed the mountain bike," Pena joked. "However, there is maintenance required to ensure your equipment is working properly. And to be successful while riding a horse or a mountain bike, balance and athleticism are very important."
After taking up the sport of mountain biking, Pena has established herself as a proven and passionate participant in the competitive world of mountain bike racing.
In a short period of time, she has also racked up some impressive wins. This past December, Pena became the Women's Cat 2 Florida state champion in mountain biking. In fact, of the 12 mountain bike races she entered last year, she won nine of them. Each race lasts anywhere from 90 minutes to two hours.
"I felt uneasy about racing at the beginning, as I had been riding for only nine months," Pena said.
One of the keys to her early success has been the role of her Miami-based coach Freddy Viera, owner of F2 Performance Lab.
"He has really helped me to get where I am now," Pena said. "We work on interval training, endurance and building upper body strength."
Pena's success has attracted the attention of more people than her fellow competitors.
"As a professional photographer for more than four decades, seeing Crystal just explode onto the scene and commanding possession of the top podium in most of the races she entered was extraordinarily impressive," said Donn Ingemie, a Naples, Florida-based photographer. "Shooting cycling as long as I have, I'm fortunate to have friends who are national champions and recently medaled Olympians. I can't recall someone breaking into the sport and dominating as much as she has. Crystal is an athlete to watch."
This year, Pena will be moving up to a more competitive level on the mountain biking circuit.
While it's easy to find venues where people are perfecting the art of passing a football, shooting a basketball, hitting a baseball, kicking a soccer ball or fielding a softball, mountain biking venues are not as commonplace, especially in South Florida.
"Some of our local Palm Beach County trails include West Delray Regional Park, Dyer Park in Palm Beach Gardens, Jonathan Dickinson State Park in Jupiter and Pinehurst in Greenacres," said Pena, who works as an outside sales rep for City Electric Supply's Marine Division.
The competitive venues for mountain biking are sprinkled around the state.
"Some of the trails I've competed at are located in Ocala, Gainesville, Tallahassee and Lakeland," Pena said.
One of Pena's more immediate goals is to visit the mountain biking paths in one of the hotbeds of mountain biking in the U.S. — Bentonville, Arkansas.
While there are Olympic dreams to chase in show jumping, mountain biking is also in the Olympic rotation.
Pena admitted that she is chasing that Olympic dream, but perhaps not as soon as the 2024 games in Paris.
"I'm always shooting for the top," Pena said. "But I have to gain more experience. I have a long way to go."
While watching the Olympic mountain bikers compete in Tokyo last summer, she envisioned herself one day competing at that level.
Don't be surprised to see her climb to the top of mountain biking, perhaps sooner rather than later.
If you want to follow Pena's mountain biking adventures on social media, she can be found on Instagram, Twitter and Facebook @TheeCrystalP.