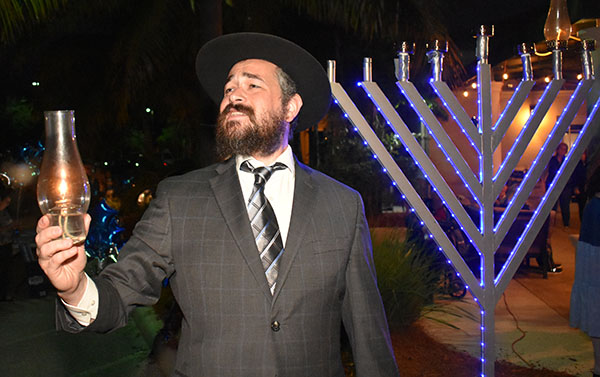 The Chabad Jewish Center of Royal Palm Beach is currently holding a fundraiser to pay for security improvements after signs at the temple were vandalized on Nov. 27, right before the Chanukah holiday.
"It was graffiti on the front two monuments as you first come into the campus," Rabbi Zevi Schtroks told the Town-Crier, adding that Palm Beach County Sheriff's Office deputies were the first to discover the damage. "They were here before we got here."
Schtroks said that he was informed by Royal Palm Beach Mayor Fred Pinto that the individuals responsible have been caught.
"Hopefully, it won't be ongoing," he said. "However, we're doing a fundraiser to help security over here, to have better lighting outside, better signage and other things such as cameras."
Schtroks thanked everyone who joined in a security meeting held in December, sharing comments and suggestions. "This is also the time to thank our security volunteers who help bring safety to everyone who visits the Chabad Jewish Center," he said.
Fred Jalazo is the facility's security coordinator. If anyone has concerns or suggestions that they would like to bring to the attention of the security team, they can e-mail Jalazo at security@jewishroyalpalm.com.
Schtroks said that the Chabad Jewish Center hosts many programs for the local community, with people attending daily.
"We need to be able to continue providing our services to the community while ensuring the safety of our community," he said. "In order to maintain and improve the security, we will need to increase our security measures."
He said a group of donors will be matching every dollar donated until it reaches its fundraising goal. To reach the fundraising site, visit www.charidy.com/empowerourcommunity.
"Please consider partnering with our Chabad Jewish Center by making a donation," Schtroks said. "Together, we will be able to improve our security and continue providing services in a secure environment. You may use this opportunity to have your donation dedicated to honor someone of your choice."
The Chabad Jewish Center of Royal Palm Beach, located at 129 Sparrow Drive, is dedicated to serving all Jews in the community. For more information, visit www.jewishroyalpalm.com.