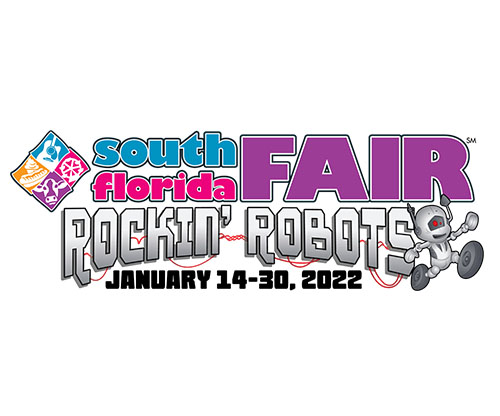 The 2022 South Florida Fair will be "Rockin' Robots" for 17 days Jan. 14-30, offering its full-fledged traditional offerings that guests have come to enjoy.
Theme-related happenings will be showcased throughout the 110th event, including larger-than-life-sized robots, interactive robotic activities, fun robots, bot battles, and robotics in agriculture, manufacturing, education and science.
The Robot Zoo is designed for children of all ages to explore the biomechanics of complex animal robots and discover how real animals work in this 2,500-square-foot touring exhibit. The exhibit reveals the magic of nature as a master engineer. Seven robot animals and more than a dozen hands-on activities illustrate real-life characteristics, such as how a chameleon changes colors, a giant squid propels itself and a fly walks on the ceiling.
The larger-than-life-sized animated robots also include a rhinoceros, platypus and a giant squid with 18-foot tentacles. A house fly with a 10-foot wingspread also is featured, along with a grasshopper and a bat.
Cutaways expose the animals' insides as a host of easily recognizable machine parts and gadgets, such as shock absorbers and pumps, that demonstrate what makes animals work. The Robot Zoo provides new insights and hands-on fun for discovering just how animals work.
Robot Ruckus, the largest combat robot competition in the United States, will take place at the fair, including robots from 150 grams to 250-pound heavyweights where participants will operate their own custom-designed, remote-controlled machines in a 40-foot-by-60-foot rink. Demonstrations will take place all week long, allowing guests to see the action and meet their favorite Battlebots teams as seen on TV. Competition of the TV teams will be featured at Robot Ruckus on the last weekend of the fair.
Movia Robotics builds systems and software to help children on the autism spectrum learn and grow using robotic technology. Movia will bring a "family" of friendly robots — Kebbi, Misty, iPal and NAO — entertaining children and adults with autism and other special needs.
Rock-It the Robot talks, walks and rocks! At nine feet tall, Rock-It is the ultimate galactic ambassador of goodwill whose mission is to greet and mingle with as many earthlings as possible. It's a bit of a romantic and loves to lip-sync to vocals as fairgoers are serenaded.
Max Power walks, talks, dances and more, creating an instant party wherever he shows up, whether by itself or with its music pumping and mini monster truck, Nitro.
Oscar The Robot provides laughter and creates memories while roaming the fairgrounds.
Robot Rangers are two seven-foot-tall energetic robots, full of spark, hardy high-fives and witty conversation. Guests will find them around the Agriplex and the midway.
The South Florida Fair is produced by the South Florida Fair & Palm Beach County Expositions Inc. Located at 9067 Southern Blvd. at the South Florida Fairgrounds, the 2022 South Florida Fair kicked off with a ride-a-thon on Jan. 13. The full fair will open Jan. 14 and continue through Jan. 30. For more information, call (561) 793-0333 or visit www.southfloridafair.com.