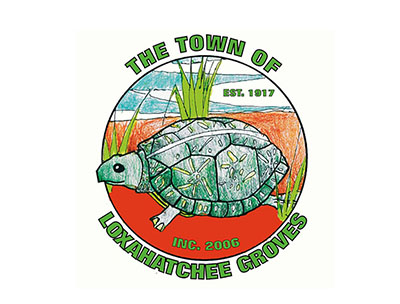 The Loxahatchee Groves Town Council on Tuesday, Jan. 4 tabled a request for a special exception on part of the Groves Town Center property to clear land east of the Aldi grocery store until it could get master developer Solar Sportsystems to report on any progress it has made with promises to the town, including cleaning up its horse trail and constructing an equine bridge.
At issue was Pod B of the Groves Town Center property, located at the northeast corner of Southern Blvd. and B Road.
Town Manager Jamie Titcomb said the development of Groves Town Center has created some timing issues for the builders of Pod B, located just east of the existing Aldi store.
"That has created some timing and synchronization issues, while moving forward on some aspects and not on others," Titcomb said. "For some of the participants, it has created a frustration, because they are ready to move forward, but they are held up by things that are beyond their control."
Dan Woodward, president of Royal Master Properties and managing member of Southern Palms Car Wash, was on hand to represent Pod B, which also includes a Culver's restaurant and a dental office. He has been waiting to start work on his property.
"We have been as patient as we can, waiting to be able to get going," Woodward said. "I actually contracted for my property. I own 1.5 acres. Over two and a half years ago, I made the first contract on that. I closed just over a year ago. In my situation, it costs me thousands of dollars a month, so we're all trying to push forward, and in the master development, there's so many moving parts. We understand that there are so many things that need to be done."
He asked that the developers of Pod B be authorized to start land clearing and development regardless of the issues with other pods.
"I know that there is an issue with the bridge somewhere on the property and to do with the horse trail," Woodward said. "We would respectfully request that we wouldn't be held up moving forward if the bridge is still being negotiated."
He asked that the council allow developers of Pod B to move forward as soon as they meet all requirements specific to that pod.
Councilwoman Phillis Maniglia said she was disappointed that the primary developer, Solar Sportsystems, was not present, and asked how Aldi was able to get a certificate of occupancy.
"I understand that these businesses are not multi-gazillion-dollar businesses," Maniglia said. "These are family businesses, most of them. How does this affect letting them continue to at least break ground and start their business? How does this affect us getting our bridge and horse trails completed?"
She noted that the date had passed for the bridge to be completed, and the trails need cleaning.
Town Planning Consultant Jim Fleischmann said Aldi's certificate of occupancy was granted by Palm Beach County.
"As you know, we now have our own building department, so a situation like that would be totally based on the town's assessments, not the county's assessments," Fleischmann said, adding that other applicants have not applied for permits yet, and they would be under the auspices of town planners.
He explained that the Pod B applicants are only asking for the ability to get land clearing permits at this time.
"All three of those properties are ready to go, with the exception of one additional attachment, which is the clearing and disposal management," Fleischmann said. "They need to tell us how they are going to manage their clearing and how they are going to manage the disposal."
He added that the applicants are working with their land clearing company to produce a plan for the entire Pod B.
"That, in my mind, does not affect any of the other approvals and permits that they need to get," Fleischmann said. "The clearing permit on Pod B… is a decision and a permit on its own. It's just a permit to allow them to start clearing."
Town Engineering Consultant Randy Wertepny with Keshavarz & Associates said Solar Sportsystems had obtained construction extensions for the bridge and trail maintenance due to the pandemic.
Councilwoman Marianne Miles said she felt property owners in Pod B should not be held hostage for what the master developer has agreed to with the town regarding a recreational project.
"I like the horse trails," Miles said. "I think they're great. I'm glad they were put in. They need to be improved. We need the bridge, but that is not Pod B's responsibility. My feeling is that we need to let them progress."
Mayor Robert Shorr said he did not favor cutting any more trees until Phase 1 of the project is complete.
"You've got a couple of landowners eating a monthly payment, and I'm sorry," Shorr said. "This doesn't mean I don't support whatever you're going to build, but this process needs to be solved the way it was laid out in the beginning. They have not done what they were supposed to do, and they have had plenty of time."
Vice Mayor Laura Danowski, who was chairing the meeting because Shorr was attending remotely, said she was sorry to hear that the developers are using COVID-19 as an excuse not to live up to their commitments.
"There have been so many promises bandied about that are not happening," Danowski said. "I have zero interest in compromise and renegotiation. Sadly, I am not in favor of this request, not until Solar Sportsystems does its homework and does what it needs to do… I am sorry that a small business owner is at the end of this losing stick."
Woodward said he did not see how using Pod B, which accounts for only about 5 percent of the property, would make a difference with Solar Sportsystems and pointed out that all Pod B is requesting is to begin land clearing, which would take about six weeks.
"I'm not sure the [town] is going to benefit by holding us up, but I know that it's going to hurt us," he said.
Fleischmann said he felt Solar Sportsystems might be held accountable through the maintenance agreement it has with the town.
Shorr made a motion to table the issue until the council's next meeting to give the master developer the opportunity to report to the council. The motion carried 5-0.