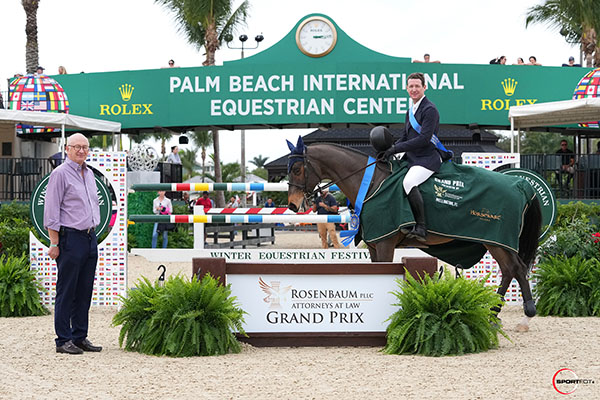 A virtual press conference was held Tuesday, Jan. 4 to welcome the 2022 Winter Equestrian Festival and Adequan Global Dressage Festival. The event featured panelists from different aspects of competition, as well as equestrian leaders talking about the upcoming horse show season in Wellington.
WEF began Wednesday, Jan. 5 at the Palm Beach International Equestrian Center, while the AGDF got underway a week later on Wednesday, Jan. 12 at PBIEC's Equestrian Village site. Both festivals run through April 3.
Panelists included 2021 U.S. Show Jumping FEI Nations Cup Final team member Lillie Keenan; top hunter, jumper and equitation rider and trainer Patricia Griffith of Heritage Farm; Equestrian Sport Productions President Michael Stone; AGDF Director of Sport Thomas Baur; Global Equestrian Group Commercial Director Anders Bjørnstrup; and Global Equestrian Group CEO Andreas Helgstrand.
Global Equestrian Group took over ownership of the WEF showgrounds last year, and there have been a number of upgrades made to the facility since then.
Stone said that the show rings have been enlarged, and new footing with underground irrigation has been added, so that water trucks and drags are not needed in the rings. "It makes it safer, and we can have a better experience," he said.
New, taller railings have been installed around most of the rings, tents and parking have been expanded, and drainage has been improved in areas where flooding has been an issue in the past.
Helgstrand said that Global Equestrian Group has found the best of the best in the jumping world to improve competition.
"That's something that we really want to develop," Helgstrand said, as well as adding more events to the program.
He explained how he first met with Equestrian Sport Productions CEO Mark Bellissimo three or four years ago to get into the showgrounds and add more events that would be compatible with equestrian events in Germany.
"We had many, many talks, and in the end, I was happy and lucky that we could combine it," Helgstrand said. "We had the opportunity to create something that was even more unique than what it is already. We want to invest money here, and we want to take care that Wellington remains the best place on earth for horse people."
Helgstrand noted that right now, Global Equestrian Group owns only the jumping portion but is interested in taking over dressage as well.
"We will do everything possible for the dressage riders, but as long as we don't own it, we cannot do more than what we do right now," he said. "Hopefully, we can take over the dressage very soon."
Baur said that the AGDF Lone Star Jumper Series for Grand Prix horses, as well as the Summit Farms Future Challenge for younger horses, has returned for the third year, and a series for 7-year-old horses has been added. Also new to the schedule are some four-star Grand Prix classes.
"The main reason for adding the four stars to the schedule was that we can spread the prize money over the shows more equally than we could before when we had only the three stars," Baur said of the additional dressage events. "It's beneficial for the riders because they can gain more world ranking [points] at four-star events. It's an opportunity for riders who don't do the World Cup to still do freestyle."
Keenan said that WEF has helped her progress as a rider in recent years since she has become a professional.
"Wellington is a place that I have been coming to since I was 7 years old," she said. "I'm 25 now, so it has been a while, and it has really become our home. We are so privileged because we actually have a stable here, so it's the one place that we can compete and also work at home. I think that is a unique advantage."
Keenan said that in addition to her top horses, she has some younger horses that she is bringing up to speed. Her best horse is rehabbing right now.
"I can still ride him myself every day of the week and be on top of his schedule to bring him back into sport while also pursuing my competitive goals, and it gives us an opportunity for a young professional like myself," she said. "I'm trying to develop my business, so I can teach younger riders in the other rings and also show a five-star in the same week."
Keenan added that it is nice to be around so many professionals at the top of their game.
"Even in dressage, I started having dressage lessons in Wellington over the past couple of years, and that really sparked my interest," she said. "Maybe I'll do something in that world as well. It's really a fantastic place that is pushing everyone to be their best, because that's really what competition is."
Griffith, who owns one of the largest barns in terms of the horses that come to the competitions, said that WEF is a great place to bring horses and riders to compete.
"Here there are fantastic rings, the best course designers, the jumps, the footing," she said. "The weather here allows us to show, no matter what. The rings have really been sustaining well with any kind of weather. We have to constantly be raising the bar because we are surrounded with such a high level of riding… If you're stacking yourself up against the best riders week in and week out, you're always pushing yourself to become better."
Griffith added that riders at the event know the schedule for the next 13 weeks and can pick what is important to them so they can peak at the right time, get a new, younger horse and feel there is an opportunity to move up and down, whether the competition is hunter, equitation or jumpers.
"There's a host of great classes," she said. "For our business, it's really important that there's a place that you can bring all your clients, so we can bring low adult hunters, who can be fantastic owners of the sport, and they have a place to show as well."
For more information about the Winter Equestrian Festival, visit www.pbiec.com. Learn more about the AGDF at www.globaldressagefestival.com.