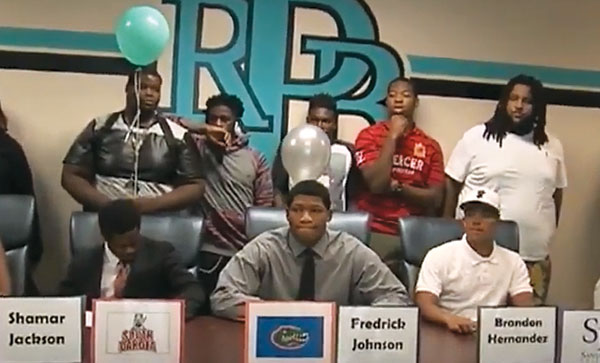 Football fans in the western communities who plan to watch the Super Bowl should keep an eye on #74 of the Cincinnati Bengals. It's former Royal Palm Beach High School football player Fred Johnson, a 2015 graduate.
Johnson is an offensive lineman for the Bengals. He should be easy to spot as he stands 6-foot-6 and weighs 325 pounds. According to RPBHS Athletic Director Eric Patterson, Johnson had never played football until he stepped foot on the RPBHS campus as a freshman.
"He was an inexperienced student-athlete who eventually blossomed into a good football player by his senior year," Patterson recalled.
The football coach who had the most influence on Johnson's life was the team's offensive coordinator, Robb Wilgoren. In fact, the two still stay in touch on a weekly basis. Wilgoren is now coaching receivers for the football team at Vista Ridge High School near Austin, Texas.
According to Wilgoren, Johnson was encouraged to play football as a freshman, which he did, but he didn't play at all as a sophomore because of some academic issues. Johnson returned to the gridiron as a junior, where he played for the junior varsity team. But things changed during spring practice of his junior year, just a few months away from the beginning of his senior year with the Wildcats.
"Fred decided to take a leadership role on the team as a senior," Wilgoren said. "We had a great season during Fred's senior year, and we lost in the Class 7A regional final of the state playoffs to St. Thomas Aquinas."
After that, Johnson accepted a scholarship offer to the University of Florida, where he played four years for the Gators as an offensive lineman. He was then signed as an undrafted free agent by the Pittsburgh Steelers on May 2, 2019. He made the team that year, but he was waived by the Steelers on Oct. 11, 2019. Three days later, he was signed by the Bengals and has remained a key part of Cincinnati's offensive line ever since. Now he's playing in the Super Bowl.
"Fred has grown from a little boy to a fine young man," Wilgoren said. "He's a super young man who truly cares about other people. When I look at Fred, it makes me feel proud about the role I have had in his life as a coach."