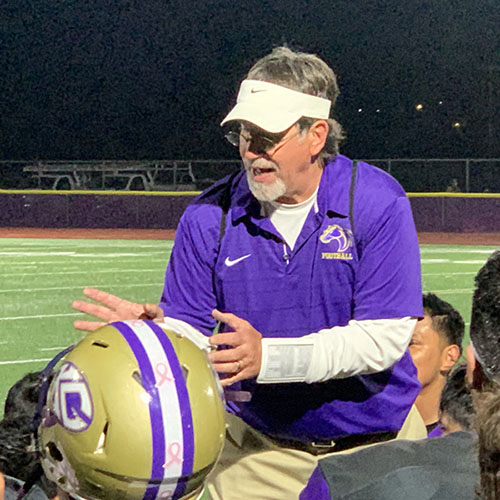 Royal Palm Beach High School has hired a new head football coach. It's Jeff Schaum, who will be relocating to the area from New Mexico. He's expected to be in Palm Beach County by March 1. In addition to his role as the school's head football coach, Schaum will teach physical education.
Both RPBHS Principal Michelle Fleming and Athletic Director Eric Patterson feel that Schaum's previous experience at various high schools in Florida will serve him well as he joins the School District of Palm Beach County and Royal Palm Beach High School.
In his coaching career, Schaum has coached football at Creekside High School in St. Johns, Victory Christian Academy in Lakeland, Robert F. Munroe Day School in Quincy, the Maclay School in Tallahassee and Jefferson County High School in Monticello. Schaum was also the head football coach at Warner University in Lake Wales for the first season of that program's existence, back in 2013.
"Coach Schaum has a proven track record of taking over a program and rebuilding," Fleming said. "More importantly, he works tirelessly with his players and establishes relationships that will benefit the student-athletes of Royal Palm Beach High School."
Patterson is delighted that Schaum is the new leader of the Wildcats' football program.
"We are very excited to have an individual of coach Schaum's experience join us here in Royal Palm Beach," Patterson said. "He will look to rebuild our-proud Wildcat football program and assemble a quality coaching staff."
Last year, in his one season as the head coach of the Kirtland Central High School Broncos in New Mexico, Schaum's team was 5-6 overall and 3-1 in district games.
Schaum has 36 years of coaching and teaching experience that includes mentoring, counseling and assisting student-athletes as they have been recruited by colleges. Schaum has also spent 15 years coaching college football. As a college football player, he played as a tight end, defensive end and offensive lineman at Colgate University and on the scout team at Florida State University. He started as a graduate assistant at FSU under head coach Bobby Bowden in 1984-85. At FSU, he worked with linebackers under defensive coach Wally Burnham.
Schaum is thrilled to be returning to Florida to coach high school football. He feels his years of experience as a football coach are a big plus for the program at RPBHS.
"Coaching football is all about building relationships," Schaum said. "You need to let the kids know that you care about them. It's not about how much you know, it's about getting the players to know that you care about them. Being a football coach is all about teaching."
According to Patterson, Schaum will coach spring practice, which starts in late April. The school will play its spring game on May 13 at home against Miami Beach High School.
Schaum knows that a successful spring football season will bode well for a strong fall season.
"Spring practice will be big for us," Schaum said. "It will be 17 [practice] opportunities to get to know the players."