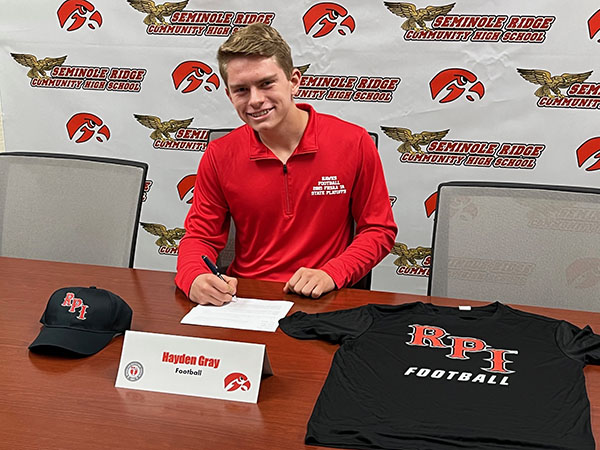 The football career of Seminole Ridge High School placekicker and punter Hayden Gray will continue past high school graduation. Gray has signed a scholarship with Rensselaer Polytechnic Institute (RPI) in Troy, New York.
RPI, which is an NCAA Division III institution, is considered one of the preeminent science and engineering schools in the nation. Last fall, the RPI Engineers reached the quarterfinals of the NCAA Division III playoffs.
Head coach Ralph Isernia likes what he sees in Gray.
"He's got a strong leg, and his mechanics are really good," Isernia said. "He will have a chance to compete for the job as the starting placekicker this summer."
Isernia will also give Gray a chance to earn the job as the starting punter.
"If he's the best at placekicking, punting and kickoffs, he'll play next fall," Isernia said.
Isernia heard about Gray through Gray's local kicking coach, Tony Bugeja.
"Tony kicked for me in college at Methodist, and we have remained in touch over the years," Isernia said. "He told me about Hayden's ability in football and his success in the classroom."
In the classroom, Gray continues to excel with a 3.96 GPA and 5.05 HPA. When he enrolls at RPI, he plans to major in engineering.
Based on Gray's successful senior year at Seminole Ridge, it's not surprising that he will be kicking a football in college. Following his recently completed senior season with the Hawks, Gray was named the 2021 recipient of the Lou Groza Kicker of the Year Award by the Palm Beach County Sports Commission. He was also named to the South Florida Sun-Sentinel's All-Palm Beach County team.
This past football season, Gray successfully kicked 30 out of 33 extra points, and he made seven out of nine field goal attempts. Two of those field goals were last-minute, game-winning kicks. Last fall, his longest field goal was from 44 yards.
Outgoing Seminole Ridge head football coach Rick Casko has strong words of praise for Gray.
"He was an excellent punter who did a great job of getting punts to finish inside the red zone. He helped us win the field possession battle in many games," Casko said. "Hayden is intelligent, respectful, strong and so respected by his teammates. He's an all-round great young man."
In addition to being a placekicker in football, Gray is also a member of the weightlifting team and the track & field team at Seminole Ridge.
"He's a great weightlifter, and in track, he runs the 800 meters and does the pole vault," Casko added.