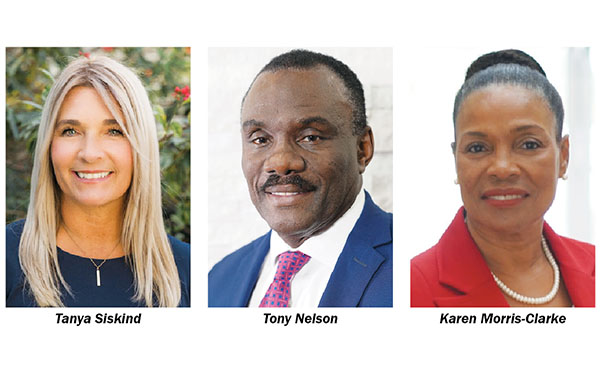 After serving six years on the Wellington Village Council, incumbent Councilwoman Tanya Siskind is seeking re-election to the council's Seat 2. She faces two challengers in Tony Nelson and Karen Morris-Clarke.
Seat 2 is one of two seats up for election on the Tuesday, March 8 ballot. The other is the Seat 3 race between incumbent Vice Mayor John McGovern and local businessman Johnny Meier. The winners will serve four-year terms on the council.
Tanya Siskind
After being appointed to the council in 2016 and winning the full four-year term in 2018, Tanya Siskind is now running for re-election.
Siskind said she has found success on the council during the past four years through flourishing community partnerships, in addition to keeping taxes low and strong efforts to protect the community during the COVID-19 crisis.
"We've partnered with Feeding South Florida, during the pandemic, to make sure all our families had food on their tables," Siskind said. "We have an ongoing partnership with our public schools to keep them A-rated and to ensure that every child gets the best education possible. This included adding new, state-of-the-art public sports facilities and expanding sports programs."
Siskind is proud of her role in "funding capital improvement projects to upgrade our infrastructure and ensure our residents are safe, including a state-of-the-art water plant providing safe, high-quality water to our residents," and "working closely with our police and fire departments to lower the crime rate for the fourth-straight year, making Wellington one of the safest communities in Florida."
While Siskind has her priorities, she understands that many of those are ongoing projects that will continue to evolve.
"While no place is perfect, Wellington is a great place to live. Many issues stay the same: keeping taxes low, our residents safe, our schools A-rated, and continuing to provide exceptional cultural, recreational and sports activities for residents of all ages," she said. "The pandemic has been a top issue. Hopefully, we are seeing the light at the end of the tunnel and will be able to get back to a new normal."
With all the changes going on in the world around us, Siskind believes that local stability is very important.
"I believe that my experience and knowledge of Wellington makes me the best person for this seat," she said. "We have a council that works well together for what is best for our community. In 2024, there will be three open council seats due to term limits. Now is not the time to change our council."
Siskind is focused on the continuation of good things currently happening in Wellington.
"I would like to move forward on new phases of the town center project, including possible pool renovations and expansion of the amphitheater area," she said. "This area is very popular with our residents and provides numerous and free entertainment opportunities on a weekly basis. I want to continue to keep our taxes low, our crime rate low and continue to work closely with our schools."
In this race, Siskind has racked up a long list of endorsements from organizations all across the county. Of particular local interest, she has been endorsed by three of her fellow council members, Vice Mayor John McGovern, Councilman Michael Drahos and Councilman Michael Napoleone, along with former Wellington mayors Tom Wenham and Kathy Foster.
Siskind believes that her experience on the council and her extensive community involvement make her the best candidate for the seat.
"I served six years as PTA president at Binks Forest Elementary School, three years on the Palm Beach County Council of PTA/PTSA and the Wellington Education Committee," she said. "I have been on the council since 2016, when I was appointed out of 30 applicants. My most recent community involvement includes serving on the Government Affairs Committee of the Broward, Palm Beaches & St. Lucie Realtors and on the board of directors with the Education Foundation of Palm Beach County."
Despite the challenges of the past few years, Siskind is proud of her work on the council.
"I have a passion for local government and truly enjoy serving the residents of Wellington," she said. "I believe an elected official can often accomplish more at the local level than any other level of government. We see our constituents daily, whether in the grocery store or the school pickup line, and we can hear their concerns in person."
To learn more about Siskind's campaign, visit www.facebook.com/tanyaforvillagecouncil or e-mail tanyaforvillagecouncil@gmail.com.
Tony Nelson
Longtime Wellington resident Tony Nelson has been involved in the community behind the scenes for many years, working with civic groups and businesses, but he found himself triggered into political action after his granddaughter went through an incident of racial profiling in her own community.
"My background is in risk management, and I've spent my entire life stopping bad things from happening. After the incident, my first concern was her and my family," Nelson said. "My second concern was stopping bad things from happening in Wellington. I went back and examined all the things I'd been doing here and realized that I could be more effective educating people about certain things internally working within the Wellington Village Council as opposed to working from the outside."
Reflecting on his work in the community led Nelson to feel he was not only inspired to help bring about positive change, but that he is also the most qualified person to do so.
"I think an accomplishment is based on how it affects others," Nelson said. "If you are serving, and if you've done well for others, then that's an accomplishment. I don't care how rhetorical it sounds. My biggest personal accomplishment is being a parent to two kids who have grown up to be incredible."
Professionally, Nelson notes that the Village of Wellington considers its response to the COVID-19 pandemic as an accomplishment and that he has played a significant part in that work.
"I would respectfully agree with that [accomplishment] because Premier Family Health — my team — was chosen as the first responders," he said. "We set up the first successful testing site in all the western communities. I've always measured an accomplishment by what I've done with others."
Nelson is fully aware that the existing council has multi-year plans in place and has made it his goal to work his priorities into those plans.
"I would hope that the things that are on my platform will augment the current plans in place by working with the current council," he said. "I would like to add specific things, like improve medical services for our residents in Wellington, especially seniors and underserved communities. What goes hand in hand is making improvements in the marginal housing developments in Wellington and maximizing the initiatives for veterans in our community."
Nelson expanded that Premier Family Health is already working on that initiative as a Veterans Affairs community partner, where veterans can come into the urgent care center for medical treatment without going all the way to the VA Medical Center.
"You can't depend on government for everything. Shame on us if we expect the government response to be the most inclusive response," he said. "The key to improving veterans' medical benefits is with community responders."
Nelson is convinced that community businesses should respond to the needs of its community instead of relying solely on government action.
"I've been fortunate enough to walk into good environments. Wellington is a wonderful village, that's why I moved here. I'm blessed enough to have the skills to make things better — to take something good and make it exceptional," Nelson said. "The measure of what we do is how we respond to a crisis. I'm not going to sit by and do nothing. The best way to represent yourself, your community, your company is to do something. My campaign theme is 'Do Something.'"
Being a Wellington resident for 35 years has given Nelson a deep connection to the community he calls home, but his perspective is shaped by more than just his time in Florida.
"I grew up on military bases. I never lived in a civilian community until I went off to college," he recalled. "My mother was an employee for the Veterans Administration for 23 years. My mother spent most of her career in Washington, D.C., then moved here to Florida."
To learn more about Tony Nelson's campaign, visit www.votetonynelson.com or e-mail tony@votetonynelson.com.
Karen Morris-Clarke
A newcomer on the Wellington political scene is Karen Morris-Clarke, a 22-year Wellington resident and successful business owner who has also entered the race for Seat 2 on the Wellington Village Council.
She has worked extensively in both the fields of real estate and travel. This experience has led to a deep connection with her community.
"I choose to run for this council because I am ready to be the voice, the liaison for families, individuals and small businesses oftentimes not represented in council matters," Morris-Clarke said. "Residents ask for a change, new people that are in tune with their needs, and I am committed to do so."
Morris-Clarke has set out clear goals that she believes mirror the priorities of Wellington's residents. One of these top issues is road safety. Her family suffered a devastating loss in a traffic accident in 2016.
"I want to find creative ways to expand and improve the safety of our roadways and neighboring ones," she said. "I also plan to advocate for a small business directory and workshops to help our small businesses succeed. We need a strong infrastructure, including upgrades, and to bring new ideas and regularly maintain our existing infrastructure, such as solar for lighting and heat."
Morris-Clarke is also concerned with the way local taxes and fees are assessed and managed, and she understands the importance of keeping them low.
"I want to preserve Wellington by protecting the equestrian, aeronautical uniqueness, green space, safety and family friendliness of Wellington," she said.
Morris-Clarke added that she is proud to be "a dedicated wife, mother of five and the first in my family of immigrants to earn a college degree. I am a proven service advocate for individuals in crisis. As a proud citizen and devoted community member for the past 22 years, if elected, I will bring variety, resilience, a new outlook on council, unparalleled leadership skills, an ability to listen, and learn what matters most to all and not just some of our residents."
She also wants voters to know she shares their goals and concerns. Morris-Clarke is focused on keeping Wellington clean and safe, but also on tough code enforcement for issues such as landlords who leave property maintenance up to their tenants.
"I will bring integrity and a unique set of values to the council, a new approach, unparalleled, efficient leadership skills, fresh ideas that come from the community and not just my own ambitions," she said. "I will be accessible and work very hard for our residents. I commit to working with fellow community leaders, our HOAs, condominiums, leaders in non-gated communities and tenants too, often forgotten. This will take collaborative efforts by all to solve complex problems in our village, and I am ready to be a part of an integrated solution."
To learn more about Morris-Clarke's campaign, visit www.votekarenmorrisclarke.com or e-mail votekarenmorrisclarke@gmail.com.