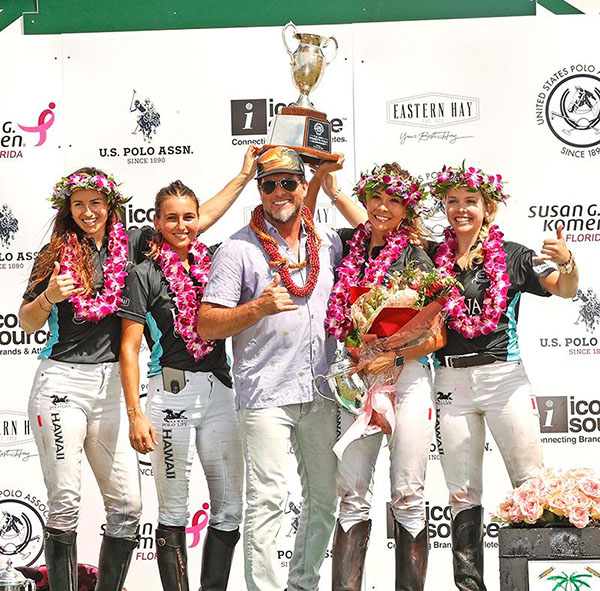 Entering last Saturday's U.S. Open Women's Polo Championship final at the International Polo Club Palm Beach as the only undefeated team, Hawaii Polo Life (Cecily Coors, Pamela Flanagan, Mia Cambiaso and Hazel Jackson) completed their impressive run through the tournament with the 8-3 victory against Blue Water (Sophie Grant, Kylie Sheehan, Izzy Parsons and Meghan Shader-Jumet) to take their third title in four years.
Leading from start to finish, Hawaii Polo Life controlled possession from the opening throw-in to outshoot Blue Water 17-6. With few penalty shots for either team, the game was primarily decided in open play where 10-goaler Hazel Jackson excelled with three goals and four assists to contribute on all but one of her team's goals.
Utilizing exceptional horsepower, Hawaii Polo Life built a large lead behind a defense that was equally as strong, limiting Blue Water to just one field goal in the game. With the dominant performance, Hawaii Polo Life completed the five-goal victory to return to the winner's circle.
Asserting themselves in the opening moments of the final, Hawaii Polo Life's elite duo of Jackson and Mia Cambiaso connected for their team's first goal of the game. Outshooting Blue Water 6-0 in the first chukker, Hawaii Polo Life kept their opponents pinned in their own half and added two more goals, the last coming on a Penalty 2 conversion from Jackson to hold a 3-0 lead.
Drawing attention from the Blue Water defense, Jackson utilized the pass to set up consecutive goals for Cambiaso and Pamela Flanagan, extending Hawaii Polo Life's lead to five at the end of the second chukker. Breaking through for their first goal of the game on a Penalty 2 from Izzy Parsons, Blue Water found their first rhythm of the game, but the difference on the scoreboard remained at five with two chukkers remaining.
Turning to their defense to begin the second half, Hawaii Polo Life held Blue Water scoreless for the third time in four chukkers, preventing a comeback from the hardworking Blue Water team. Hawaii Polo Life's fourth member Cecily Coors scored her first goal of the final on a pass from Jackson as time ticked down and their sights were set on finishing their strong performance. Despite conceding goals to Parsons and Kylie Sheehan in the final chukker, Hawaii Polo Life's Jackson showcased her 10-goal ability with her third goal to secure the 8-3 victory and raise the U.S. Open Women's Polo Championship trophy.
Tournament scoring leader Jackson was named Most Valuable Player, while Best Playing Pony was awarded to Bionica, played by Cambiaso and owned by J5 Equestrian and La Dolfina.
Having tremendous horsepower behind Hawaii Polo Life was a benefit to all the talented riders on the team. "It's absolutely crazy for me to be riding these horses," Jackson said.
Jackson got the chance to play three La Dolfina horses in the tournament.
"I can do different things on the field, which I couldn't before," she said. "I've never run that fast in my life! You have to stop riding sensitive because they just go! I've been riding these horses for the past three games, and it's taken me a while to get used to them, but I love it. To have this option from J5 Equestrian, Chris Dawson and the Cambiasos, it lets you do your thing."
With little time to celebrate Jackson was set to board a plane for Argentina, followed by a return to England.