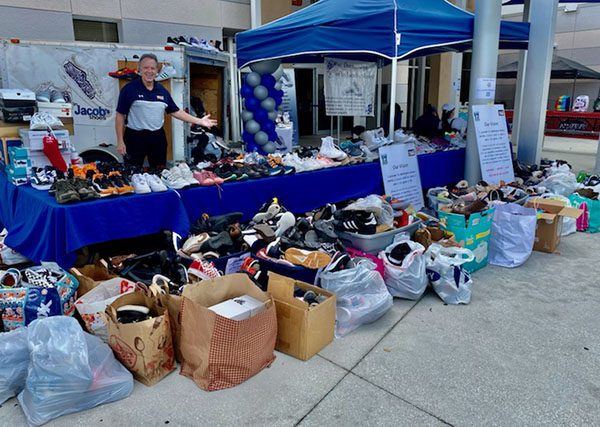 During the weekend of Saturday, March 5 and Sunday, March 6, there may have been as many basketball players, coaches and fans in Wellington as there were equestrian sports enthusiasts. During those two days, the Wellington Wolves travel basketball organization hosted the 20th annual Wellington March Madness youth basketball tournament.
In all, this year's field featured 117 teams, which was a record number of entries for the tournament. Of the 117 teams in the field, 19 of the squads were affiliated with the Wellington Wolves. The players who competed ranged from third graders to 11th graders. This tournament attracted both boys and girls teams. All 117 teams were from Florida. A few of the teams drove long distances to compete. The Junior Pros from Ponte Vedra brought nine teams, while Skills Center Elite from Tampa entered five teams.
There was also an element of star power in attendance, as former Miami Heat great Ray Allen coached his son's Ray Allen Select Team.
The Miami Heat dancers were there on Saturday, March 5 signing autographs.
To play all the games in two days, 18 gyms — including nearly every gym in Wellington — were used in Palm Beach County. The venues in Wellington which hosted games included Wellington Village Park, Wellington High School, Palm Beach Central High School, the Neil S. Hirsch Family Boys & Girls Club, Polo Park Middle School and Emerald Cove Middle School.
Every game in this year's tournament was officiated by at least two referees. In all championship games, three referees were utilized. Nearly 70 basketball referees from Palm Beach and Broward counties were hired to officiate the two-day tournament.
Of the 19 Wellington Wolves teams competing in the tournament, one of them won its age-group bracket — the ninth-grade boys team. Two other teams — the sixth-grade girls and the 11th-grade girls — lost in their respective finals.
One of the head coaches of a team from Miami-Dade County had a happy homecoming of sorts. Emily May, one of the head coaches of the Miami Impact travel basketball organization that won the girls 11th-grade division, is a former Wellington resident who also played basketball with the Wolves more than 10 years ago.
The Miami Impact team that she coached defeated a Wellington Wolves squad in the 11th-grade girls division final in a game held at the Boys & Girls Club. The final score was 57-50 in favor of Miami Impact.
"It was kind of surreal to be back in Wellington coaching in the Wellington March Madness tournament, as a former Wellington Wolves player," May said. "It was nice to win, too. It was fun being back in Wellington coaching basketball."
According to Wellington Wolves President Chris Fratalia, the event was a stunning success on many levels.
"This was our 20th year as an organization and running this event," Fratalia said. "This year was special due to the fact that the kids could be normal again with kids being kids. It was great to see their smiling faces, their glow and love for the sport back in their faces. It was encouraging for sure."
In addition to providing a venue for all 117 basketball teams to play competitive games, the tournament served as a vehicle to collect new and slightly used shoes. The group that gathered the shoes is called In Jacob's Shoes, a Broward County-based charity that provides shoes to children in need in Palm Beach, Broward and Miami-Dade counties.
According to Murray Zwieg, the founder of In Jacob's Shoes, the goal was to collect between 2,500 and 3,000 pairs of shoes during the March Madness tournament. The shoe drive was a success with 2,760 pairs of shoes collected during the two-day event. According to Zwieg, all the shoes are cleaned, disinfected and sorted before they are redistributed to the general public. Each shoe recipient is also given a new pair of socks.
The idea of conducting the shoe drive with In Jacob's Shoes was promoted by the Council of Dads, under the supervision of John Sitomer, a Wellington resident.
"Not many people know that one in five kids in South Florida live in poverty," Sitomer said. "And the first sign of poverty for a child can be seen in their shoes."
Plans are already underway for the 21st annual Wellington March Madness tournament next year. All game results from the tournament can be viewed on the US Amateur Basketball app, which is a free download.