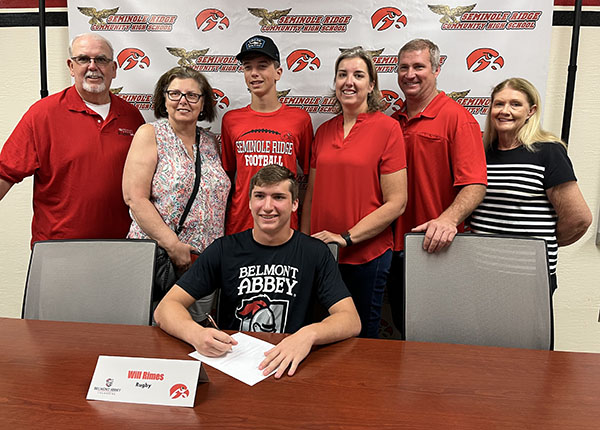 Will Rimes, the starting quarterback last fall for the Seminole Ridge High School football team, will continue playing competitive sports in college, but he won't be playing football. Instead, he'll be playing rugby.
Rimes is headed to play for the Crusaders at Belmont Abbey College, which is based in Belmont, North Carolina, located just outside Charlotte. For the last seven years, Rimes has also been playing rugby for the Wellington Wizards Rugby Club.
Belmont Abbey College head rugby coach Nick Whitrow is delighted that Rimes will be on his roster this coming fall.
"He's a hugely talented rugby player and a good fit for our program," said Whitrow, a native of Liverpool, England.
According to Whitrow, Rimes has the talent to play any of the backline positions in rugby, ranging from scrumhalf to fullback. In football terms, that means Rimes will be playing the hybrid version of a running back/tailback/wide receiver.
Since rugby doesn't have offensive or defensive units, Rimes must also play defense and tackle like a linebacker or a free safety. But unlike in football, there's no blocking in rugby, which means offensive attacking moves are created with quick passing and fast running. In rugby, every player on the team touches the ball and tackles the opposition.
"Will has the speed, skill and the vision to play rugby," added Whitrow, who has coached Rimes on occasion.
The decision for Rimes to attend Belmont Abbey was not at random.
"I've known Will for a few years," Whitrow said. "I have coached him on some all-star teams out in Utah and in Florida. We've remained in touch for roughly two years."
Rimes is committed to his new head coach because of Whitrow's commitment to the game and his players.
"I love the rugby culture at Belmont Abbey," Rimes said. "Coach Nick has a great relationship with his players."
Current Wellington Wizards head coach Ron Vargo had words of praise for Rimes.
"Will is a very strong rugby player with a very good rugby IQ who is a leader on the field," said Vargo, a longtime resident of The Acreage. "Will is very coachable and very respectful."
Sean Kessler, one of the former coaches for the Wellington Wizards, agrees that Rimes is a talented athlete who is ready for college rugby.
"Will is a great kid, a great rugby player and comes from a great family," Kessler said. "Will has great field awareness. He'll do well playing rugby at Belmont Abbey."
Rimes will not be alone at Belmont Abbey. One of his teammates will be former Palm Beach Central High School football player Jordan Caro. Rimes is also not the only member of his family to play college rugby. His cousin David Rimes, a graduate of Berean Christian School, plays rugby at Life University in Marietta, Georgia.
For Will Rimes, his rugby teammates at Belmont Abbey are from many parts of the U.S. and from other countries, like South Africa, Ireland and England.
Rimes' parents are thrilled that their son is committed to playing rugby at the next level.
"We are super excited about this news," said Jenna Rimes, Will's mother. "We love rugby, and Will loves to play it. My husband and I are looking forward to attending the games."
This past fall, as a senior, Rimes was a first-year quarterback at Seminole Ridge. He led the Hawks to an 8-2 regular season record and an appearance in the FHSAA playoffs. As the Hawks' signal caller this past season, Rimes accounted for a total of 13 touchdowns (passing and rushing) for the Hawks. He was also the team's second-leading rusher, was the team's captain and was a South Florida Sun-Sentinel All-County selection. He also played in the Palm Beach County All-Star Football Game.
In addition to Belmont Abbey, other colleges which Rimes considered attending to play rugby were Life University; Queen's University in Charlotte, North Carolina; and Davenport University in Grand Rapids, Michigan.
At Belmont Abbey College, Rimes will be pursuing a business degree.