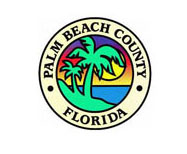 Palm Beach County recently informed the public that due to low utilization of testing sites, and some federal funding being reallocated, testing sites operated by CDR-McGuire have closed.
This includes sites in Palm Beach County at FAU Tech Runway, Caloosa Park, Gaines Park, Gardens Branch Library, ​Mid-County Senior Center and the South County Civic Center. In addition, the FDOH Lake Worth Health Center​ on Southwinds Drive has also closed.
Palm Beach County reminds the public that there are many options available for residents to get testing. Besides the many locations found at www.pbcgov.com/ coronavirus, most commercial pharmacies and physician's offices are able to do COVID-19 testing for little or no cost. In addition to providing testing, many of these locations also offer vaccines. Residents are urged not to go to Palm Beach County hospital emergency rooms for COVID-19 testing.
For more information on COVID-19, visit www.pbcgov.com/coronavirus or contact the Department of Health COVID-19 Call Center, available 24/7, at (866) 779-6121 or e-mail covid-19@flhealth.gov.