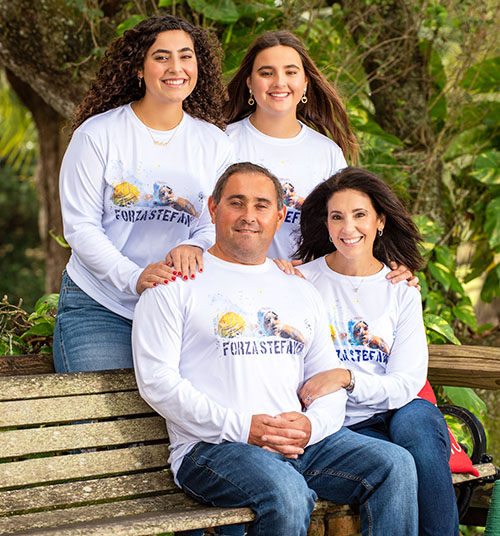 Families with teenagers battling cancer have a new resource for help and support. The Forza Stefano Charitable Foundation is reaching out from its roots in Pembroke Pines to help families in Palm Beach County. To celebrate their work, the foundation is hosting a free, family-friendly art event on Saturday, May 7 from noon to 5 p.m. in the center court area of the original Wellington Mall.
The Dioguardi family has a deep understanding of the challenges and stress placed on the entire family when a member, especially a child, is battling cancer.
"When someone in the family has cancer, the whole family has cancer. The whole dynamic — it affects everyone," explained Tamara Roth-Dioguardi, one of the organization's founders and mother of Stefano, for whom the foundation is named. "At the hospital, during our lengthy stays at Joe DiMaggio, we would see that all the little kids would get presents and have activities planned, and tickets to the movies or concerts. But for Stefano, there was nothing. So that's when we saw that helping teenagers was really going to be something new and needed."
Stefano Dioguardi lost his battle with cancer in 2016, but his family was inspired to continue giving his life meaning, and they created the Forza Stefano Charitable Foundation.
"He loved life. He was a wonderful boy, and we had so much more love to give to him, and since he wasn't here anymore, we wanted to share the love with the other teenagers like him who are dealing with cancer," Roth-Dioguardi said. "These teenagers aren't dealing with college applications or figuring out what car to buy, they are trying to survive. That is when we transformed our pain into a beautiful labor of love for the teens who are not really being prioritized. There was a niche that we saw that needed some love. That's really when things started."
The mission at Forza Stefano is to support cancer patients between the ages of 13 and 21 years old. They are not little kids anymore, but not adults either.
What started as holiday wish lists for four or five teens has grown into an international cause to help these young people and their families. Now, the foundation will even help families pay utilities, treatment and when necessary, funeral costs.
The Dioguardi family is also a water polo family, which is a sport Stefano passionately played. The foundation hosts a massive annual water polo tournament at its home base in Pembroke Pines.
"Water polo was really his favorite thing to do. We had so much support from the water polo community when Stefano got sick, that we decided to start the Forza Stefano Water Polo Tournament that takes place every March for the past seven years," Roth-Dioguardi said. "We get more than 600 athletes from across Florida, and it's fabulous. We can feel Stefano's presence there, and you can't help but think how one boy could inspire all of this?"
The funds are then used to help kids not only in Florida, but also in Venezuela, where Stefano was born. Recently, the foundation paid for a 19-year-old to complete all the necessary radiation treatments for his cancer, and when they learned of his desire to become a graphic designer, also purchased the computer and equipment he needed to have a career after his treatment ends.
Roth-Dioguardi explained that the foundation often sends medications and pays for treatments in Venezuela because the healthcare system there is greatly lacking.
"We always have hope that everyone will recover and always want to improve their quality of life, so they aren't sitting wasting away. Keeping them engaged gives them the opportunity to focus on recovery and know there is a future," she said. "We want them to feel like there is life after cancer."
As the foundation continues to grow, they are also looking for more families to serve. On May 7, the Forza Stefano Charitable Foundation is bringing both beauty and art to the center court of the original Wellington Mall, located at 12794 W. Forest Hill Blvd.
"It's almost like an art fair, where the families can spend some quality time together without being in a formal or strict gallery setting," Roth-Dioguardi said. "There will be activities, beauty queens from the Ms. International World Organization and other special guests, without having to pay anything. We want to give this to the community as a gift so they can enjoy it as a family."
The foundation has hosted a similar event in the past, but never in Palm Beach County, and they found Wellington the perfect choice to host the event.
During the event, supporter Jess Santamaria will receive a special piece of art from internationally renowned painter and sculptor Rafael Montilla. Art pieces will also be for sale along with foundation t-shirts. There is no fee to attend the event. Proceeds will support the work of the Forza Stefano Charitable Foundation.
For more information about the special guest artist, visit www.rafaelmontillaart.com. To learn more about the Forza Stefano Charitable Foundation, visit www.forzastefano.org or find them on Facebook and Instagram.