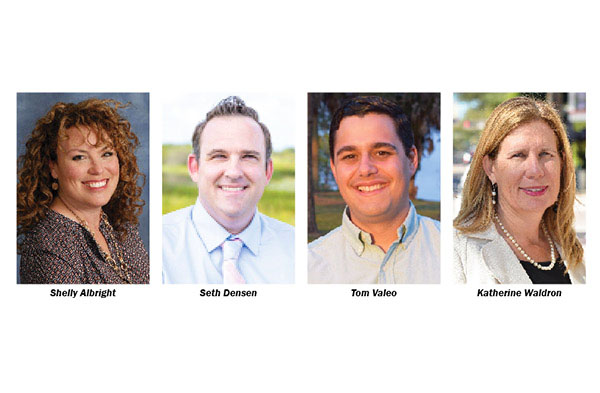 Four Democratic candidates have filed to run for the newly reconfigured State House District 93 seat, setting up what is likely to be a crowded primary election in August.
The new District 93 includes all of Wellington and several areas to the east, including parts of Greenacres, parts of suburban Lake Worth and parts of suburban Boynton Beach.
The incumbent in the district would be State Rep. Matt Willhite, but he announced plans last year to run for the Palm Beach County Commission instead.
Willhite's decision left an open seat that has generated a great deal of interest. The four Democratic candidates that have already filed are Wellington resident and community activist Shelly Albright, social worker Seth Densen, longtime Willhite aide Tom Valeo and Port of Palm Beach Commissioner Katherine Waldron.
There is still time for additional candidates to file before the deadline at noon on Friday, June 17.
Currently, Saulis Banionis is the sole Republican in the race. Former Wellington Mayor Bob Margolis announced a run for Willhite's old District 86 seat last year, but he has not yet filed for the new District 93 seat.
Shelly Albright — Albright is a Florida native, Hispanic, an 18-year resident of Wellington, and the current director of children and youth ministries at St. Peter's United Methodist Church, where she is responsible for children's programming for infants through 12th grade.
As the former founder and CEO of the Sophisticated Octopus, Albright specialized in inspirational retreats and workshops for women and girls. She serves on the board of directors for the Women's Foundation of Florida. She also serves on the advisory board for the Neil S. Hirsch Family Boys & Girls Club, on the board of directors of EmpowHer and as vice chair of the Wellington Education Committee. She is also a longtime member and past president of the Junior League of the Palm Beaches.
"I am running to bring my many years of experience as a children and youth ministries director, as an active community leader and longtime Wellington and Boynton Beach resident to Tallahassee," Albright said. "I know District 93 and the issues important to our community. I will be the strong and effective leader the district needs."
The mother of four adult children, Albright has a degree in English literature from the University of Florida. She previously served on the Palm Beach County Advisory Commission on Women, as chair of the Wellington Interfaith Council, as president of the Elbridge Gale Elementary School PTO, as president of the Citrus Cove Elementary School PTA and as co-chair of the Cattle Baron's Ball for the American Cancer Society.
Visit www.shellyalbright.com to learn more.
Seth Densen —Densen has more than 20 years of experience in social services and more than five years in child welfare services. He has seen firsthand the need in Florida for reforms related to education funding, child trafficking, elder and child abuse, adoption, LGBTQ+ equality and women's rights.
"I have a track record for standing up for what I believe in and defending Palm Beach County and its residents," Densen said. "We need leaders who will change the tide and speak up for those who are repeatedly silenced."
Densen said he will work across the aisle to create lasting change on critical issues, such as education, child welfare, homelessness, mental health, infrastructure, drowning prevention and firearm safety. As a representative, Densen plans to advocate for child abuse and human trafficking reforms and will push for modifications to the foster care system.
With more than 1,500 homeless individuals in Palm Beach County, Densen pledges to work with his colleagues in Tallahassee to improve accessibility to affordable housing, provide more resources for domestic and family violence victims, and improve access to healthcare.
"Our state needs representatives who will look beyond politics and come up with thought-out, real solutions for the people of this great state that will have a positive impact for generations to come," Densen said.
Learn more at www.votedensen.com.
Tom Valeo — Valeo is a native of Wellington. For the last six years, he has worked as a legislative assistant to Willhite in the Florida House of Representatives, working on policies related to public safety and access to healthcare.
"This community gave me my voice, and now I intend on using it to speak on your behalf," Valeo said. "Just this last legislative session, the Florida Legislature ignored the problems that everyday Floridians are talking about at their kitchen tables. It's time for that to end. I'm going to work hard to solve the problems of everyday people like us."
He said fighting for affordable housing, equal access to public education and public safety aren't political, they are core tenets to living out the American dream.
"Over the next few months, I intend on coming directly to you to hear about the issues that keep you up at night," he said.
Since graduating from Florida Atlantic University in 2016, Valeo has had extensive experience working in Democratic politics. He currently serves as the president of the Palm Beach County Young Democrats, the Palm Beach County Democratic Party's sergeant at arms and the Treasure Coast regional director for the Florida Young Democrats.
"I come to you today with a public servant's heart, ready to serve to the higher ideals of what our great state can accomplish," Valeo said. "I come to you asking to be your voice in the Florida Legislature."
Visit www.tomvaleoforflorida.com to learn more.
Katherine Waldron — An elected member of the Port of Palm Beach Commission since 2017, Waldron initially announced plans to run for Willhite's District 86 seat last year. She switched to District 93 once the new district lines were finalized.
"I'm ready to get to work representing Palm Beach County in the legislature by focusing on strengthening our state and local economies, bringing good-paying jobs to Palm Beach County, supporting our first responders and frontline workers, increasing investments in safety and learning at our public schools, making healthcare more accessible and affordable, and taking care of our seniors," Waldron said.
She entered the race with a number of high-profile endorsements, including that of U.S. Rep. Lois Frankel, State Sen. Lori Berman, Palm Beach County Tax Collector Anne Gannon, Palm Beach County Clerk & Comptroller Joseph Abruzzo, Palm Beach County Mayor Bob Weinroth, Palm Beach County Vice Mayor Gregg Weiss and others.
Waldron noted that the Port of Palm Beach is one of the largest employers and economic drivers in the county with 2,400 workers and more than $7 billion in commodities moving through the port each year.
A county resident for more than 20 years, Waldron is co-founder of MK Inc. of the Palm Beaches, a minority-owned company focused on economic development projects in the Caribbean. In 2017, she co-founded and co-chaired Palm Beach County Cares to provide help to Puerto Rico and the U.S. Virgin Islands following Hurricane Maria in 2017 and to the Bahamas following Hurricane Dorian in 2019.
Learn more at www.votekw.com.