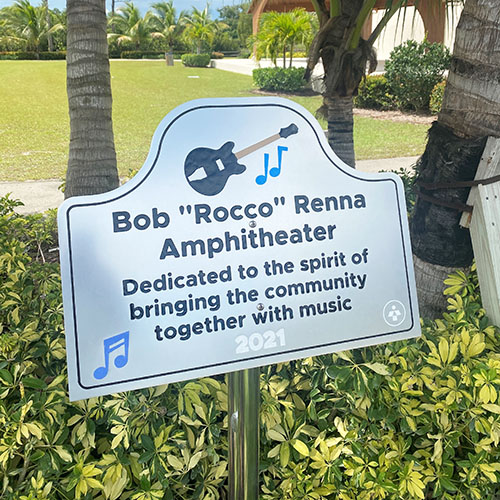 The Indian Trail Improvement District dedicated the Acreage Community Park amphitheater to Bob "Rocco" Renna, founder of the Acreage Community Jams, on Saturday, April 16.
ITID Vice President Betty Argue said that along with the usual food trucks and vendors, Helping Hearts hosted separate Easter egg hunts for different age children, and later in the evening, there was an adult Easter egg hunt. That was followed by the dedication ceremony.
"At 7 p.m., we did the dedication of the amphitheater to Bob," Argue said, which included the unveiling of a plaque made by former ITID Supervisor Mike Erickson, Renna's friend and employer. "It was a really good time. The band was awesome, and it was nice to see everybody out having such a good time, and to recognize Bob Renna. I think he would have been really honored."
Renna died in April 2020 after several months of health issues.
A musician and member of the Acreage Landowners' Association, Renna his wife Linda, who was involved with the Palm Beach County Sheriff's Office Mounted Unit and other equestrian organizations, were both involved with the community for many years. Renna started the Acreage Community Jams in 2009, building the first stages himself with the help of his musician friends and a van from Erickson's Canvas Designers business.
"Along with his community involvement, Bob had a passion for music," Erickson said during the dedication ceremony. "Linda can vouch for that, just based on his extensive guitar collection. He spent many hours encouraging kids in music and offered lessons to lots of the local children."
Renna started a band called the Electric Hearts, and he had a dream to start a community jam where members of the community could come together and play, Erickson said, adding that Renna started the community jams using his own music equipment.
"He and a couple of close friends, Domingo Flores and Jose Colon, would load up and start setting up early in the morning to spend hours getting ready for that evening," Erickson said. "Sometimes it would be pouring rain, and they would be soaked, but they knew the weather would be better that evening, so they were determined."
The community jams started in the baseball field with some close neighbors, family and friends. From plywood floors to a makeshift stage, the event grew and evolved over time. ITID eventually modified an old trailer and got a dedicated tent for the stage. After a while, word was spreading and multiple bands were signing up, teenagers were bringing tapes to sing along to on stage, kids who played guitars and a keyboard player came out to play.
Erickson recalled one time when two young men from Riviera Beach came out to rap. When they saw the audience, they were reluctant, but Renna in his tie-die shirt and signature bandana encouraged them to get up on stage, because he believed everyone should participate. They were thankful he didn't let them give up, and they actually sold a bunch of their CDs that night.
"Bob firmly believed that music was the perfect media to bring a community together," Erickson said. "I am positive he was correct. In these crazy times, let's remember Bob 'Rocco' Renna and his universal language of music."