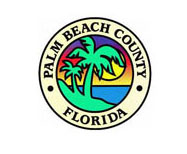 The Palm Beach County Planning Commission on Friday, April 8 voted 6-4 to recommend against a request by Brentwood of Wellington to change the land use designation on a 10.22-acre site, increasing the residential development potential to 194 multifamily units.
Brentwood of Wellington is on the west side of State Road 7 between Lake Worth and Lantana roads. Its current residential potential is for 25 units, or a 175-bed congregate living facility, with some commercial use.
Brian Terry with Insight Studio, representing the applicant, said the property is an infill site surrounded by areas have seen a lot of changes over the past 15 years.
"There's a lot of commercial and industrial on the corner," Terry said. "There's multifamily in the area. It's a very diverse corridor in this portion of the county."
He said the recent spike in housing costs has created a demand for affordable housing, which the application is offering.
"There is not enough inventory coming into the system with the demand of the people moving into the community and want to be a part of the community," Terry said. "All that does is make it extremely hard for affordability to be achieved."
He said recent studies have called for making more efficient use of available land by increasing density.
"We're bringing forward an opportunity, which is an infill site with land use to be utilized, which is exactly the initiatives put forward and asking us as a planning and development community to solve some of the problems that we face," Terry said.
The property lies between the single-family communities of Fieldstone and Thoroughbred Lakes, which he said does not reflect what that portion of the SR 7 corridor is. He noted that county staff agreed that the change would be an appropriate land use.
"There is an opportunity to take some of the pressure away from agricultural and environmentally sensitive properties," he said. "This is neither of those. This is a vacant parcel of land. It has an approval on it [the CLF] that was never utilized. This is an opportunity to infill it."
Terry said Fieldstone to the north is separated by an existing 50-foot-wide forested preserve owned by Thoroughbred, an existing 77-foot-wide canal owned by the Lake Worth Drainage District, as well as another 20-foot-wide buffer on the north side of the canal. On the west is a 400-foot-wide buffer, and to the south is a 150-foot-wide lake and a 20-foot buffer.
The application has received a thumbs-up from public service organizations, including the Palm Beach County School District, Palm Beach County Fire-Rescue, the Palm Beach County Water Utilities Department and others, Terry said.
A condition of approval suggested by staff calls for 178 units, rather than 194 units proposed in the application, which he said is based on a point system. The Palm Beach County Commission has discretion to approve a greater or lesser density bonus.
"What we're suggesting is give us the opportunity to have that conversation with the board," Terry said, adding that the developer is in agreement with the other conditions, including limiting the development to three stories.
Francis Forman with the county's planning division said the application is consistent with the comprehensive plan, but staff is recommending that the site be limited to 178 units.
Forman said an informational meeting was held on March 29, with 11 Fieldstone and Thoroughbred Lakes residents and other interested parties who raised concerns about increasing density, zoning issues and inconsistency with the area. He added that multiple letters and calls have been received.
More than a dozen people spoke during public comment with many objecting to the increase in density.
"This is really about the massive increased density asked by this builder, or any builder for that matter," Jason Biro said.
Thoroughbred Lakes resident Kelly Lopez said it is the county's responsibility to preserve, not change the characteristics of a community and respect the lifestyles of current residents.
Thoroughbred Lakes resident Kevin McAlvin said the developer was not straightforward about the need for more housing. "Let's make no mistake about it, this is not about the developer caring about people living in any community or living where they are, it's all about profits," he said. "I have no problem with that, but to make money off the backs of people who live there, the value of our homes will drastically go down."
Commissioner Spencer Siegel made a motion to approve the application as recommended by staff with the conditions set forth, which failed. Commissioner Barbara Roth then made a motion to deny the application, which carried 6-4 with Lori Vinikoor, Penny Pompei, Spencer Siegel and Rick Stopek dissenting.