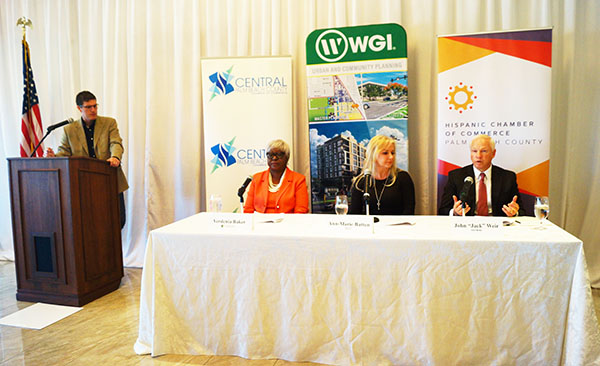 By Melanie Kopacz
A crippling housing and home insurance crisis continues to grow, forcing many into uncertain futures. The Central Palm Beach County Chamber of Commerce and Hispanic Chamber of Commerce of Palm Beach County are working together with community leaders and experts to study and address the issues.
Current trends, many challenges and potential solutions to the county's housing crisis was the topic at an economic breakfast on "The Future of Housing" held Thursday, May 5 at the Breakers West Country Club.
The morning featured a panel discussion including Palm Beach County Administrator Verdenia Baker; Housing Leadership Council of Palm Beach County Chair Jack Weir, the CEO of Eastwind Development; and Ann-Marie Batten, owner and principal of Batten Insurance Services. Jeff Brophy of WGI served as the moderator.
"It's going to take all of us to address this particular issue. And, I do mean, not only the government, but it's going to take nonprofits, the community and our residents," Baker said.
Many contributors are fueling the crisis. From an influx of new residents to rising material costs, a huge jump in housing prices and rents, along with increased insurance rates. All have made for complex issues creating the lack of affordable housing.
"This is not a new issue. The chronic shortage of workforce and affordable housing is now a crisis," Weir said, describing the current situation as being at "a tipping point."
"Land costs have gone up, construction costs have gone up, planning and regulatory rules you have to navigate, and the funding hasn't been there," he said.
Due to the shortage of developable property in Palm Beach County, Brophy asked the panel if there are policies that need to be changed to encourage possible density and height increases, with an emphasis in the far western communities, in order to help increase the availability of affordable housing.
"We need to come up with a mechanism to increase the supply," Weir said.
That new housing supply should be diverse, Baker said, in order to keep a thriving community.
"Not only just build housing, but mixed land development, because we want people to live, work and play in close proximity," Baker said. "We're going to have to get used to not having very singular developments. We all have to address this issue if we're going to remain a viable, growing, sustainable community. We've got to change our vision and what's acceptable in our community and what is not."
It's all those same issues driving the cost of homeowners' insurance as well, along with heavy litigation and fraudulent claims contributing to the escalation in premiums, which have gone up sharply for many across the state and here in Palm Beach County. Rates are expected to go up even higher.
"We're going to see rate increases anywhere from 20 to 40 percent," Batten said.
Many are even losing their policies from some insurers. Others are having difficulty finding coverage at all. This is one key topic that state lawmakers will tackle in a special session slated for May 23-27.
Batten recommends making your home as insurable as possible. One of the most important things is keeping the roof updated and in good shape in order to keep rates down.
Meanwhile, those who can't find an affordable roof over their heads are being forced to move elsewhere, Baker said. She knows many young professionals who grew up in Palm Beach County but now can't afford to stay.
"A lot of kids — we invested in them. They went on to college, came back, but don't want to live with mom and dad," Baker said. "They moved on to Texas and other locations while we're invested in bringing more companies to communities and expanding our existing business here. We're going to find that challenge where we can't get people in, and so it's crucial that we as a community resolve this issue on our workforce affordable housing."
It's a challenge that's already affecting the ability to recruit potential workers into government jobs, she said. "We have very good benefits, however, we cannot compete with the private sector. The cost of living here is exceptional," Baker said.
Palm Beach County has been dubbed "Wall Street South" as major financial firms have relocated to the Sunshine State from New York, as well as companies from other states, increasing the high-net-worth population. However, many others, including the majority of the Palm Beach County workforce, are not in that same bracket.
"Eighty percent of the county workforce falls in the affordable housing category," Baker said. "It's not just our teachers. It's teaching assistants in the classroom, law enforcement and bus drivers. Some people think if you put workforce affordable housing next to a development, you're going to drag down property values, and that is not true."
"These are people integral to our community," Weir agreed.
As more developments emerge and growth continues, Weir expects that urban corridors will become more mass transit oriented with redevelopment of shopping centers and offices.
"It's a really smart-growth strategy trying to add density, shopping, entertainment and schools," he said. "It's not just a housing issue, it's also a business issue."
Issues, these leaders agree, that will take the entire community to come together to find solutions.
For those interested in learning more about the issue, Palm Beach County will host an economic summit focused on housing and transportation on Thursday, June 2 at the Palm Beach County Convention Center. The summit is open to anyone who wants to be informed and involved in shaping the future of Palm Beach County.
The summit will be an all-day event, and registration is $60. More information can be found at www.pbcgov.com.