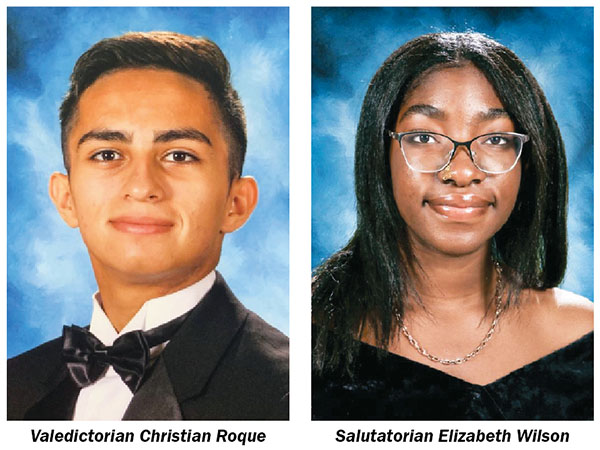 After taking over the top spot at Seminole Ridge High School just two months ago, Principal Robert Hatcher is excited to welcome the Class of 2022 across the stage for graduation on Wednesday, May 25.
More than 500 seniors will bid farewell to their high school careers. Even though he is the new captain at the helm, Hatcher felt it was important that these young people receive a send-off from their former principal, Dr. James Campbell, who will give the primary address at the graduation ceremony.
"It was the right thing to do. This is his graduating class. He has seen these kids through COVID-19. He has seen them since they were ninth graders. I think it's right to allow him to be as involved as he wants to be at their graduation," Hatcher said. "Dr. Campbell did a great job. We've got a great climate, a great culture, but we need to take the next steps to become an A-rated school again, and that's very exciting for me to be a part of that."
Nearly 65 percent of the students at Seminole Ridge come from Western Pines Middle, where Hatcher spent many years as principal. Therefore, he knows many of the families and appreciates their ongoing support.
"This has been an absolute dream come true. I have spent the bulk of my 31 years in public education at middle school, but high school has always been a dream of mine," he said. "We moved out here in the early 2000s. I literally watched this school get built as I drove to school every day. This has always been the high school, if I were going to move to a high school. It's the only one I had interest in."
The ceremony will include speeches from Senior Class President Marley Ingram, Valedictorian Christian Roque and Salutatorian Elizabeth Wilson, among others.
Ingram understands the excitement surrounding the day. She went to Crestwood Middle School and came to Seminole Ridge knowing only a few other students. Her goal to go all-in for high school paid off, with the National Honor Society member also placing in the top 40 of her graduating class.
"I wanted to make the most out of my school and make the most academically. My parents really pushed me to always be super involved at school. I'm in a lot of clubs. I just wanted to get myself out there as much as possible," Ingram said.
Her speech at graduation offers solid advice for her peers. "I would say be yourself and learn how to be confident and never be afraid to put your voice out there," she said.
The top spot in Seminole Ridge's Class of 2022 belongs to Valedictorian Christian Roque. He is the president of the National Honor Society and a member of the Science Honor Society, Mu Alpha Theta, Key Club and the Helping the Homeless Club.
"I also played for the basketball team for one year," said Roque, whose summer plans include time on the court and doing community service. "Over the past four years, I'm proud to say that I have been able to get my AICE diploma, the highest Bright Futures scholarship, get into the University of Florida, become Biotechnician Assistant Credentialing Exam (BACE) certified, and become AMSA Food Safety and Science certified."
Roque takes a serious route when it comes to the wellness of his classmates.
"If I could give my fellow graduates any piece of advice, it would be to always make sure you find a healthy balance between school, work, exercise and leisure. A healthy balance of these lead to the path of good mental health, which is a major issue for our generation right now," he said. "With modern technology, our generation always has a multitude of increasingly addicting social media at our fingertips. This has caused our generation to struggle more than the rest with procrastination and has had a significant impact on me and my academics for sure."
Roque is graduating with a 3.972 GPA and an honors weighted GPA of 5.396. He will attend the University of Florida to major in the field of mechanical engineering.
While getting ready for a summer break with friends and family before going off to college, Salutatorian Elizabeth Wilson has worked nonstop. She is involved in Key Club, Best Buddies, the Math Honor Society, Mu Alpha Theta, the Science Honor Society and the Seminole Ridge Step Team. Wilson is graduating with a 4.0 GPA and a weighed GPA of 5.2786.
"Over the past four years, I have obtained more than 100 hours of community service, received my BACE certification for biotech, obtained certifications from Microsoft in the computer science classes I've taken and received my food service certification," Wilson said. "I was recognized by the College Board as a National African American Scholar for my PSAT scores, received my AICE diploma and obtained an associate's degree from Palm Beach State College."
She is no stranger to challenges, and during high school pushed her limits, even managing nine classes in her junior year.
"My house also caught fire during my second semester of senior year, and I was forced to handle that stress during exam season," Wilson said. "I feel happy things are going back to normal. I think a healthy social environment is important to stay motivated and be encouraged."
Her advice to fellow graduates is that, "It always gets better!" Wilson plans to attend the University of Florida and major in nursing.