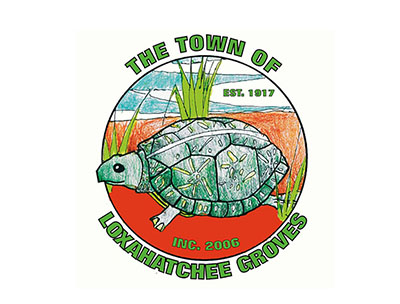 The Loxahatchee Groves Town Council approved a change Tuesday, May 3 that will allow an AutoZone auto parts store to replace a planned Chase Bank in the Groves Town Center parcel at the northeast corner of Southern Blvd. and B Road.
Also at the meeting, the council got an update from the developer of the overall Groves Town Center project and agreed to take over construction of a long-delayed canal crossing designed to provide equestrian trail access.
The 8-acre Pod A of Groves Town Center previously got site plan approval for a Wawa gas station and convenience store, an Aldi grocery store and a Chase Bank branch. The Aldi is the only part that has already been completed.
"Due to COVID-19, Chase Bank has decided to pull back its development efforts, so my client lost Chase as a developer there," said Matt Scott, zoning attorney for the applicant. "They looked around for another developer who would like to be there, and that is why we are here tonight."
The request replaces a 3,470-square-foot bank with a 7,381-square-foot AutoZone store. It would be in the middle of the Wawa at the corner and the existing Aldi store. The AutoZone is designed as a rectangle, with the short end facing Southern Blvd., and the bulk of the store running north-south. It has been designed to meet the town's Rural Vista guidelines.
"We are here for a permitted use," Scott noted. "AutoZone is specifically a use that your code says is allowed here."
While the request increases the square footage assigned to Pod A, it will not exceed the agreed floor-to-area (FAR) ratio, or the overall square footage of the larger project.
Scott noted that while AutoZone does sell auto parts, they do not do major auto repairs on site. However, several council members were concerned that customers night do their repairs on site after purchasing items.
"AutoZone changing windshield wipers doesn't concern me," Councilwoman Phillis Maniglia said. "What concerns me is the guy changing his starter in the parking lot or changing his oil in the parking lot. A lot of these parking lots turn into oily, dumpy-looking places. What is being done to keep that from happening?"
Scott said that the applicant would agree to a condition to not allow oil changing and major auto repairs on site, as well as posting signs to forbid it.
"It's not an employee issue, it's a customer issue," he said. "I think the signage will work."
Mayor Robert Shorr felt that the large red AutoZone sign looks too big, although a sign variance was not on the night's agenda.
"People are not driving down the road looking for an auto parts store. They already know where they are going," he said. "I would like you to consider a different option before you come back with a sign variance."
Scott said he would convey that concern to his client.
During public comment, resident Paul Coleman said via e-mail that there are already too many auto parts stores in the general area.
Resident Nina Corning opposed giving any additional square footage at the site.
"When we increase buildings, we increase impervious land. To keep the land as pervious as possible, you should not increase the building size," she said. "You are going to have a lot of light shining through to the community. This should not even be happening, and it certainly shouldn't be increasing."
Councilwoman Marianne Miles made a motion to approve the site plan change, which passed 4-1 with Maniglia dissenting.
Also during the meeting, the council heard an update from Dan Zimmer representing Groves Town Center.
Zimmer noted that there has been progress on the delayed infrastructure permit, which has now been approved. H&J Construction will do the earth moving, while exotics have already been removed by Ecotone Services.
Zimmer noted that there will be the need to temporarily close the equestrian trail that spans the property due to heavy trucks, and installation and movement of the landscaping. Part of the trail is likely to be closed for five months. After the work is done, the trail would be remediated and reopened, Zimmer said.
Council members asked if the closure could be sped up. They also stressed the need to make sure it is back open before the upcoming equestrian season begins on Nov. 1.
As the infrastructure work is done, much of the fill will be removed from the site. Council members asked if the fill could be donated to the town rather than hauled away. Public Works Director Larry Peters said that the town could use it. Zimmer said he would try to work that out with contractor H&J Construction.
Zimmer said that the recently approved permit will allow work to begin on the delayed projects in Pod B, just east of the existing Aldi store. That includes a dental office and a Culver's Restaurant.
Miles noted that there is still a problem with barbed wire near part of the equestrian trail, which the council previously asked to be removed.
"When I saw this back on the agenda, that it has not yet been removed, I did not take kindly to it," Miles said. "It is a safety issue. Whatever it is, remove the barbed wire and don't let it stay there for us to come back again, and it has not yet been removed."
Zimmer promised to get the barbed wire removed. Posts will be left to be used for a future barrier material once it is chosen.
On a related item, the council agreed to take over construction of the delayed equestrian bridge project designed to open up access to the larger equestrian trail system. The developer still has several years to get that project done, but the town has wanted it completed sooner.
Peters was asked to get quotes to put in a culvert crossing, as opposed to a bridge, at C Road and Collecting Canal. That would get the job done quicker and for a lower cost.
Zimmer agreed to the change and will turn over $126,459 to the town to complete the project. The council unanimously agreed to take over that part of the project from the developer.
In other business, the council discussed its recruitment process to replace Town Manager Jamie Titcomb, who plans to leave his post in June.
Asked by Town Attorney Elizabeth Lenihan if they would like to quickly promote from within or take a slightly longer route to seek applicants, the council agreed to seek applicants, but set a tight deadline of May 24 on applications.
The applicants will be discussed at the June 7 council meeting, and June 21 was set as a possible interview date for the candidates. Since Titcomb's last day is June 9, Assistant Village Manager Francine Ramaglia is likely to step in to serve as interim manager.