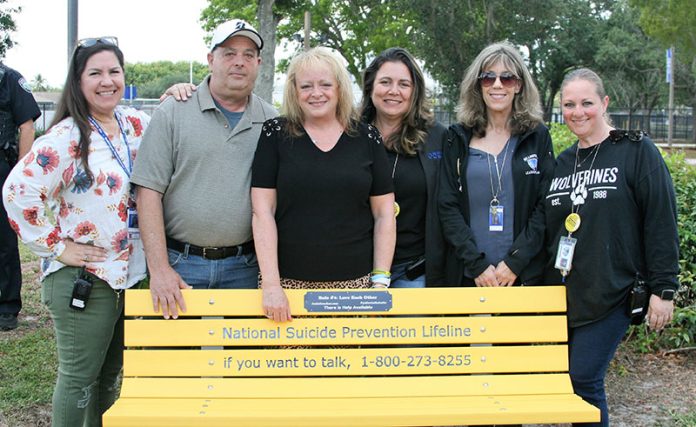 During their lunch break on Wednesday, April 27, students from Wellington High School witnessed the unveiling of a bright yellow bench under the flagpole at the center of campus.
Josh's Benches for Awareness, a local nonprofit dedicated to suicide prevention, is working to place benches at schools and parks bearing information to help anyone struggling internally.
"We are nationwide since 2020 and have installed more than 80 benches now," said Cindy Nadelbach, mother of Wellington resident Josh Nadelbach, the namesake for Josh's Benches. "Our organization started in 2018, and next month it will be four years since our son passed."
The organization unveiled its first bench at Wellington's Village Park in 2019, and this is the first bench to be placed at a Palm Beach County School District campus. Recently, permission was given to begin placing benches at bus stops around the county as well.
Principal Cara Hayden was happy to see the bench placed in a popular, shaded location in the middle of campus.
"Not only are we supporting suicide awareness and giving students assistance with mental health, but we are trying to practice what we preach," Hayden said. "We are offering yoga and meditation every Wednesday at lunch until the end of the school year to help students de-stress."
Future plans for the space also include a garden, and Hayden wants to see it become a hub for peace and wellness for both staff and students.
"There is a stigma around mental health awareness that we want to erase here on campus," Hayden said. "With this bench, we will now have a visual reminder that there is help available and people who are here to listen. The Wellington Wellness Center was established to assist students in crisis, and we are always looking for ways to reach out and provide assistance. Students will pass by this bench daily and be able to see the National Suicide Prevention Lifeline information. Students who are struggling or in crisis will have this phone number to call. Here today, in front of Josh's family, we are honored to accept this donation and present Wellington High School's awareness bench."
Nadelbach, with Josh's father Barry at her side, addressed the students present after the bench was unveiled.
"I'm just going to talk as a mom who lost her son. They say 50 percent of the time they talk about it, and the other 50 percent they don't. Our son was the 50 percent who didn't talk about it. My son was 21," she said. "There is always help out there. Speak to a friend, call this number, text them. It's anonymous. Just know that you're never alone. Each and every one of you have your whole lives ahead of you. Suicide should never be a part of any plan. A plan is for the future, it's not for the past. I wish you all the best of luck whether you are graduating, or you just started here. You have a lot to offer, and go with your dreams."
For more information about Josh's Benches, including locations of existing benches or to sponsor a future bench, visit https://joshsbenches.com.
If you or someone you know is in distress, the confidential National Suicide Prevention Lifeline is (800) 273-TALK (8255), and it is available 24 hours a day.