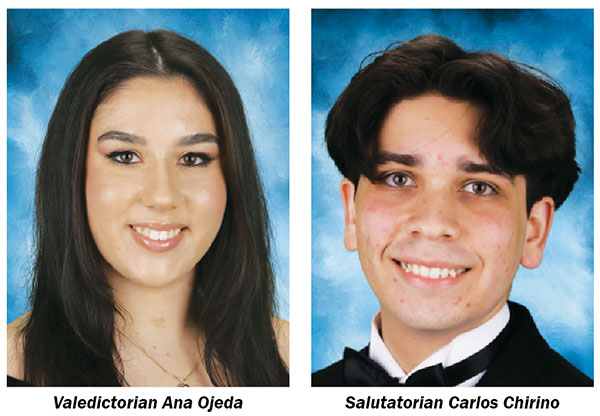 Royal Palm Beach High School's graduating Class of 2022 will conclude their time as Wildcats at an in-person ceremony on Monday, May 23 at 6 p.m. at the South Florida Fairgrounds Expo Center.
It will be the first regular graduation ceremony for RBPHS students since before the pandemic. Unlike the previous few years, the school's band and chorus will be able to perform in the same space as their classmates, and parents will be able to watch the action live.
This will also be Principal Michelle Fleming's first time overseeing the commencement exercises. She took over for longtime Principal Dr. Jesús Armas in November.
"I'm very excited to see this class have an in-person ceremony, and it's just phenomenal," said Fleming, who will give her first actual graduation address. "I was an assistant principal for nine years and actively participated in the graduation ceremonies, including reading all the names. It's the 25th anniversary of our school — the silver jubilee — and one of our school colors is silver. So, I'm going in the direction of things that were happening 25 years ago compared to now and the resiliency of these kids, going through the pandemic and persevering."
Fleming is particularly moved by the students' ability to come out of lockdown and work through hybrid and online classes, constantly pivoting while moving forward in their studies. "Their ability to turn on a dime is great," she said. "We are still going to maintain very high levels of graduation rates, even through the pandemic. That is awesome."
Fleming is grateful for the support the RPBHS community has shown her as she stepped into her new role.
"The students and staff have been outstanding in welcoming me as a new leader with open arms. That has afforded me the opportunity to really hit the ground running and get to business as far as academics and make sure that we are maintaining high-quality instruction. The seniors have been an integral part of that," she said.
Fleming wanted to show the students how much they are valued. This year, she started a new tradition by honoring the valedictorian and salutatorian with special shirts.
"You know what, it's a big deal to be number one and number two in your class of 570 students. I wanted to do something to make it special and show that academics are so important," she said. "I invited them in with the school counselors, and it was really a fun day to honor them. They were really surprised."
The school provided seven tickets to each graduating senior, and with 4,000 tickets to attend the ceremony, a lottery is in place to distribute the remaining tickets. For anyone unable to attend the event in person, the school also plans to livestream the event so friends and family can celebrate — even from a distance.
Valedictorian Ana Ojeda — The top spot in the class of 2022 belongs to Ana Ojeda with her 5.49 weighted GPA with honors points. The future University of Florida student is an AICE graduate and working toward an International Baccalaureate diploma as well. She will address her fellow students in person at the graduation ceremony but has words of wisdom to share for all students.
"I would tell my class to celebrate themselves. There is a lot to be proud of right now, having overcome COVID-19 and all its challenges; it takes a lot of resilience," Ojeda said. "I encourage everyone to take pride in their accomplishments and not look at materialistic things — or even grades — as proof of success."
Ojeda has spent years working to support her community. As a National Honor Society member, she has organized blood drives and cleanups while also tutoring other students.
"I am the president of a club called My Fair Ladies. It's a women empowerment club," she explained. "We are an all-girls organization that focuses on building a safe space for girls on campus. We have a mentorship program where we match upperclassmen with underclassmen and allow girls to know someone they can trust, get advice from and simply enjoy a long-term friendship. We also stay active in our community, specifically by donating to our local elementary schools and raising awareness for women's rights."
After taking time this summer to work and travel a bit, Ojeda will pursue a dual major at UF in nutritional science and business administration. She then plans on continuing to medical school and specializing in dermatology.
"It's exciting to be back in person," Ojeda said. "I was a little nervous about COVID-19 with everyone gathering, but I am fully vaccinated and boosted, so I am feeling more excited than anything."
Salutatorian Carlos Chirino — The salutatorian this year is Carlos Chirino, who is graduating with a weighted GPA of 5.4344. The senior class vice president and student council representative is also on the verge of completing his Eagle Scout rank.
"I am a scout and have been involved in an array of leadership roles, including crew president, chapter chief and vice-lodge chief," said Chirino, who explained that the latter includes mentoring other scouts and even organizing events across five countries. "Additionally, Best Buddies is a club that has been extremely close to my heart that I joined in my freshman year. I've always loved opportunities to spread kindness, and Best Buddies allowed me to do so, as we formed connections with and supported those with intellectual and developmental disorders."
Chirino takes his role in the community seriously by volunteering in service projects and school social events. At RPBHS, he was also involved in DECA (Distributive Education Clubs of America) and served as the club's director of marketing for two years.
"I also served as president of my school's National Honor Society chapter," Chirino said. "I also more than doubled our members in the wake of COVID-19 lockdowns, allowing us to contribute much more to our community through our various committees. In Mu Alpha Theta, I worked as vice president to oversee the induction and recruitment of new members and helped coordinate service projects that promote gratitude and empathy."
Chirino is also close to completing his International Baccalaureate diploma.
"I would have to say the most important accomplishment to me is making my mother proud," Chirino said. "She has sacrificed so much for my brother and I."
He offered a bit of guidance for his classmates, too.
"My biggest piece of advice for fellow graduates is not to stretch yourself out too thin. Put your mental health and enjoyment first. Always make time to do the things that you enjoy most," he said.
Chirino also plans to attend the University of Florida and to double major in psychology and biology as part of a pre-med program. He strives to become a pediatrician someday and is excited about his future campus life, including internships, student organizations and new experiences.