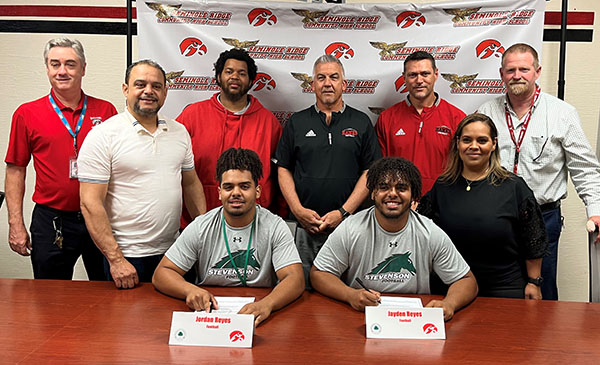 Whether it's football, basketball, lacrosse or competitive cheerleading, a number of Seminole Ridge High School graduating student-athletes are taking their athletic prowess and academic minds off to college this coming fall.
SRHS offensive linemen Jayden and Jordan Reyes will remain as football teammates after their high school graduations. Both players, who are identical twins, have agreed to play college football together, accepting scholarship offers from the Stevenson University Mustangs in Pikesville, Maryland.
Stevenson competes in the Eastern College Athletic Conference, an NCAA Division III institution. Both players excelled in the classroom as well as the football field. Jordan has a 3.96 GPA, while Jayden's GPA is 3.54. The two players helped anchor the Hawks' offensive line, with one of the top rushing attacks in Palm Beach County.
Both Jayden and Jordan played in the Palm Beach County All-Star Game, which was held after the conclusion of the last football season.
SRHS senior Michelle Lozott will continue to play lacrosse at the college level. She has signed to play college lacrosse at St. Thomas University in Miami Gardens. Lozott, a midfielder, was a four-year starter for the Seminole Ridge girls lacrosse squad.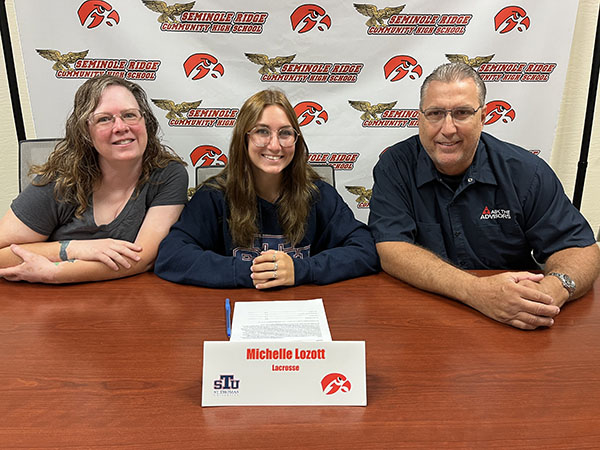 Two SRHS girls basketball players have also signed college scholarships. Aspen Johnson has signed with the Mercer University Bears in Macon, Georgia, while fellow teammate Ashley Thornton will be staying in Palm Beach County, where she will attend class and play for Palm Beach State College in Lake Worth. Both Johnson and Thornton were integral parts of the Hawks' district championship-winning teams in 2020 and 2022. Seminole Ridge finished the 2022 season with a 16-2 record and a trip to the regional finals, one victory away from reaching the FHSAA state final four.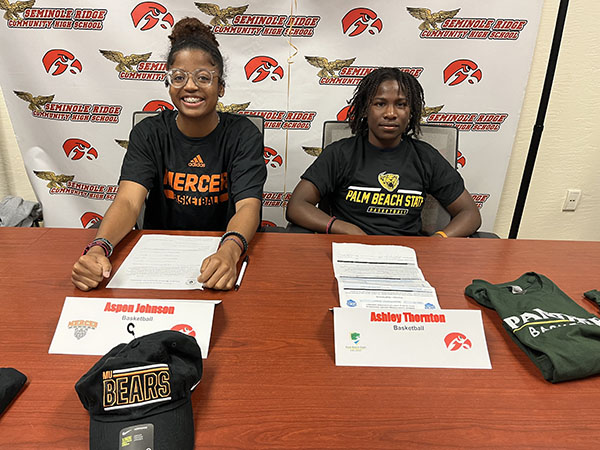 Finally, Nathanael Pierre Louis has inked a college scholarship with the University of Central Florida in Orlando for competitive cheerleading. Pierre Louis was a three-sport athlete for the Hawks. At Seminole Ridge, he played football, practiced weightlifting and engaged in competitive cheerleading. The Hawks co-ed competitive cheerleading team finished in second place in this year's FHSAA state championships. Pierre Louis not only excels in sports, but also has a 3.6 grade point average. The University of Central Florida has one of the top competitive cheerleading programs in the nation.