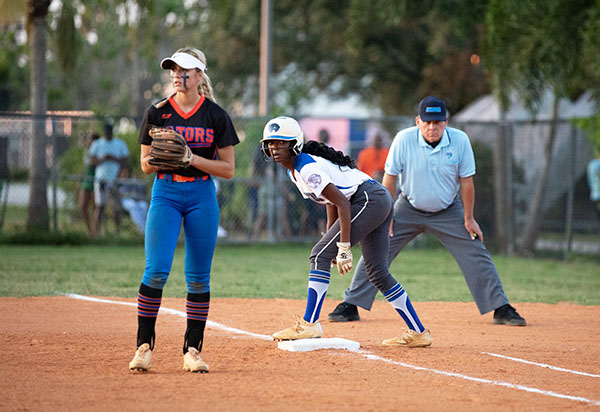 Wellington High School softball center fielder Morea Hodge officially graduated on May 17, but she remains firmly entrenched as a Wolverine, since she and her teammates are still playing high school softball.
The Wolverines will be playing next on Friday, May 20 against host Park Vista High School in the Florida High School Athletic Association's Class 7A, Region 4 finals. Up for grabs is a berth in the FHSAA's Class 7A state final four set for May 27-28 in Clermont.
When Hodge's athletic career as a Wolverine comes to an end, it will mark the beginning of another chapter in her academic and athletic life. This coming August, she will enroll at the University of Maryland-Eastern Shore, located in Princess Anne, Maryland.
While there, Hodge will study forensic science and biology in the classroom. On the softball diamond, Hodge will play in the outfield for coach Karla Ross's softball team. The University of Maryland-Eastern Shore is an NCAA Division I program that competes in the Mid-Eastern Athletic Conference (MEAC).
Hodge, who had a 3.7 GPA at WHS, is delighted to be headed north to study and play softball. "I visited the campus back in September, and I felt at home there," Hodge said.
Ross is pleased that Hodge will be patrolling her outfield for the next four years.
"I need an outfielder who has speed, a strong arm, can steal bases, and I need a 'slapper' in the lineup," said Ross, who goes by the nickname "Coach K."
Hodge feels that she can do more than be a "slapper" as a hitter.
"I'm a triple-threat hitter, who can hit, slap and bunt," added Hodge, who bats left, throws right and runs fast.
According to Ross, Hodge is one of five key freshman recruits for next year's team. The other ones are coming from Tennessee, Maryland, Connecticut and Pennsylvania. This past season, the Hawks had a disappointing 18-33 record, but Ross fully expects that win-loss record to improve as new, young players such as Hodge appear on the softball diamond.
"Our goal next year is to win our conference tournament and advance to an NCAA regional tournament," she said.
This past season, the Hawks had their first-ever Power Five conference victory when they beat Rutgers 4-3 from the Big Ten Conference. This coming season, UM-Eastern Shore is planning to play an early-season game or two against the University of Virginia, which competes in the Atlantic Coast Conference.