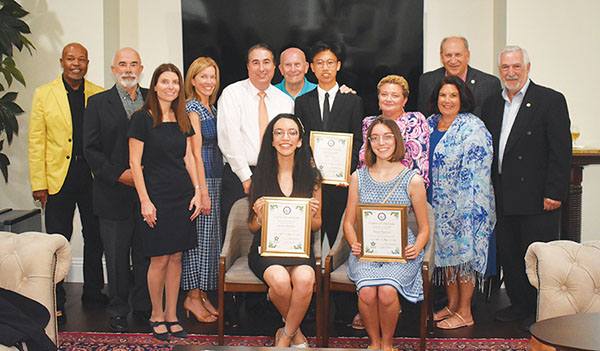 The Wellington Community Foundation's Board of Directors was excited to return to an in-person event for its annual Thank You Soirée, held on Thursday, May 12 at the Boynton Financial Group office on South Shore Blvd.
It was a special event dedicated to thank the foundation's donors, sponsors, volunteers and this year's newest initiative, the Friends of the Foundation. "We only exist because of them," WCF Chair Tom Wenham said. "Tonight we celebrate the wonderful individuals who have made our organization succeed and grow, and we owe it all to them."
The evening was hosted by Board Member Joanna Boynton and the team at the Boynton Financial Group. Both Joanna and her husband Ben Boynton invited the foundation members and guests for an evening of hors d'oeuvres, beer and wine, topped off with delectable sweets from Christy's Bakery. Longtime foundation supporters Star Wine & Spirits donated four different types of quality wines for foundation guests to enjoy.
During the special event, guests were able to meet and hear about this year's 2022 Arle & Ken Adams Scholarship recipients. Joanna Boynton and fellow Board Member James Seder headed up this year's scholarship committee. They presented $2,500 scholarships to Miles Wang of the Dreyfoos School of the Arts, Ryann Bierman of Wellington High School and Isabella Whedbee of Palm Beach Central High School. The three winners, who attended the Thank You Soirée, were chosen by the scholarship committee and presented to the full board for consideration, where they were unanimously approved. "Although the foundation received many qualifying applications, these three stood out from the rest, and we know they embodied all the things that the Adams Scholarship is intended for," Seder said. "We know they will go on to do remarkable things, and we look forward to them keeping us up to date on their progress."
To learn more about supporting the foundation, visit www.wellingtoncommunityfoundation.org.