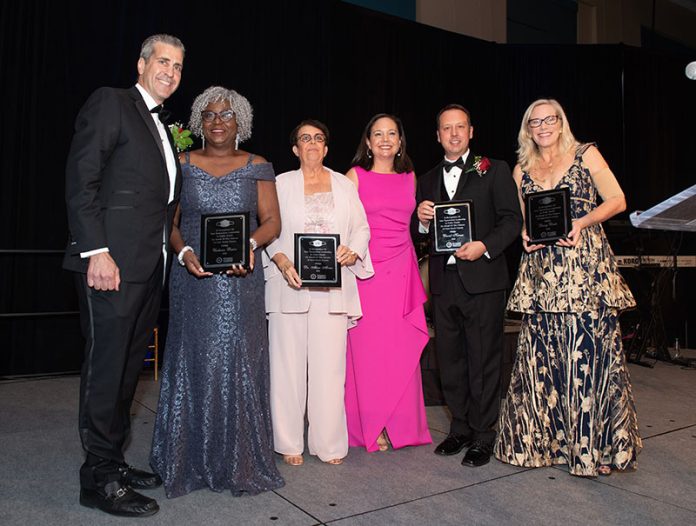 Nearly 700 attendees donned black ties and ball gowns on Saturday, June 4, for the eighth annual Mayor's Ball, hosted by Palm Beach County Mayor Robert Weinroth and his wife Pamela at the Palm Beach County Convention Center. The sold-out event netted more than $280,000 of critical funding for the Homeless Coalition of Palm Beach County, which works to improve the lives of nearly 3,000 homeless people annually, helping to move them into permanent housing.
Proceeds from the event fund gaps in services across all programs to help end homelessness in the community. These programs include homeless service provider partners across Palm Beach County, such as the Health Care District, Gulfstream Goodwill, the Lord's Place, Adopt-A-Family of the Palm Beaches and the Homeless Outreach Team.
The need remains extreme following record numbers of South Florida homelessness and the lack of affordable housing. On any night, more than 1,500 people in Palm Beach County do not have a safe, permanent place to call home. Recent counts revealed 43 percent more seniors living on the county streets than previously noted and 4,352 homeless Palm Beach County students.
The Mayor's Ball kicked off with a cocktail hour followed by dinner and dancing. Guests were serenaded by the Palm Beach County Fire-Rescue Honor Guard playing pipes and drums, before Ashleigh Walters of WPTV Channel 5 took the stage to emcee the program. Highlights from the event included Allie Severino capturing the room's attention with her personal story of overcoming addiction and homelessness, and the recognition of Palm Beach County's COVID-19 Taskforce, Dr. Alina Alonso, Verdenia Baker, Darcy Davis and Dave Kerner for their leadership during the pandemic.
Paul Dumars Jr., Michelle McGovern and Ted Peroulakis co-chaired the event and were thrilled with the success of the 2022 Ball. Mayors in attendance, who remain committed to a collaborative effort to fight homelessness across Palm Beach County, included Pahokee Mayor Keith Babb, Belle Glade Mayor Steve Wilson, South Bay Mayor Joe Kyles, Boynton Mayor Ty Penserga, Greenacres Mayor Joel Flores, North Palm Beach Mayor Deborah Searcy and Palm Beach Gardens Mayor Chelsea Reed. Other notable guests included State Sen. Bobby Powell Jr. and State Sen. Lori Berman, State Rep. Matt Willhite, and county commissioners Gregg Weiss, Mack Bernard, Maria Sachs and Melissa McKinlay.
"Our purpose at the Homeless Coalition is to generate awareness through advocacy, education and community outreach, and to motivate a community-wide response to raise funding, resources, partners and involved citizens to end homelessness in Palm Beach County," said Pamela Payne, CEO of the Homeless Coalition.
For more information about the Homeless Coalition, visit www.homelesscoalitionpbc.org.