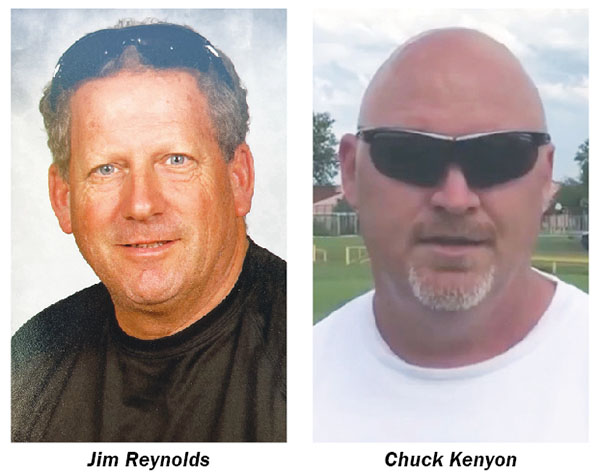 Royal Palm Beach High School has hired new head coaches for its varsity baseball and football teams.
The new head baseball coach is Jim Reynolds. He will be replacing Tom Coates, who has been the head baseball coach at the school since 2016.
The new head football coach is Chuck Kenyon, who will be replacing Jeff Schaum, who had been hired in February, but suddenly departed from the position in April. Schaum was hired to replace Darin DeCosta, who stepped down from the position following last fall's football season.
"We are grateful for the years coach Coates has dedicated to our students as both an assistant and head coach at Royal Palm Beach High School," RPBHS Athletic Director Eric Patterson said. "Coach Coates will remain on our staff as a teacher here at the high school."
Reynolds is a teacher and a coach on the staff at RPBHS. In the past, he has served as an assistant football and baseball coach, head boys golf coach, head girls golf coach and head girls basketball coach.
Reynolds has more than 35 years of coaching experience, including 10 years as the head baseball coach at Glades Central High School in Belle Glade.
Reynolds built a very competitive baseball team at Glades Central, Patterson said.
RPBHS Principal Michelle Fleming and Patterson are both very excited to have Reynolds assume control of the Wildcats' varsity baseball program.
"Jim is very familiar with our students, surrounding communities and our past history of great teams and players produced at Royal Palm Beach High School," Fleming said. "Jim will, undoubtedly, bring a high level of energy and a wealth of experience to the Wildcats' baseball program."
Patterson also has high hopes for the program's success.
"Jim is a great fit for this position at this time," he said. "Not only is he a great baseball mind, but he is also a master coach. His coaching history shows that. I don't believe there is a sport that he cannot coach and would not be successful at coaching. He will do what it takes to get the job done. Most importantly, he will build great relationships with his teams and assistant coaches."
As for school's new football coach, Fleming and Patterson are pleased to have Kenyon as the new leader of the Wildcats on the gridiron.
"We are very excited to have coach Kenyon join the Wildcat family," Fleming said.
Kenyon was looking to move back to Florida when the head football coach position became available at RPBHS, Patterson said.
Kenyon has previously been a high school head football coach in Florida at Sebastian River High School and Martin County High School, where he coached for 11 years. During his stint at Martin County, he compiled a 61-58 record. Most recently, he has been a defensive coordinator at a high school in Savannah, Georgia.
"Coach Kenyon checks a lot of the boxes we were looking for in our head coach," Patterson said. "One of our biggest needs at Royal Palm Beach High School was for our head coach to put a staff together, which he has started already, and we are still looking to fill a couple of spots."
Patterson is confident that Kenyon will work tirelessly to improve the student-athletes and the football coaching staff at RPBHS.
"Chuck Kenyon is a great fit for Royal Palm Beach High School," Patterson said. "Our Wildcat administration and coach Kenyon have a number of shared values. Those values being educating our student-athletes in life, school and football."
Kenyon said that he is 100 percent committed to improving the football program at RPBHS.
"I am extremely honored and humbled to be given this opportunity," Kenyon said. "We have a long way to go, but I feel extremely confident that we will be able to reach our goals. I am looking forward to working with the players, administration, faculty, staff, parents and community to make Royal Palm Beach High School football the best that it can be."