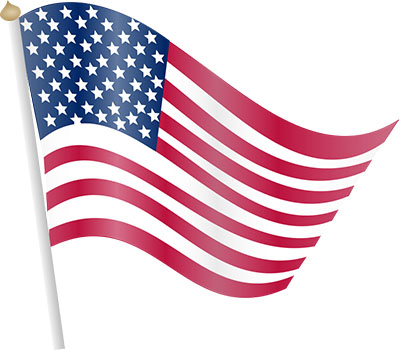 Fourth of July events in Wellington and Royal Palm Beach this year are going to be bigger and better than ever as the western communities celebrate Independence Day.
"It'll be a great time. We're looking forward to this annual event that really brings the community together in a safe, family environment," Wellington's Assistant Community Events Director Michelle Garvey said.
Wellington will start its celebration with a Patriotic Pool Party, on Monday, July 4 from noon to 7 p.m. at the Wellington Aquatics Complex. With contests and activities scheduled on the hour, it's sure to be a splashing good time for the kids, allowing them to get moving and active, Garvey said.
Admission is free for those under two years old, $3 for those up to 17 years old, $5 for adults, and $2 for the 55-plus crowd.
Following the Patriotic Pool Party is the main event: the Fourth of July Celebration at Village Park, which comes with some new, exciting additions.
Eagles tribute band the Long Run will be providing live music, while approximately 20 food trucks will offer gourmet sweets, treats and fun eats.
Activities abound, including favorites such as the petting zoo, inflatable bounce houses, an inflatable farm maze, inflatable slides, crazy games, bingo, bounce houses, a climbing wall, eating contests, challenges and races.
New this year is the U.S. Ninja Warrior Warped Wall & Ninja Steps Obstacles. "They loved the covered roller hockey rink. They looked at how their items would work out in there, and they said it would be the perfect location," Garvey said. "Our hope is, in the future, to have a bigger Ninja Warrior event here, but this is a little sampling so people can try it out and get to experience what the Ninja Warriors get to do."
Parents will need to accompany their children, and there is a waiver, but the sampling will be family friendly.
Around the park, children and adults alike will be delighted by stilt walkers, as well.
And at 9:15 p.m., the fireworks will begin.
"This year, we do have, according to Zambelli Fireworks International, the largest fireworks display in Palm Beach County," Garvey said. "We're very proud of that."
Attendees are encouraged to take the free shuttle from the Mall at Wellington Green to attend this free event, which kicks off with entertainment and activities at 6 p.m.
For more information, visit www.wellingtonfl.gov/july4th.
Royal Palm Beach Commons Park Event & Facilities Manager Sylvio Pierre Louis is looking forward to his village's whirlwind of festivities spanning four days at Commons Park.
"With Fourth of July being on Monday, to have something leading up to the holiday, I think it'll be something for people to do in the area throughout the whole weekend, so you can spend your whole weekend at Commons Park," he said.
The Friday, July 1 Summer Concert Nights in the Park and Food Trucks, from 5 to 9 p.m., features a Nirvana tribute band. On Saturday and Sunday, attendees can enjoy the Weekend Spectacular from 4 to 9 p.m., with food trucks, bounce houses and live music. The live music, provided by a Blues Brothers tribute band on Saturday and a Van Halen tribute band on Sunday, will begin at 6 p.m.
On the morning Monday, July 4, the Royal Palm Bassmasters will present the 30th annual Ed Singleton Memorial Fourth of July Family Fishing Tournament, with on-site registration from 6:30 to 9:30 a.m. at the Commons Park Main Pavilion. Awards will take place at noon. Participants must provide their own tackle, rod and reel; live worms will be available at registration.
Also Monday morning is the Mayor's July 4th Golf Tournament at the Madison Green Country Club. Registration is at 7 a.m., with a shotgun start at 8:30 a.m. After golfing, there will be a luncheon at 1 p.m.
Registration is $125 per player, or $400 for a foursome. Proceeds benefit the Royal Palm Beach Scholarship Fund, which provides the scholarships given annually to ten graduating high school seniors.
Royal Palm Beach's Star-Spangled Spectacular will take place from 1 to 10 p.m., with a volleyball tournament from 11 a.m. to 5 p.m., a rock wall, bounce houses, a DJ from 1 to 4 p.m., a bungee trampoline, water slides, a petting zoo, a face painter, arts and crafts, craft vendors, and food and beverages for sale. Kayaks and paddleboards are available to rent from sunrise to sunset.
From 6 to 7:30 p.m., 56 Ace will take to the stage, followed by a Bee Gees tribute band from 8 to 8:30 p.m., and then 9 to 10 p.m. Prior to the fireworks show at 9 p.m., there will be a military tribute.
"We're putting on a special fireworks show this year, so look out for that," Pierre Louis said. "It's going to be better than last year — a big fireworks show. People are going to be really excited when they see the fireworks show this year."
For more information, visit www.royalpalmbeach.com/parksrec/page/special-events.