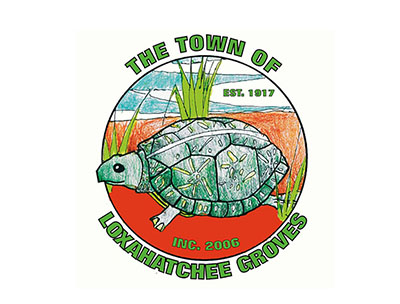 The Loxahatchee Groves Town Council bid a fond farewell to departing Town Manager Jamie Titcomb at a meeting Tuesday, June 7. Also at the meeting, the council finalized its list of replacement candidates to invite in for interviews.
Titcomb, who took over as town manager in 2019, announced his intention to leave in April. He plans to semi-retire while retaining a small private practice.
Previously, the town had a contract form of government, where the council hired a management company, which in turn hired the staff. Titcomb was the first person to hold the job working directly for the town.
Titcomb, who had served as the longtime executive director of the Palm Beach County League of Cities, helped the town transition to a government led by a staff employed directly by the town.
At the meeting, the council approved a temporary agreement with Assistant Town Manager Francine Ramaglia to serve as acting town manager until a permanent manager is selected. Ramaglia, who joined the Loxahatchee Groves staff in 2018, previously worked as an assistant village manager in Wellington.
A total of 11 people applied for the vacant manager position. Each council member was asked to choose two people to invite in, with two candidates automatically invited in for an interview due to the town's veterans' preference policy.
Due to duplications in choices, the council will interview seven candidates for the job, including Ramaglia. The other candidates are Timothy Day, Patrick Jordan, Mark Kutney, Lynne Ladner, Larry Tibbs and Chandler Williamson. Kutney also has direct experience with the town, having served as manager for several years during the previous contract with Underwood Management Services Group.
The interviews are scheduled for Tuesday, June 21 at 6 p.m.
The council showered Titcomb with compliments for his three years of service to the town, each noting that they were sad to see him go.
"I wish you a lot of luck and success on whatever adventure you seek from here on out," Councilwoman Marge Herzog said. "Hopefully, it's more relaxing."
Councilwoman Phillis Maniglia said she is glad that Titcomb was there when the town needed him.
"The job you took on was something that not everybody could do," she said. "You took it with grace and poise, and there was a lot of stress and pushback. We were a mess, and you were definitely the right person for the job at the time."
Vice Mayor Laura Danowski thanked Titcomb for "making government fun, applicable and understandable."
"And thank you guiding us through a very ugly period of neglect and mismanagement that was handed to you," she added. "With your mop and your bucket, you did a job probably no one else could do."
Councilwoman Marianne Miles agreed.
"I appreciate all of your grace with us and the residents," she said. "It has been a pleasure sitting in the hot seat with you."
Mayor Robert Shorr said that Titcomb had set the bar high for future managers.
"I appreciate all that you've done and your commitment to the town," he said. "Thank you for everything. We got a lot of great things done."
For his part, Titcomb said he was touched by all the comments and kudos.
"It has been an honor and a pleasure to be out here and fight the good fight with you all," he said.