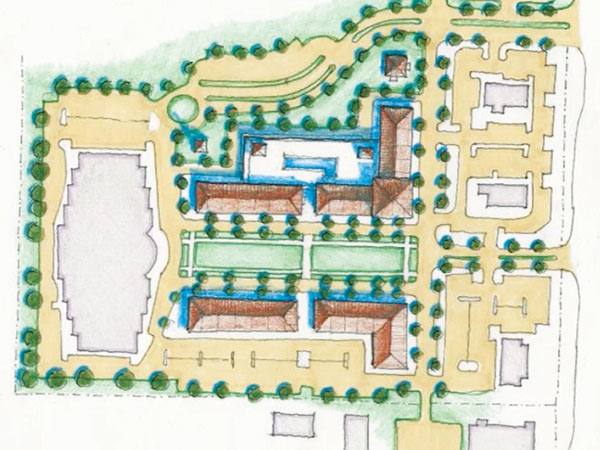 Facing long-term issues ranging from challenges in retail real estate to talks of new public transit options in the area, the Village of Royal Palm Beach hosted a public workshop Thursday, June 23 with the Treasure Coast Regional Planning Council to share potential design concepts and gain input from the community regarding the future of four major parcels along the State Road 7 corridor.
Mayor Fred Pinto greeted those in attendance at the Royal Palm Beach Cultural Center.
"This is a very important topic that we have incorporated into our strategic thinking and looking down the road," he said. "Things change, so this is part of a process for us to get smarter and to help us in our decision-making. Tonight, we are looking for input from you."
Village Manager Ray Liggins laid a foundation for the presentation by explaining that the vision for SR 7 shifted after the pandemic began. Some larger retail stores filed for bankruptcy, and there was pressure to just fill the space with residential housing.
"We thought that it would be better not to wait for the development community to come to us, but instead re-envisioning the corridor ourselves," Liggins said. "We couldn't think of a better group than Treasure Cost to engage in helping us with that."
He also reminded attendees of the TPA's work on proposed improvements to the transit system in Palm Beach County, which could include stops directly on SR 7.
Urban Design Director Dana Little presented the drawings and concepts for the possible future redevelopment of four different parcels along the corridor. He focused on three primary components, including connectivity, what should redevelopment of these areas look like, and how should existing land use codes be adjusted to achieve those directives.
"You've got this very robust bicycle connection throughout the village, but there are still a few missing links here and there," Little said, adding that another key objective is "first and last mile" improvements. "If you ever find yourself at your last stop but not your destination, it's an uncomfortable environment to get to that last or first mile. Those distances, that link between the transit service and what your ultimate destination will be, is very important — and we haven't done a great job throughout South Florida."
Bicycle, pedestrian and park connections involved the TCRPC identifying a variety of locations to improve linkages. Recommendations include a connection from Preservation Park to Royal Palm Commons Park; additional crosswalks and shade trees in Robiner Park, along with a sidewalk to bridge connection at Sparrow Drive; and a pedestrian bridge over Okeechobee Blvd at Sparrow Drive.
"This is not an easy redevelopment corridor," said Little in reference to SR 7. "How do you create an address on SR 7 that would be a desirable place for people to go?"
He began with the street connections around the new Tuttle Royale development, specifically Erica Blvd. and Lulfs Road, both of which are under development.
Currently, the Lulfs Road plan is a two-way street with four-foot unprotected bike lanes on either side, a seven-foot strip of landscape bracketed by five-foot sidewalks. The new design by TCRPC would reduce the width of the street and remove the unprotected bike lanes. The sidewalks would shift to multi-purpose walking/biking lanes and be 10 feet wide instead of five. Shade trees would be planted in the seven-foot landscape sections between the sidewalk and street.
Erica Blvd. currently is planned to have an 80-foot right of way for traffic with a 12-foot median, four-foot bike lanes on both sides and a separated five-foot sidewalk. Again, the suggestion is to change the sidewalk plan to a 10-foot multipurpose path on either side, with a reduction in the travel lanes. The median would expand to allow for shade trees.
A prime redevelopment candidate is the Village Shoppes. This 31-acre section has three vacant parcels. The initial concept alters the space to create a small urban neighborhood with mixed-use buildings containing both retail shops and residential housing in the upper levels and townhomes. The existing Planet Fitness remains in place in the potential design.
"There are almost an infinite number of ways to design each one of these sites. What we are illustrating are the principles. The principles are what should not be negotiable going forward. Creating a network of streets and blocks that are walkable with sidewalks and shade trees. That the fronts of buildings face the fronts of buildings, not the back of buildings. You do not want to have your new residents facing a dumpster or the back of somebody else's building," Little said.
The Coral Sky Plaza is just over 25 acres with three outparcels. The rough sketches presented included three city-sized blocks with buildings of five to seven stories. The concept is similar to structures currently in West Palm Beach and are intended to build upward and open up more green space. The current space is all paved. The seven-story option was mentioned as part of an incentive program meant to be flexible.
A design concept for the current plaza with Regal Cinema, which will remain in place, presented a vast central open space with mixed-use commercial and residential buildings over what is currently a large parking lot.
Next up was the undeveloped 52 acres at the southeast corner of SR 7 and Okeechobee Blvd. known as the Weldon property. It is already zoned for general commercial use. The purpose of the design process is to look ahead and let the community decide what is desired in that space.
"With the very few restrictions, there is an opportunity to create a whole urban neighborhood with different buildings, different densities, different price points and create a frontage along SR 7 that doesn't exist today," Little said. "These obviously aren't final plans. There's an infinite number of ways to design this, but it's the principles that are really important."
This means creating a significant amount of open space and addressing housing issues. Little stressed that the designs presented were ideas that had been developed with the TPA and village input but are not at all set in stone.
The regulatory recommendations included the creation of a new land use category called Commercial Corridor Mixed-Use (CCMU). This category would apply to sites more than 15 acres in size and would not have set percentages for usage, except for a requirement that 20 percent of open space also be usable space. The category could include buildings of five to seven stories.
"The idea, as in any city, is that these properties develop in a way that you hope will be timeless. City buildings change use over time, they adaptively change to the market conditions," Little said. "The objective here is not to try to overly densify the village, but to figure out ways to have some increase in density so you get the other good stuff like the well-defined parks and trees and open space."
The workshop recording is available on the village's YouTube channel, and any feedback, inquiries and ideas can be directed to Planning & Zoning Director Bradford O'Brien at bobrien@royalpalmbeach.com or (561) 753-1120.