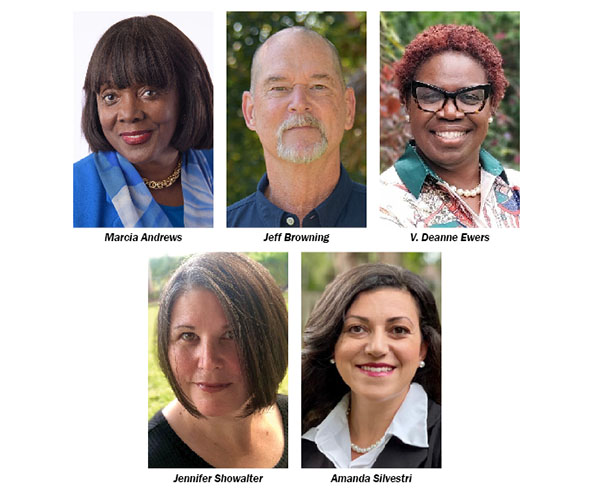 Incumbent Marcia Andrews faces four challengers in her bid to secure a fourth term representing District 6 on the Palm Beach County School Board.
Andrews, who won a third term unopposed in 2018, this time faces a race that includes Wellington businessman Jeff Browning, schoolteacher V. Deanne Ewers, and parent activists Jennifer Showalter and Amanda Silvestri.
The primary will be held on Tuesday, Aug. 23. If no candidate gets more than 50 percent of the vote, the top two vote-getters will advance to the general election in November. District 6 includes most of the western communities and the Glades.
Marcia Andrews — A resident of Royal Palm Beach, Andrews was first elected in 2010 after a long career in education.
"I am the best qualified candidate to serve," she said. "I have served 45 years in public education. I have served in every capacity — as a teacher, assistant principal, principal and chief of human resources for 15 years."
Giving recent difficulties, Andrews is not surprised by the number of candidates.
"We are at a new day with the issues as it relates to the pandemic, so there are more people who are questioning the work that we do," she said.
Nevertheless, Andrews is proud of how the district managed the unprecedented challenges posed by the pandemic. "We were able to reverse from in-school learning to remote learning and back without many hitches," she said. "In Palm Beach County, we were able to open our schools in a manner that was safe and effective."
Andrews also called attention to increased security and mental health services.
"We have a police officer in every school, in some schools more than one," she noted. "I am proud that we have mental health services available in each school, and I'm proud that we have co-located services to help those mental health experts. That will help our students and teachers."
Andrews said she is pleased that a new school police chief is ready to take the agency "to the next level."
"School security is very important," she said. "I want to thank the public for passing the referendum, because a part of that was for school security. That includes the training necessary, such as active shooter training. We will continue to bolster these areas."
This includes implementing new technology, such as nametags that can summon an emergency response.
Andrews also highlighted her support for teachers. "Without our wonderful teachers, we would not be able to get this work done. One thing that I will focus on over the next four years is to be an active supporter for our teachers," she said. "We have got to provide more professional development."
She pushed back against those who have criticized the board for a lack of parental input.
"I am someone who believes in parental voices," she said. "I have parental advisory committees that I participate in each month. Within our schools, we have school advisory councils and PTAs/PTOs. Parents are the power brokers in the school district, and I always want parents actively involved."
While the district angered some people with its mask mandate, Andrews insisted that the board did what was necessary based on the advice of its health experts.
"I didn't take it lightly, but I had to make the decisions necessary to keep our children safe," she said. "We were not trying to usurp anybody. We were trying to keep people safe."
While Andrews does not have children of her own currently as students, she does have personal ties to the district.
"My daughter is a veteran teacher in Palm Beach County," Andrews said. "She is a graduate of Palm Beach County schools. I have five grandchildren. Four have graduated from the School District of Palm Beach County, and the fifth is going into high school here in District 6."
She asked the voters to continue the support her.
"I am happy and thankful for the support that I always received and ready to answer questions and present myself as the most viable choice to continue to serve as a school board member over the next four years," Andrews said.
To learn more about Andrews, visit www.marciaandrewsforschoolboard.com.
Jeff Browning — Currently a Realtor, Browning is perhaps better known for his work with Browning & Becker, the construction company he owned for 29 years that worked on many projects throughout the western communities.
"I have been in the western communities since 1987," he said. "I have been involved in sports, construction, real estate and rental properties. I put kids through the public school system in the western communities. I'm also the president of my HOA. You've got a $4.1 billion budget with the school district, and I am someone who has worked with large companies with large budgets."
Browning said he got into the race at the urging of friends and supporters.
"Several of my friends asked me to run. That's what started it. They are not happy with the way things are going with the school board," he said. "People are not happy with the fact that parents do not have much involvement, and I don't think the board is looking for input from the parents."
If elected, Browning said one of the areas he would focus on is school security.
"My biggest concern is security, of course, and I am one of those people who feel that the sheriff's department should take over the school police," he said.
He also wants to bring people together, creating commons bonds between the school board, the teachers and parents. "That way, we can all work together toward some common goals," Browning said. "I don't see why we can't all work together."
Browning said he is not in the race specifically to challenge Andrews, but rather make improvements to the system. In his view, the school board's job is to make sure that the district is staying on the right track, and after the last few years, he feels that a course correction is needed.
"I'm just not happy with the school board itself," Browning said. "I'm not looking to tear the school board and the school district apart. I'm just trying to get us all to work as a team."
To learn more about Browning, visit www.thekidscomefirst.info.
V. Deanne Ewers — A resident of the Acreage/Loxahatchee area, Ewers has been a teacher with the school district for 20 years. "I have taught at all grade levels — elementary, middle, high school and adult education," Ewers said. "I also coached girls soccer for two years and was a high school newspaper sponsor."
This includes three years teaching reading and ESOL at Glades Central High School. Most recently, she worked as a reading teacher at Lake Worth High School.
"I am running because I am a teacher, and I believe that as a teacher, I am equipped with the knowledge and experience to improve and change our present educational system for the better," Ewers said. "I am the best candidate because I have up-to-date insight on what is going on inside the classroom, and I understand what teachers need."
She is concerned about school security and feels there must be better ways to get students out of classrooms quickly and safely in the case of an emergency.
"Right now, we don't have the best Code Red system here in Palm Beach County," Ewers said. "That is important to the kids and the teachers. Safety is really the most important thing right now. I can help make the changes that are needed."
She has discussed the situation with her students, and they are scared.
"Kids need a way to escape," she said. "The kids are afraid of what can happen. There has got to be a way that we can use technology to pinpoint exactly where the shooter is, and that can be a chance to get the kids out of the window and out of the building as quickly as possible."
Ewers is most proud of the work she has done to help her students pass their exams, graduate and go on to college or a career.
"I work with them to help them," she said. "I enjoy these one-on-one things with students; helping them work through the process of getting into life. There are many emotional and social issues. It is not about education only. It is about meeting the needs of the whole child."
Ewers believes that several things need to be added into the curriculum, such as typing classes, financial literacy, and how to properly use office programs like Word and Excel. "We need more software engineering classes with a focus on coding to help kids advance with computer technology," she said.
Ewers also believes that additional salary increases are needed for teachers.
"The recent referendum was only a temporary fix," she said. "A lot of teachers will get hurt financially. Too many are leaving because it is too expensive to live here."
She would also like to see programs in place to bridge the gap between minority students and law enforcement. "Many minority students don't trust the police," Ewers said. "A program is needed to close the gap."
To learn more about Ewers, visit www.ewersinspiration.com then click "About."
Jennifer Showalter — A mother of three who lives in Wellington, Showalter is very critical of recent decisions made by the school board, particularly as it relates to the pandemic and the curriculum.
"My daughter Sydney just graduated in May as valedictorian at Wellington High School," she said. "I am also the mother of two special needs sons. I have lived with the nuclear fallout that is our current educational system."
Showalter has been a regular attendee at school board meetings for the past two years.
"I have witnessed the behavior of the board toward taxpaying citizens, as well as having my own two special needs sons' medical math mandate exemptions denied," she said. "That led me to do more in-depth research in what exactly is going on with our schools, and what I found was incredibly disturbing. I knew that I had to step in to help turn the ship around."
Showalter said that her two decades in the field of communications as a graphic designer, brand specialist and messaging expert give her insight into something currently lacking on the board.
"I have the skill set and the professional experience to rebuild what is extremely lacking, which is communication, transparency and accountability," she said. "I am also a researcher, so I am the only candidate who has gone in-depth and compiled the data on our academic performance."
Her goal is "to restore the power back to the people."
"For too long, teachers, parents, students and taxpaying citizens have not been represented and had a seat at the table to help develop solutions to our problems," Showalter said. "We need someone on that board to respect parents' rights, individual rights of employees and the rights of special needs students. The ESE/IEP programs need an overhaul, and we need to eradicate political indoctrination. We should be teaching children how to think, not what to think."
Showalter said that she will work to restore communication avenues, create solutions and refocus on academics. "We need to return to personal responsibility and strong work ethics in a can-do environment," she said.
Showalter said that the school board was out of line in some of the decisions made during the pandemic. "The citizens are tired of being ignored," she said. "They are upset that the school board refused to follow the law. They were found in non-compliance by the board of education and fined. We need to restore respect and trust, and the school board needs to be more transparent with where the money is going."
Showalter also wants to see better pay for teachers and more funding for sports teams and music groups. There is also a growing problem with bullying that must be addressed, she added.
Showalter sees Andrews as someone whose time has passed. "The incumbent has served 12 years, and it is time for a fresh, parental approach," she said.
She does not believe that many graduates are ready for the real world.
"I have talked with local businesses, and they are concerned because the students they hire cannot problem-solve to complete the task," Showalter said. "We need to refocus on academics and stop the learn-to-test method. They need to develop the skills to learn to retain material."
On the campaign trail, she has seen voters who are eager for change.
"I don't think this is a usual scenario, and people are doing their due diligence," Showalter said. "People are very invested in meeting the candidates and learning about them for themselves."
Learn more about Showalter at www.votejenpbsd.com.
Amanda Silvestri — A Wellington resident, Silvestri is the mother of two children at Wellington Elementary School.
"I'm very involved in their education, and I'm always the room mom and help on the PTO board," she said. "I'm very involved in the classroom."
She is running a campaign that aims to put "education over politics."
"Over the past two years, I've been very eyes wide open to the policies that the school board has made, and I feel that it has been more of a shift toward politics rather than education-based decisions," Silvestri said. "Children and teachers don't seem to be coming first. A lot of this seems to have come first from COVID-19 policy, and school safety doesn't seem to have been a priority."
She would like to see school safety be a bigger priority to prevent a local tragedy.
"I would like to see some of the safety changes needed in our schools come to fruition," Silvestri said. "We need to take a look at the school police to make sure we have enough staffing on all the campuses and make sure they have the training and recourses they need to protect our children while they are on campus. We need to look at our schools to make sure they are secure."
She feels that her background as a paralegal will help her with her work on the school board.
"I stepped away from my career to raise my children," Silvestri said. "I am very well-versed in reviewing documents and asking pertinent questions. I want to ensure that all of the children in Palm Beach County have access to a world-class education. I want to provide transparent communications to our parents, teachers, officers and the community. I want to provide strong leadership, integrity and accountability."
Silvestri noted that the incumbent does not have children in the school system and has served three terms on the board.
"I do believe that it is time for a fresh voice on the board," she said. "With seven members on the board, only one of them has children in school currently, so I think it is time for there to be a few parents on the board."
She aims to provide that parental voice.
"Since I have been on the campaign trail, I have met with many parents," Silvestri said. "Bullying and violence is a humongous issue in our schools, and it needs to be addressed and handled properly."
Learn more about Silvestri at www.silvestriforschoolboard.com.