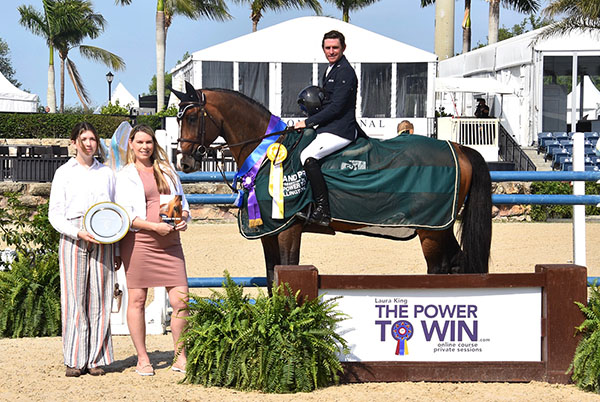 Life coach, author and rider Laura King has made "The Power to Win" synonymous with achievement. Her dedication to helping riders and horses find their best path forward by using her self-hypnosis work has helped equestrians across the globe.
King has continued to show her dedication by nurturing a relationship between "The Power To Win" and the Equestrian Sport Productions (ESP) hunter jumper circuits at Wellington International. During this past Spring Series, ESP offered a $25,000 Power To Win Grand Prix. King will continue to show support with sponsorships throughout the ESP Summer Series.
During ESP Spring 1, the power to win was clearly in the hands of Ireland's Darragh Kenny, riding his Olympic partner Heathman Farm LLC's grey Holsteiner stallion VDL Cartello. The duo thrilled audiences with a decisive double clear finish (35.972) over fellow countryman Paul O'Shea riding Sexy Beast, along with 43 other contenders in the $25,000 Laura King The Power To Win Welcome Grand Prix.
"My aim is to hopefully go to the World Championships with him," Kenny explained, "as well as simply staying focused and trying to produce the best results possible."
This was a resonant statement for King, who incorporates Neuro Linguistic Programming as a tool for reprogramming clients' thought processes.
"There is no such thing as failure; what you think is what you get," she said. "The fastest way to excellence is to find someone already doing it and do what they do."
For equestrians, this can include watching the performances of riders in any of "The Power To Win" classes that King supports, not only the Welcome Grand Prix but also the ESP Spring 1.20m Open Jumper classes under the covered arena at Equestrian Village, where Sophia Choti on Jabanix, Juan Carlos Garcia on Quentin VA and Kelli Cruciotti on Crescendo Z found their fastest routes to excellence and headed straight for the podium.
"The Power to Win teaches how to access the power of your subconscious mind to overcome blocks and produce the changes you want," King said.
Now that the ESP 2022 Summer Series has begun, King is again sponsoring the 1.20m open jumper class at Wellington International, formally known as the Palm Beach International Equestrian Center.
"The Power To Win" kicked off the Summer Series with two winners: German Camargo riding Ophelia at the ESP June 1 horse show and Carlo Graziani riding Funkmaster Flex at the ESP June 2 horse show.
Laura King's Power to Win online course includes an e-book, audio book and subliminal positive affirmations. It is a personal coaching companion to complement your training while quieting the storm so you can focus on your personal best. Learn more at www.thepowertowin.com.