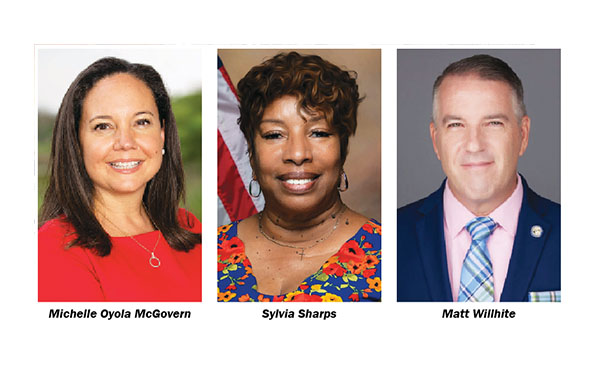 With term-limited County Commissioner Melissa McKinlay stepping down this year, three candidates are vying in next month's Democratic primary for the Palm Beach County Commission in District 6.
Michelle Oyola McGovern, former state director for U.S. Sen. Bill Nelson; former Palm Beach County employee Sylvia Sharps; and State Rep. Matt Willhite (D-District 86) are seeking the seat. The winner of the primary will face off against Realtor Sara Baxter, the Republican nominee, in the general election. Baxter does not face a primary challenge.
District 6 includes the western communities, along with the Glades area. While the election will be held Tuesday, Aug. 23, mail-in voting gets underway this month.
Michelle Oyola McGovern — A Palm Beach County native with a Puerto Rican heritage, McGovern attended local schools and graduated from Florida Atlantic University. She is the wife of Wellington Councilman John McGovern and mother to teenage daughters Emilia and Victoria.
"I will be first Latina elected to serve on the Palm Beach County Commission, so I am very proud of that," she said.
McGovern worked for U.S. Sen. Bill Nelson for 18 years as his state director and now works in the healthcare industry. She is proud of her service working locally on issues ranging from advocacy in the Glades to her role on the Wellington Education Committee.
"I believe that I have the best experience and connections in this community to serve it," she said.
McGovern said that her accomplishments have benefited many people across the region.
"The Keely Spinelli grants is one. When I served on the Wellington Education Committee, it was my idea to bring back these education grants that help support Wellington schools," she said, also noting her work bringing the Butterfly House rape treatment center to Wellington Regional Medical Center. "I helped identify federal funding to get that started."
McGovern also pointed to her work in the Glades to minimize the impact of FEMA flood maps on insurance rates.
"I went to Washington with local elected officials on behalf of Sen. Nelson," she said. "I sat across the table from FEMA officials in order to get that changed. My role in each of these were both in my official capacity and in my spare time working in this community to bring about change."
She believes that affordability in housing and public safety are key issues in this race.
"But I also feel that people are paying attention to women's reproductive health issues and gun safety," McGovern said. "While I can't change those laws, I can do everything I can to support people here in our community, which I am already doing as chair of the Palm Beach County Advisory Commission on Women."
McGovern has big plans for her work over the next four years on the county commission.
"I feel that there are real challenges ahead of us when it comes to creating more affordable housing opportunities. With that comes real challenges in transportation needs. I hope to bring a voice of reason to that, and I hope to bring successes," she said. "I will focus on supporting women who make most of the decisions when it comes to their families and the community. Any opportunity I have to help support our women, I am going to do."
She added that Palm Beach County will see many changes in the coming years.
"I think the biggest change is the influx of people moving here, so we will have to be very mindful in how we manage that in every way, when it comes to housing, transportation and safety," McGovern said.
She noted that she has more than 50 endorsements in this race, including support from McKinlay, the current county commissioner.
"I am honored for the support I have gotten in this race, which is pretty broad based," McGovern said. "I am really proud of all of the public service to the community I have done in the past, and I look forward to continuing to serve my community in the future as Palm Beach County's first Latina commissioner."
For more information about McGovern's campaign, visit www.votemichellemcgovern.com.
Sylvia Sharps — After growing up in Daytona Beach, Sharps moved to Palm Beach County in 2000. She is a resident of Royal Palm Beach who previously worked for the Palm Beach County Water Utilities Department as a grant writer.
"I have 31 years in public service and volunteering in the community," Sharps said. "I have worked in the federal government with two congress people. I am also a 30-year grant writer. I worked on the Lake Region Water Treatment Plant. It was my largest project. It was a $58 million project, and I successfully secured $33 million in funding."
During her six years working for the county, Sharps said she secured more than $100 million in grant funding.
"With my experience, I feel that I am more than qualified to be a great representative for District 6," she said. "I am also not allergic to learning."
Sharps said that being a county commissioner should not be about political connections, but rather serving the residents.
"People have to be considered when you are making decisions that will affect their lives," she said. "I know that people are frustrated because decisions are being made without their input."
Sharps also wants to work with young people to get them involved. "We have to be willing to let the baton go. That's why term limits are so important," she said. "I believe that I am not only the most qualified individual, I am the best choice for the residents."
Sharps added that she is a domestic violence survivor who works to support domestic violence victims through a nonprofit that she founded. She also works with a program that feeds the homeless in West Palm Beach. "I would like to see more county programs regarding domestic violence and homelessness," she said.
Key issues for Sharps are skyrocketing rents and the lack of affordable housing. She also is concerned about public safety and supports additional public transportation. "More transportation options are needed so that everybody doesn't have to drive to work," Sharps said. "We only have so much road space."
Over the next four years, she would like to add more programs to combat domestic violence and work with landlord and real estate associations to find a cure for rising rents. "We should be working with other counties that have already found solutions for those problems. It is not necessary to reinvent the wheel," Sharps said.
She looks to the Lake Region Treatment Plant project as her most important public work and is also proud of all the children that she has mentored. "My legacy is the children I have worked with who are now teachers in the community," Sharps said.
Managing growth is a key topic for the county, she said.
"We are growing as a county. Everybody is talking about the amount of people who are moving here, but nobody is talking about the empty houses and empty plaza, and utilizing those places as resources for homelessness," Sharps said.
Sharps previously ran for the Palm Beach County Commission in District 2 four years ago, losing the Democratic primary to Gregg Weiss, who is now the incumbent. She realizes that she is running this time in a race with two better-funded politicians. Nevertheless, she said she is a better choice for residents seeking change.
"Just because I do not have a lot of people giving me money, many do not take me seriously, but I am the 'Peopletician.' Don't elect the norm, try electing the unique, and that is me. Don't underestimate the power of the people's vote."
To learn more about Sharps' campaign, visit www.sylviasharps.com.
Matt Willhite — Willhite has been the area's representative in Tallahassee for the past six years. Prior to that, he served eight years on the Wellington Village Council. Married for 21 years to his wife Alexis, they have two teenage sons, Luke and Mark.
Willhite works as a captain with Palm Beach County Fire-Rescue.
"I am leaving Tallahassee one term early to run for this open seat," he said. "I have been a county employee almost 27 years. I'm at Station 20 in Wellington. My wife has worked for the county in the engineering department for 21 years. I think we know the county pretty well."
Willhite noted that he is the only veteran in the race.
"I served eight years as a Navy corpsman with a Marine unit," he said. "In 2008, I ran for the Wellington Village Council. I served as a vice mayor and councilman. We built an amazing array of buildings, and everything was done pay as you go, so we had no debt."
After leaving the council, he won a state house seat in 2016. He is currently on the Democratic leadership team. "I am fairly well engaged with the 42-member Democratic caucus," he said.
Willhite said he chose to run for the District 6 seat to continue his public service closer to home.
"My boys are now coming of age, and I wanted to be here to be closer to them," he said. "Having worked for the county 27 years, I am very excited to be running for this seat."
Regarding his top accomplishments, Willhite cited an array of laws that he worked to pass in Tallahassee.
"I passed a statewide workers' comp benefit for PTSD for all first responders," he said, adding that he has also worked to combat veteran suicide and help people get the prescription drugs they need.
He is also proud of working on gun safety legislation passed after the Parkland shooting.
"The Marjorie Stoneman Douglas bill was a forward-thinking gun law," he said. "Everyone has to be 21 to buy a gun in the State of Florida, and our red flag laws were included."
He called attention to items he supported for the local area.
"Wellington is the only municipality that has a fireworks restriction for its equestrian areas. I passed that several years ago, and now everyone wants it," he said. "I just got $25 million on the house side for the new Palm Beach State College dental school right here in Loxahatchee Groves."
He is proud of his work getting the Patriot Memorial built. "I spearheaded the building of the Patriot Memorial," Willhite said. "Now it is an amazing landmark for our community."
Key issues in this race include being tougher on gun violence and protecting children in schools.
"Protecting a woman's right to choose, and women's reproductive rights, is very important," he said. "I think housing and insurance issues is one of the biggest issues locally."
He said the county needs to do a better job keeping up with roads and drainage systems, as well as keeping up with the demand for water. Dealing with the housing crisis will be a key focus for Willhite.
"I hope to assist people with home affordability. Make affordable housing units available rather than just overdevelopment," he said. "Our farmers also need support because a lot of the food that goes on our table comes from right here in this district."
He is a supporter of "smart growth."
"We need to redevelop many things rather than developing. It's not always about the tax base, it's about the quality of life," he said.
Willhite stressed that his current campaign is not about money and endorsements.
"I have first responders supporting me, and I will take them any day over developers," he said. "I have been on the ballot seven times so far and been elected seven times. People obviously think that I have the best of intentions, and I look out for them. In the time that we are in, experience matters."
To learn more about Willhite's campaign, visit www.mattwillhite.com.