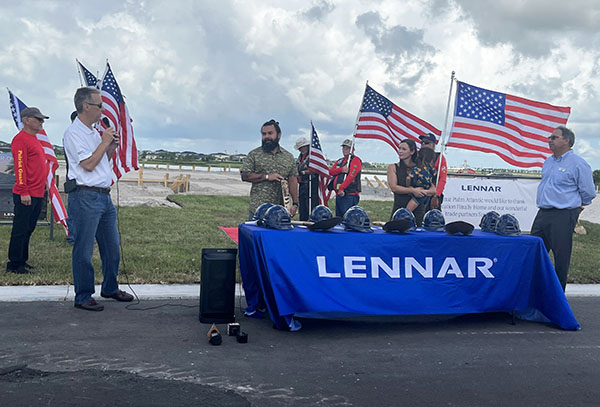 U.S. Army Staff Sgt. Jose Jimenez and his family, who have been living out of their RV, were surprised Thursday, July 21 with a life-changing gift: the news that they were selected by Operation Finally Home to receive a brand-new Lennar home at Arden, South Florida's first agrihood community.
"There are no words for what this means for me and my family, and how this will change our lives," Jimenez said. "We are grateful to Operation Finally Home and Lennar, as well as the Arden community for such a warm welcome. I am shocked and in awe."
Jimenez enlisted in the U.S. Army in October 2005. In 2010, while serving in Afghanistan, Jose suffered a traumatic brain injury, temporarily losing his sight and the ability to use his legs. Still, he remained dedicated to his platoon and returned to duty one month after the incident.
Jose met his wife, Alex, also a veteran, while they were both serving in Afghanistan. Drawn together by their service and shared friends, they got to know each other better while salmon fishing after they had returned to the U.S. They married in 2012 and have a young son. As a family, they enjoy outdoor activities, building helicopter and plane models, visiting beaches and parks, and playing miniature golf, among other activities.
Jose was honorably discharged in 2013 having served nearly eight years, including two combat deployments to Iraq and Afghanistan, and received countless other military awards, including a Purple Heart, two Army Good Conduct Medals, an Army Achievement Medal, an Afghanistan Campaign Medal with two campaign stars, and a Combat Action Medal.
Now, Lennar Palm Atlantic Division and the nonprofit Operation Finally Home have partnered to build hope and a stable future for Jose and his family.
"It was an honor to join with Lennar in surprising U.S. Army Staff Sgt. Jose Jimenez and his family with the news they had been selected to receive a new home," Operation Finally Home President Rusty Carroll said. "It is such a blessing for us to continue to honor America's heroes in this way."
Lennar Palm Atlantic Division President Michael Meyers agreed.
"It is an honor to be able to give back to such a deserving family for all of the sacrifices they have made to keep our communities safe," Meyers said. "We look forward to continuing to work with Operation Finally Home and the Jimenez family to make sure this is a home they can call their own."