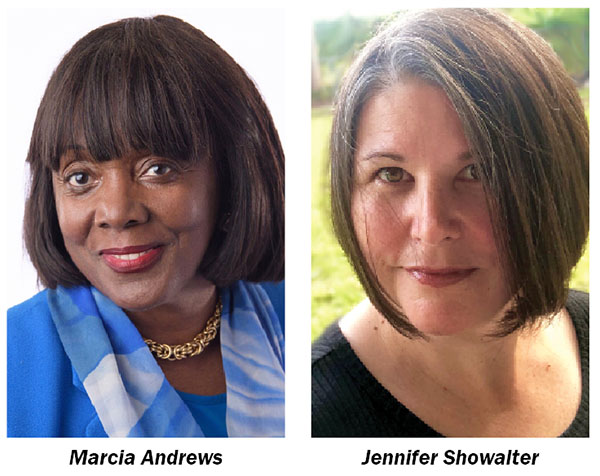 Palm Beach County School Board District 6 incumbent Marcia Andrews narrowly missed being elected outright during the Tuesday, Aug. 23 election. Missing the 50 percent mark by just over one percentage point, Andrews will advance to the November ballot along with Wellington parent activist Jennifer Showalter, who placed second.
In the five-way primary race, Andrews took 15,524 votes (48.7 percent), while Showalter took 5,756 votes (18.1 percent). Showalter edged out fellow parent activist Amanda Silvestri, who took 5,309 votes (16.7 percent), along with businessman Jeff Browning, who took 4,149 votes (13 percent), and schoolteacher V. Deanne Ewers, who took 1,123 votes (3.5 percent).
Andrews is not deterred by the upcoming round two of the race, and instead is thankful to the many people and organizations that have endorsed her, particularly groups like the classroom teachers and the bus drivers, and elected officials from Wellington and Royal Palm Beach, all the way out to the Glades.
"One thing I learned, and I already knew, is that when you have five people running, it is hard not to be in a runoff. It is very difficult," Andrews said. "I was really proud that I had almost 49 percent of the vote with that many candidates. Usually, it would not be that high. I was only a few points away from being elected. I felt really good that I might be able to do it, and I almost did."
Being on the school board throughout some unprecedented challenges adds to Andrews' background as an educational public servant, she said, offering a clear message for the families who rely on the school district.
"I want to make sure they know of my record of accomplishments over the years as a school board member, as well as an employee of the school district, as a teacher, assistant principal, principal, director of human resources and chief of human resources," Andrews said. "I have a cadre of experiences that help me be able to be on the ground and do the work that is necessary."
Moving forward, Andrews has a plan to get back out into the community she serves.
"I am going to be knocking on doors, introducing myself to people again who may not know the work that is being done by me, as well as the School District of Palm Beach County, with an emphasis on school safety as the No. 1 priority, unfinished learning from the pandemic, mental health, as well as improving academic achievement in reading and math," Andrews said. "I want to thank my constituents, parents and everybody in District 6 for having faith in me through the years. They know that I get the work done."
Learn more about Andrews at www.marciaandrewsforschoolboard.com.
Showalter expected a runoff in November and is ready to continue fighting for the seat.
"I was not surprised there is a runoff, as there were a lot of candidates, and the vote usually is fractured with so many options," she said. "We each had our own unique perspectives and backgrounds, yet were united on the foundational beliefs of accountability, communication, transparency and a return to common sense."
With only two candidates in the running now, having a focused message is important.
"Your child, your voice, your choice is not just my slogan, but it's what our school board needs to be founded on. The board represents the will of the people and should be respecting individual and parental rights," Showalter said. "School board races are always held in the primaries. If people wait until November, there's usually not a runoff, and so they miss their chance to have input. Fortunately, they do have a chance this November to restore our schools, so I'm asking for their support."
As a parent of children ranging from special needs to valedictorian, Showalter joined the race with passion and motivation from the start.
Getting to the November ballot is another step forward toward her larger goal.
"I confirmed that being a grassroots candidate is critical. My approach has always been focused on the individual voters and respecting their needs, meeting them where they are," Showalter said. "After knocking on thousands of doors, listening to students, parents and staff, taking notes on what each person had to say, it has simply reinforced the passion I have to make sure true representation is back on the school board. The people want to be heard, to be respected, and part of the decision-making process… as they should be."
For more information about Showalter's campaign, visit www.votejenpbsd.com.