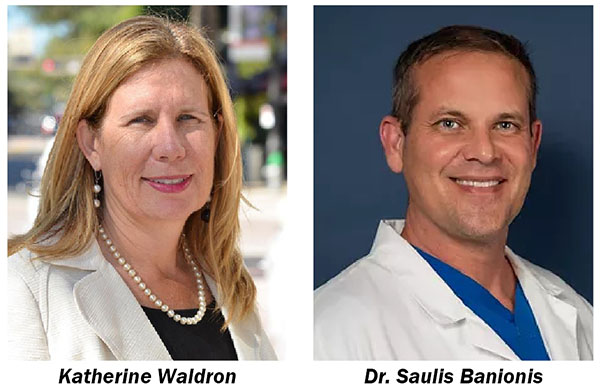 Current Port of Palm Beach Commissioner Katherine Waldron narrowly won a four-way Democratic primary on Tuesday, Aug. 23 to secure her party's nomination to represent central Palm Beach County in Tallahassee.
Waldron will now advance to the general election ballot for state representative in District 93, where she will face Republican nominee Dr. Saulis Banionis, who was unopposed for his party's nomination.
District 93 is an open seat that covers all of Wellington and Greenacres, as well as parts of suburban Lake Worth. The incumbent would have been State Rep. Matt Willhite, but he chose to run for the Palm Beach County Commission instead.
Waldron, who received 4,639 votes (31.2 percent), narrowly edged out Wellington community activist Shelly Albright, who garnered 4,490 votes (30.2 percent). Tom Valeo, a former Willhite staffer, took 4,137 votes (27.9 percent), and social worker Seth Densen finished with 1,591 votes (10.7 percent).
"I think that anybody who wants to run for office, it's great that they want to give back," Waldron said of her former opponents. "There were three good people I ran against, and I'm proud to be the winner… District 93 would've been well served by any of us."
Waldron ran an aggressive campaign, she said, knocking on doors, making phone calls, walking around neighborhoods, talking to people and working to learn as much as possible about each of the communities she seeks to represent.
"When you knock on more than 3,000 doors, you learn a lot about all the communities and what people are interested in," she said. "I'd like to continue that on the path to November and learn as much as I can so I can best represent the community and the district when I get to Tallahassee."
Her key campaign issues include human rights, women's rights, gun control, public schools, job security, good paying jobs, healthcare and maintaining the quality of life.
Looking toward November, Waldron is focusing on those issues.
"A lot of people all came here and live here because it's a great quality of life, but we have to preserve our quality of life… pay attention to it, and not take it for granted," she said. "It's our school system, it's out healthcare, it's our jobs, it's the environment, it's gun safety. So, I would like to focus on those things — the things that are important to our community going forward."
Learn more about Waldron's campaign at www.votekw.com.
As Banionis looks toward November, his campaign will continue to focus on his main theme: common sense. "These are very unusual and uncommon times," he said. "It's really about bringing common sense back to the government so that it's servicing the needs of the people."
One of his key points is working to fight inflation, since prices of housing, cars, groceries, milk and medicine are all increasing.
"One of the things I want to do is provide immediate relief for families, as well as small businesses," Banionis said. "And the way to do that is by providing tax relief. One of my targets is property tax. I think we can provide a boost for those small businesses, as well as families."
He also wants to focus on insurance reform and tort reform.
"Those are the things that are affecting so many different areas of society," Banionis said. "But if we are able to reform the insurance industry, or provide tort reform, this will really, in the long run, benefit every Floridian."
Additionally, Banionis would like to reform education. With students not having school supplies, and teachers purchasing them on their own, or fundraisers to provide children with the supplies they need, resources, he said, are being used poorly.
"There's no reason that in our community that these children shouldn't be able to have the resources that they need when they go to school to maximize their education," Banionis said. "Those are my top areas, providing relief for families and small businesses, and then bringing common sense back, and reforming education and parental right."
Learn more about his campaign at www.saulisbanionis.com.