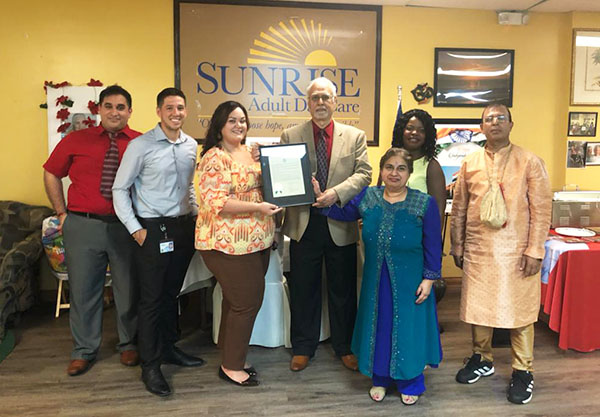 Kashmir Solidarity USA and the Indian American Festival Committee celebrated India's 75th Independence Day at a recent ceremony held in Greenacres. India Independence Day is celebrated every Aug. 15 to honor the day when India officially gained its independence from British rule.
Sandy Mistry welcomed the guests, including those from the mayor's office, such as Austin Lee, the public information officer for the City of Greenacres, and Greenacres Councilwoman Susy Díaz.
Díaz thanked Surinder Zutshi for his efforts and presented him with a proclamation from Mayor Joel Flores, which proclaimed Aug. 15 as India Independence Day, and also congratulated Zutshi for his work on bringing the Indian and American communities together. Zutshi thanked the mayor's office and said that he wanted America and India to continue to work together as the two largest democracies in the world.
Congressional Coordinator Neil Zutshi also spoke at the Independence Day celebration.
"India and America are similar in that they both are robust democracies, they both have their rule of law rooted in their respective constitutions, which guarantee freedoms for all people regardless of race, sex, creed or origin," he said. "Kashmir Solidarity USA salutes the President of the United States of America, Joe Biden, for his tremendous leadership in keeping America and the world safe in the successful military operation which took place on July 31, 2022, in which the al Qaeda leader Ayman al-Zawahiri, the world's most wanted terrorist, was killed."
He went on to thank Indian Prime Minister Narendra Modi for the tremendous job he has been doing to fight terrorism as well.
Surinder Zutshi has long worked toward promoting Indo-U.S. relations as a commissioner of human rights in Hudson County, New Jersey.
Surinder Zutshi along with Lee, Díaz and Mistry, raised the Indian flag on a 24-foot pole to fly the tricolor flag to celebrate the occasion. The flag raising was followed by an Indian lunch catered and served by Palace Cuisine of India.