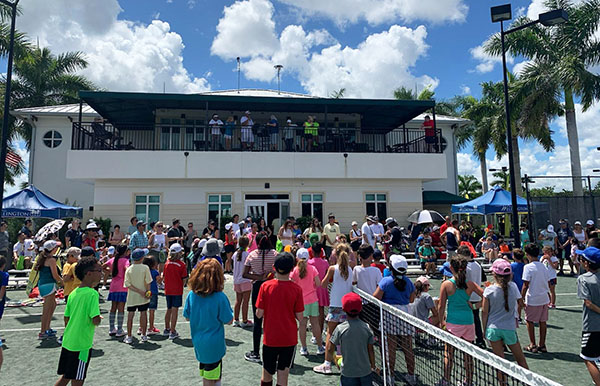 The Wellington Tennis Center held its first Junior Jamboree event on Saturday, Aug. 20, bringing out hundreds of youngsters interested in learning more about the game of tennis.
According to Chuck Gill, the Village of Wellington's director of tennis, more than 400 children and roughly 350 parents showed up for the two-hour event to sample youth tennis programs, meet area tennis pros, play some fun tennis games and win a few prizes.
What made the event so appealing to so many people was that it was free to attend. There was definitely a carnival-like atmosphere on the 15 tennis courts used to stage the jamboree. All the children who participated, ages 4 to 17, had smiles on their faces.
"It was a great day here at the Wellington Tennis Center," Gill said. "This is exactly the way to showcase the sport of tennis. We had a number of mini-courts on each court. We used tape, chairs, benches and portable nets to create the smaller courts."
If a child showed up without a tennis racquet, that was not a problem.
"We had 75 racquets that the children were able to borrow, so everybody had a racquet in their hands," said Grayson Griner, a junior tennis assistant at the Wellington Tennis Center.
On some of the courts, the fundamental skills necessary to play tennis were taught to the children.
"We're teaching the children how to move on the court, swing techniques and how to serve," said Javier Torres, another junior tennis assistant. "We also let them play a target practice drill with their tennis racquet."
To make it more fun to be attending the Junior Jamboree, a disc jockey was blasting music throughout the tennis complex. The event's main sponsors were Jamba Juice, which provided free samples, and the Wellington Tennis Center.