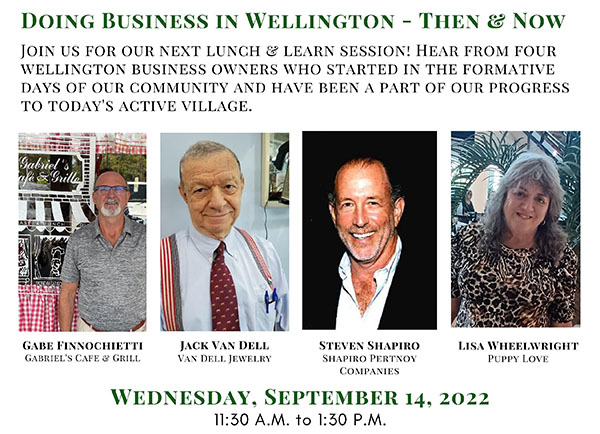 Wellington's pioneers included enterprising entrepreneurs who opened shops, restaurants and service operations in the village's formative days. Meet four of them who will talk about "Doing Business in Wellington: Then and Now" at the Wellington Historical Society's upcoming Lunch & Learn event on Wednesday, Sept. 14 at the Wellington Community Center, located at 12150 W. Forest Hill Blvd. in Wellington.
Each of the panelists have operated businesses in Wellington for decades and had a part in shaping Wellington's business community. The panelists are Gabe Finnochietti, owner of Gabriel's Café; Jack Van Dell, owner of Van Dell Jewelers; Steven Shapiro, co-owner of Shapiro Pertnoy Companies; and Lisa Wheelwright, owner of Puppy Love.
Finnochietti is the Gabe behind Gabriel's Café. Located in the Wellington Plaza at Forest Hill Blvd. and Wellington Trace, Gabriel's has been serving breakfast and lunch to community patrons for more than 30 years.
From that same shopping center, Wellington's oldest, another small business owner serves the community's canines at Puppy Love. Lisa Wheelwright, owner of Puppy Love Dog Grooming, has been pampering Wellington's canines for nearly 40 years.
It was polo that brought Jack Van Dell to Wellington, but jewelry made him a well-known name. A stroll through his shop shows the influence of Wellington's equestrian lifestyle with many pieces crafted with equestrian motifs.
In 1978, there were only a handful of homes in Wellington, but it became the home base of Shapiro Pertnoy Companies, the first single family builder in Wellington's Palm Beach Polo & Country Club. Since then, Steven Shapiro and partner Ron Pertnoy have been building luxury custom homes and equestrian estates for more than four decades.
Tickets are $25 for Wellington Historical Society members and $35 for non-members. It includes lunch catered by Agliolio. Visit www.wellingtonhistoricalsociety.org to purchase tickets.