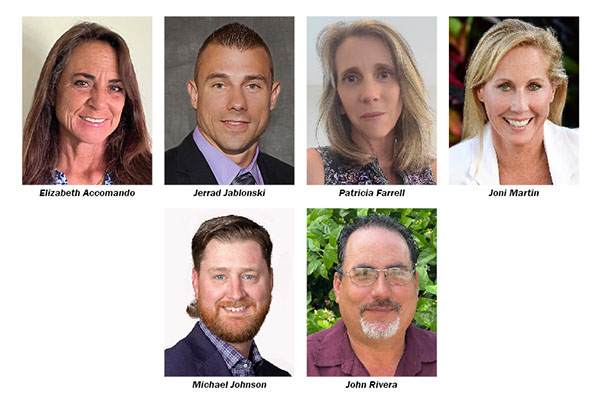 Three seats on the Indian Trail Improvement District Board of Supervisors will be contested in November. Primary elections last month advanced two candidates for each seat to the Nov. 8 general election.
Longtime Seat 1 Supervisor Jennifer Hager is retiring, and candidates Elizabeth Accomando and Jerrad Jablonski are facing off for the seat. In Seat 3, incumbent Supervisor Joni Martin faces a challenge from Patricia Farrell, while in Seat 5, incumbent ITID President Michael Johnson faces a challenge from John Rivera.
The Town-Crier offered each candidate the opportunity to share a statement in their own words about why he or she should serve a four-year term on the ITID board.
SEAT 1
Elizabeth Accomando
Accomando, a Carol Street resident, moved to Florida in 1991 and into the district in 2013. With a background as an insurance adjuster and business owner, she was a prime supporter of the push to activate her rural neighborhood of Santa Rosa Groves. She is founder and secretary/treasurer of the Barky Pines Animal Rescue & Sanctuary.
My pledge to the community if elected: I pledge to be diligent in my role as supervisor.
While I currently operate an animal rescue and sanctuary on a five-acre farm, I'm also self-employed for more than 35 years, therefore, being fully knowledgeable in business administration and an extensive understanding of the economy and its effects on both businesses and the consumer.
I pledge to continue to educate myself on the matters of the district. I have attended nearly every meeting for years, listening and learning the operations of the district, as well as its issues and limitations. I will continue working respectfully with staff as I have during the recent activation of Unit 20. I will continue to be a loud voice against matters that would affect us in a negative manner. Protecting our equestrian and agricultural rights is crucial.
As for incorporation — a supervisor does not afford an opinion on the matter, however, as a resident, I believe that our community is entitled to their right to vote, just like this election on Nov. 8. Candidates that comment they are against incorporation, are basically stating they are against your right to vote.
I will strongly advocate to keep our parks clean and safe, our roads traversable and protected, proper drainage and our water supply intact. I will vote that our tax dollars are spent wisely, working for us to the greatest good.
I respectfully ask for your vote on Nov. 8. Thank you for placing your trust in me.
Jerrad Jablonski
Jablonski, who lives on 61st Place North, grew up in the area and is the owner of Jabrewski's Pizza Company, founded in 2015, in the Acreage Shopping Center on Seminole Pratt Whitney Road, and manager of a valet parking company in West Palm Beach.
As stated before, I am all for keeping Loxahatchee the way it is, unincorporated. However, I do think it should be left up to the community as a whole to decide.
One of the issues I do feel strongly about in our community are the uses of our parks. We have plenty of them, and we should offer more things for our community to do other than baseball. Almost every park has a baseball field.
Also, we have organizations that utilize our parks and fields that do not contribute to any upkeep. This needs to change. Currently, ITID gets no financial assistance from these organizations that utilize our fields and parks. These organizations have registration fees and businesses that sponsor these leagues. They cover uniforms, equipment and such. A portion off these monies collected should be allocated toward maintenance from the wear and tear it causes.
Above all, I want what's best for our community, to keep things fair and honest.
SEAT 3
Patricia Farrell
Farrell, who lives on 87th Lane North, is part owner of KP Farrell Inc., an athletic training facility. She also manages a Palm Beach condominium building.
I am so excited to be a candidate for the Indian Trail Improvement District. I feel this is a great time for me to become such an integral part of our community.
My husband and I moved to Loxahatchee in 2003. We have raised four children out here. My family moved here to escape the fast pace and rapid growth in Broward County. We enjoy the slow pace that The Acreage provides, the community and the friends we have made along the way.
Since I decided to run for ITID Seat 3 in June, I have learned quite a bit about the community and how ITID works. If elected, I will ask questions, I will listen to suggestions from board members, ITID staff and community members, and I will do my due diligence when making a decision that affects our community. I am a team player and will work hard and with the utmost integrity.
Areas that I would like to be involved in are events, drainage and infrastructure. I feel community events give neighbors a chance to be with each other and to grow a close-knit community. I know first-hand how important it is that the drainage is fixed. I would like to be involved in resolving the issues with levees to prevent a repeat of 2012. I run or walk the local area for exercise and know that many sidewalks need to be tended to. I support the work that ITID staff members perform to keep our community safe.
Joni Martin
Martin, a Hall Blvd. resident, is a single mother who has lived in Florida for 20 years, the western communities for 12 years and the Indian Trail area for six. A makeup artist with a background in retail sales who studied radio and TV production in college, Martin is seeking her second term on the board.
As a current ITID board member for the last four years, I have learned so much and witnessed the challenges facing our agricultural/residential community firsthand. I would like to continue to use my experience and knowledge to ensure success for the Indian Trail Improvement District.
Our unique community of residents, many who moved here to enjoy more open space and freedom, are now being faced with large growth and development encroaching on us. The issues facing us are a direct result of this increased population, traffic and added inflation. As a district, we have had to work harder than ever before, and face uncharted territory. These changes have affected our bottom line and made it more challenging than ever to create a balanced budget to continue running efficiently.
As treasurer for the past three years, I have been faced with making hard choices and decisions. I want to keep our roads and infrastructure our top priority without overburdening our taxpayers by continuing upgrades to our roads with millings, replacing culverts where needed, clearing canals and enhancing road safety. Traffic calming will be added throughout the district, and we will continue to work with Palm Beach County for added four-way stops, an immediate need on our ever-busier roads.
It is my goal to be fiscally responsible and cut any unnecessary spending. I will continue to be accessible to our residents and concerned with the important needs of our community. I hope to continue serving as a voice of reason and good judgment on your behalf. Contact me at jmartin@indiantrail.com or (561) 701-0771.
SEAT 5
John Rivera
A Tangerine Blvd. resident, Rivera is president and owner of Sunshine Safe & Lock. A local equestrian activist, he previously ran for Seat 5 in 2018.
Being a resident of The Acreage for more than 24 years, I appreciate the lifestyle that makes our community so unique. Today, our lifestyle is under serious compromise from so many outside forces. Many special interest groups are attempting to incorporate The Acreage. I do not support incorporation and don't believe public funds should be used for studies. In regard to taxes, I will never support any increases.
I became a candidate to fight for the residents and for transparency that is so vital to healthy governance. Continued changing of the guard is essential to bring in new, fresh ideas and continued progress.
From drainage, roads maintenance and the parks, maintaining a government that is both efficient and serves the constituents of its community is crucial. I will promise each and every resident of The Acreage honesty, integrity and transparency, which are core principles.
Together we can make a difference in The Acreage that will be a benchmark for future generations to strive for.
Michael Johnson
A resident of 64th Place North, Johnson is a manager with TKM Bengard Farms, a large lettuce-grower in Belle Glade. Elected in 2018, he currently serves as ITID board president. He did not respond to invitations from the Town-Crier to share a statement with voters.