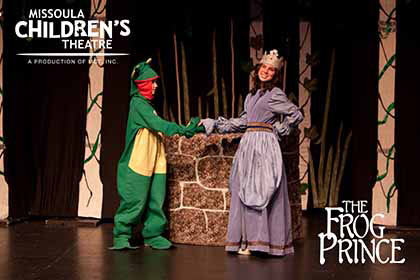 Deep in the royal swamp, a selfish princess makes a promise to befriend a lonely frog after he retrieves her golden ball from a well. But what happens when the princess tries every trick in the book to break her promise?
The local cast of The Frog Prince includes Conner Harper as Swamp Frog, Catherine Vazquez as the Castle Frog, Lleya Williams as Ollie the Aspen Tree, as well as Rae Shaw as promise-breaker Princess Prim. Her sisters Princess Proper and Princess Peppy are played by Emily Sanchez and Elyonna Padillo. Blair Stone, Curtis Edwards, Melanie Mendoza, Elizabeth Brunet play the roles of Bumbling Knights, Aubrey Burgis is featured as the Alligator, and Solana Sharpe, Abigail Smith, Chloe Wilkerson, Llogan Rogers, Kayleanna Bankhead and Trent Stone make up the slimy, yet kindly Swamp Things. Justyce Davis, Kennedy McKenzie, Hanely O'Farrill, Amelia Molina Rojas and Melanie Villalonga lead the way as the Ducks. Amalia Rojas as the Busy Fly tries to make a quick escape from the mischievous Venus Fly Traps played by Caleigh Cowley, Jetarian Davis and Isabella Mendoza.
The Frog Prince will be presented at 11 a.m. on Saturday, Oct. 8 at the Dolly Hand Cultural Arts Center at Palm Beach State College in Belle Glade. Tickets are $10 for adults and $6 for students under 12, and are available at the box office (561-993-1160) and online at www.dollyhand.org (service fees apply).