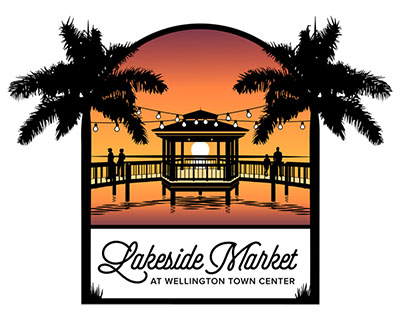 As the weather cools slightly, and the sun sets earlier, it's time to welcome back the local weekly green markets in Wellington and Royal Palm Beach.
Both markets are family-friendly, offer free parking and admission, and a great variety of vendors. Conveniently taking place on different days, the markets are easy to get to and offer a refreshing outdoor experience.
The Lakeside Market at Wellington Town Center is holding its opening day on Friday, Oct. 7, from 5 to 9 p.m. along the lakeside promenade. It will continue Friday evenings through the spring.
Heather Navarro, program coordinator for Wellington, is excited to share that the vendor list has been extended, which will include booths all along the promenade.
"We are going to have more than 45 vendors," she said.
Many vendors from last year are returning, and there are additional vendors adding to the mix. There will be food, artisans, crafters and everything in between for residents to explore.
Having the market at night, Navarro said, allows for great sunset views. Pontoon parking is back, she said, which was a big hit last year.
The market is rain or shine, pet friendly (with the request that you pick up after your pet), and there are kid-friendly vendors, along with the nearby Scott's Place Playground.
Throughout the season, there will be special events and activities at the market. On Oct. 7, 14, 21 and 28, as well as Nov. 4 and 11, there will be a drop-off bin for Wellington's Hometown Holiday Food Drive. A Pop-Up Biergarten event begins Oct. 21.
Updates about the market can be found at www.wellingtonlakesidemarket.com and www.facebook.com/wellingtonlakesidemarket.
Royal Palm Beach's Green Market and Bazaar, held lakeside near Village Hall, returns on Saturday, Oct. 15, from 9 a.m. to 1 p.m.
The Royal Palm Beach event is organized by Kathy Gilbert, market manager and owner of POTTC Events. The market will take place on Saturdays from Oct. 15 through April 29, with the exception of Thanksgiving, Christmas and New Year's weekends.
The market takes place on the southeast corner of Okeechobee and Royal Palm Beach boulevards. It will be held rain or shine, and leashed pets are allowed.
Many of the same favorite vendors, Gilbert said, will be returning, as well as some new ones.
Fresh produce, fish, teas, honey, baked goods, beef jerky, cheeses, fresh guacamole and salsa, clothing, jewelry, artwork, pet treats, art & crafts, plant vendors and more are going to be at the market.
And there's more room for any interested vendors.
"We do accept vendors throughout the season," Gilbert said. "We're always happy to talk with any vendor who would like to come out."
The market, she said, is seasonal because of the weather, and she's looking forward to seeing familiar faces as they come out to support the vendors.
"We're getting ready for the season opening," she said.
Updates on the market can be found at www.rpbgreenmarket.com and www.facebook.com/rpbgreenmarket.