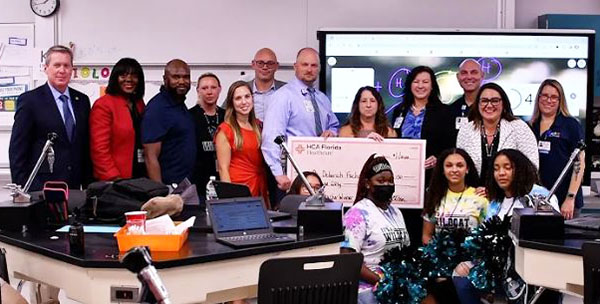 HCA Florida Palms West Hospital, along with its sister hospitals in Palm Beach County, HCA Florida JFK Hospital and HCA Florida JFK Hospital North, are proud to sponsor the School District of Palm Beach County's Thank a Teacher program.
In its fourth year, Thank a Teacher encourages parents and students to nominate teachers for their dedication to teaching and the impact they are making on their students.
Each week, a deserving educator is surprised in their classroom with special recognition and a $150 prize. For the program's kickoff this year, HCA Florida Palms West Hospital's senior leadership team joined School Superintendent Mike Burke and School Board Member Marcia Andrews, along with Principal Michelle Fleming, to surprise Royal Palm Beach High School medical academy teacher Dr. Deborah Fuchs on her nomination.
"You are building the next generation of our healthcare workforce," Palms West Hospital CEO Jason Kimbrell told Fuchs as he presented her the award. Fuchs is in her 15th year of teaching at the school.
The year-long Thank a Teacher program continues with weekly recognitions. To learn more about the winners or to nominate an outstanding educator, visit www.palmbeachschools.org/thankateacher.