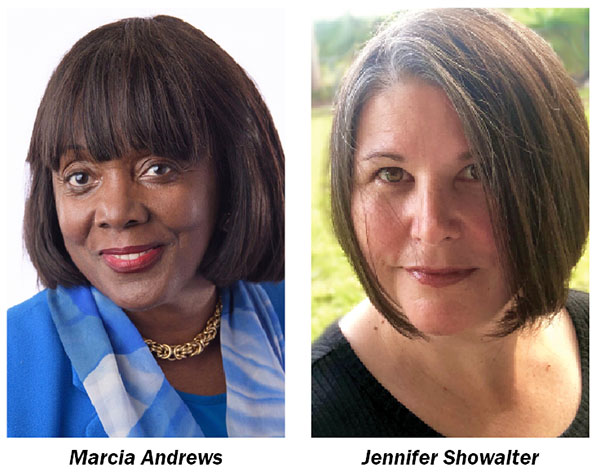 Three-term incumbent Marcia Andrews faces a challenge from Wellington mother and education activist Jennifer Showalter in the race for Palm Beach County School Board in District 6.
Andrews and Showalter advanced from a five-way race during the August primary, which saw Andrews take 48.7 percent of the vote, narrowly missing the 50 percent mark to win the race outright.
Showalter, a longtime advocate for students with special needs, has been a leading critic of the current school board for the past several years. She finished ahead of three other challengers, garnering 18.1 percent of the vote in the primary.
District 6 includes most of the western communities and the Glades.
Marcia Andrews — A graduate from Palm Beach County schools, Andrews was elected to the board in 2010 after a long career as a teacher and administrator with the school district.
"I have been a classroom teacher and a principal and the chief of human resources," she explained. "I have been someone who has hired teachers, so I am truly someone who understands what happens in the classroom, as well as in the school district."
Andrews, who previously lived in Wellington and now lives in Royal Palm Beach, said that she is seeking another four-year term because she has unfinished work to do.
"Due to the pandemic, we have unfinished learning," Andrews said. "Even though we are an A-rated district, we still have children who will need a lot of help. Some fell behind, and we need to catch them up. Meanwhile, mental health issues are at a crisis level with some of our children. Even though we have mental health professionals in every school, it remains a priority."
She said that school safety is her top issue.
"After the Parkland tragedy, we know that safety is the No. 1 issue," Andrews said. "I am working closely with our school police and superintendent to make our schools as safe as possible."
This includes using technology to make schools safer.
"Students can't learn and be academically successful if they don't feel safe," she said, noting that continuing the school district's special levy, which is also on the general election ballot, will help with school safety. "Hopefully, the voters will support the referendum."
As the general election nears, Andrews has been visiting homes and speaking to residents whenever possible. "The best way to get my stakeholders involved with who I am is to see them face to face," Andrews said. "I am going to as many activities as I can."
On the campaign trail, she focuses on her key issues of school safety and mental health.
"With the way of our world today, our students need social and emotional wellness so they can do well in the classroom," Andrews said. "I would like to see pre-kindergarten programs in every school in Palm Beach County, so we can begin to work with our students earlier."
The end goal is getting students college and career ready.
"I always ask students about their career goals," Andrews said. "We ask that at an early level to get them in the advanced classes they need. We have to get those babies ready before they actually get to the school door, ready to read."
For middle school students, she wants to encourage more use of choice academies, so that by the time they get to high school, they have more direction with where they want to go after graduation.
"I graduated from the Palm Beach County School District with some goals, and I want to help them get there as well," Andrews said.
Andrews also wants to see the school district work closely with some of the subgroups that lag behind in Palm Beach County.
"We want to make sure we continue to inspire and educate them, and affirm them in what they want to be," she said, noting the need for more technical programs and career academies, as well as more International Baccalaureate and Advanced Placement programs. "I do a lot of on-the-ground work with the schools. We need to track students from elementary to middle to high school to make sure they are on the track to college or a career, so we don't lose children as we move forward."
Andrews is supportive of Superintendent Mike Burke, who has been on the job just over a year.
"I think he has been doing a great job. I think we had a diamond in the rough right here in Palm Beach County," Andrews said. "He started working for us in finance and worked all the way up to CFO. He really knows the finances. I really love that he enjoys being superintendent, on the ground and in the schools."
Andrews would like to see more parental involvement, above and beyond existing PTA and SAC groups. "We have got to find a way to get even more parental involvement," she said, suggesting more emphasis on board members and principals going out into the community.
As election day approaches, Andrews focuses her message on experience.
"I would like voters to know that I am someone who is already on the ground," she said. "I know about the classroom. I am the one with professional experience, with 35 years of experience in the district. I can do the work. I have been part of developing and implementing the policies. I have seen that, and done that, and I am ready to expand that to even another level of success for our students."
Learn more about Andrews at www.marciaandrewsforschoolboard.com.
Jennifer Showalter — Showalter believes that she has the right experience that the current school board is missing.
"I have a unique perspective as a mother of a valedictorian, and I have two special-needs sons who are twice gifted," she said. "I am a 16-year veteran as a special-needs education advocate. I am the daughter, sister and best friend to multiple schoolteachers, and I have two decades of professional communications experience. This all leads to a well-rounded viewpoint and skills needed to effectively do this job."
Showalter noted that she has been attending and speaking at school board meetings for more than two years.
"I saw what the school board was doing and saying, which was unacceptable," she said, particularly annoyed by the strict rules put in place that Showalter believes were used to limit public input and stifle dissent. "That's not American, and that's not how you treat the community."
Through her own research, Showalter said that she found out that the school district's statistics are being manipulated to make things look better than they are.
"What I found was very disturbing," she said. "I found that the majority of our high schools are failing reading or math, but they have an A grade. Teachers have told me that they are being forced to move these students forward, and that is a grave disservice to these students."
She also called attention to the recent grand jury investigation that showed how the district was violating state law in multiple areas, refusing to follow mandates and wasting money by hiring outside security firms.
"They were voted non-compliant twice by the state board of education," Showalter said. "We need to have a board that follows the rule of law. How are you going to expect children to follow rules if the school board is not willing to do the same?"
During her campaign, Showalter has been actively reaching out to voters, taking notes on their concerns. "I have been continuing to reach out to people, walk the neighborhoods and listen to their concerns," she said.
Her key campaign themes are transparency, communications and accountability.
"As a mom of special-needs children and an advocate for special needs, I want to focus on the IEP and 504 system," Showalter said. "As a mother whose two children were bullied in school, I am also aware of the rampant bullying that happens in our schools, K-12. As a friend of school resource officers and the PBSO, I am concerned about the refusal to follow state law in regard to school safety, and that we don't have equipment and training to work in conjunction with the PBSO."
She added that she has been endorsed by the Palm Beach County Police Benevolent Association. "They know that I want to work with them as professionals to create better solutions," Showalter said.
She said that the school district needs a clean break from the past, not continuing to work with the same contracts and vendors.
"We need a fresh approach, and we need to work together," Showalter said. "I want to have town halls at a local high school, where everyone can meet. We need students, parents, staff, officers and the community to take a full 360-degree look at an issue in order to fully identify the root cause and work together to come up with a solution."
Showalter is critical of the work Burke has been doing as superintendent.
"I think our superintendent has areas of concern, including how he treats constituents," she said. "When he said, 'send guns, lawyers and money' in regard to dealing with concerned parents, that was a red flag. We need to make sure that we have leadership that will follow the rule of law and be respectful to the community."
Showalter said that the district as a whole needs to start identifying the root causes of problems to create effective solutions.
"I do think the situation is like a ball of holiday lights," she said. "You can't just work on one thing. You have to work on loosening the entire ball. You're going to have to tackle multiple issues at once in order to even finish one item."
Her message to voters is that the district needs major changes.
"The definition of insanity is doing the same thing over and over and expecting a different result. We have had 12 years of the same, and it is time for a fresh perspective," Showalter said. "As the mother of a current public school student, I have skin in the game. As a special-needs advocate, I am acutely aware of our special-needs community. As a mother of two special-needs students, I understand the frustration that many parents go through."
Learn more about Showalter at www.votejenpbsd.com.