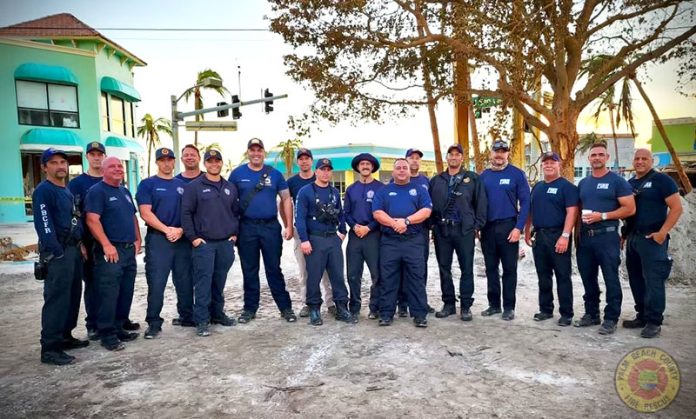 Barely more than 24 hours after Hurricane Ian turned the Fort Myers Beach Pier from one of the area's Top 10 attractions to a ragged skeleton, Westlake Councilman Julian Martinez found himself living in a tent at the foot of its shattered pilings.
When Martinez is not helping to run Palm Beach County's newest municipality, he is a driver/operator with Palm Beach County Fire-Rescue working with a hazardous materials team as part of a special operations unit housed at Station 34 on Benoist Farms Road near Southern Blvd.
Though a South Florida native who grew up in Broward County, Martinez, 34, said he'd never seen anything like the destruction wrought by Ian, which made landfall near Fort Myers as a Category 4 storm packing 150 mph winds that pushed ashore an 18-foot tidal surge in some places.
"When we were driving through, I was in awe," he said this week. "Huge boats were just there on the side of the road… It looked like the area had been hit by a 30-mile-wide tornado."
It is not something he will ever forget.
"It was shocking. Heartbreaking, really," he said, recalling the conditions of the community's downtown. "Everyone's livelihood was just washed away."
Martinez was one of eight PBCFR special operations personnel who deployed Sept. 27 as part of the Federal Emergency Management Administration (FEMA) Task Force 2 Hazmat Regional Response Team. They were joined by personnel with different specialties from the West Palm Beach and Boca Raton fire departments.
With Ian originally projected to come ashore near Tampa, Martinez's team was sent to an Orlando staging area. When Ian slammed into southwest Florida, they were directed to load up in their PBCFR hazmat vehicle, fire engine, rescue ambulance, 3,000-gallon water tanker truck and a couple of heavy-duty pickups, and head 175 miles south to Fort Myers Beach.
When the Palm Beach County team arrived at the foot of the pier, Martinez said he got a different kind of surprise during this, his first deployment to the site of a major disaster. Other personnel from Task Force 2, which is headed by the City of Miami Fire-Rescue Department, already were on hand setting of military-grade tents and everything else from kitchen facilities to generators to portable toilets needed to sustain a large contingent of rescue workers.
The efficiency and speed with which a completely self-sufficient tent city went up was mind-blowing, he said.
Task Force 2 is made up of approximately 250 personnel from 27 agencies, according to the FEMA web site.
The main assignment for Martinez's hazmat team was dealing with gas leaks from broken lines, large propane tanks and other types of potentially explosive chemical compounds. Dangerous work, no doubt, but Martinez said he loves being part of such a team — calling it the "next level of firefighting."
Martinez said that as his team went about its work, there was little interaction with residents or business owners because access to the area was still tightly restricted. With debris of all kinds piled on the sides of roads to clear the way for rescue vehicles, the smell of rotting food permeated the air. He said he was not struck by the silence of a wrecked city without electricity, but by the lack of quiet with big machinery running day and night as rescue and then recovery efforts continued.
In the end, more than 75 people in the Fort Myers-Port Charlotte area died in Ian, mostly from drowning in the massive surge that rushed out of the Gulf of Mexico and up San Carlos Bay.
Martinez's team returned home Oct. 9.
"There's something to be learned from every situation," said Martinez, a Westlake resident since 2018 and a councilman since March. But in terms of what specific knowledge he can bring back to the Westlake council chambers from Ian's destruction, Martinez said that the terrain in Fort Myers is very different from that of his community, which is some 15 miles inland from the Atlantic Ocean and about 25 miles from Lake Okeechobee — the largest body of freshwater in the United States outside the Great Lakes. It's 467,000 acres constrained by the Herbert Hoover Dike.
"I would just hope that if an evacuation order is given, residents would follow it," he said, while noting that the sort of catastrophic storm surge seen in Fort Myers Beach would be highly unlikely in Westlake.
On the other hand, "I haven't calculated exactly what would happen if the Okeechobee levee were to break," he said.