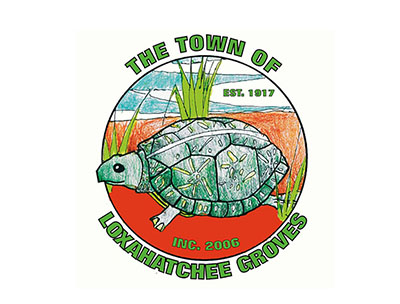 After several months of negotiations, the Loxahatchee Groves Town Council approved a three-year contract with new Town Manager Francine Ramaglia on Tuesday, Oct. 4.
Ramaglia served as the assistant town manager for several years and was the unanimous choice of the council to replace former Town Manager Jaime Titcomb, who left earlier this year.
The contract was presented by human resources attorney Lara Donlon.
"Since you selected Ms. Ramaglia at the June 21 meeting, we have worked with each of you, as well as Ms. Ramaglia, to bring forward a proposed agreement that will address her employment as town manager," Donlon said.
The contract is effective from Oct. 5, 2022, through Sept. 30, 2025, with a base salary of $133,500. The council could approve an increase specifically to the manager's salary at any time. However, if a cost-of-living increase is granted to all town employees by the council, the manager would be included in that.
While the base salary is a lot for the Town of Loxahatchee Groves, Councilwoman Phillis Maniglia reminded the council that it is on the low end of municipal managers in general.
"I think Francine is being very kind to Loxahatchee Groves," she said.
Councilwoman Marianne Miles noted that the original base salary on job listing was $90,000 to $125,000, and that is not inclusive of benefits.
"All the benefits included is not what is being proposed by the contract, it is much more," said Miles, who was irritated by the process and said she had some issues with the final product.
Vice Mayor Laura Danowski said she was initially skeptical of the salary request, which is slightly higher than Titcomb's, but she has been impressed by the work Ramaglia has done thus far.
"She has worked without a net for four months, and she has gotten things done," Danowski said.
Danowski added that there were a number of meetings held with each council member on this contract.
"Francine is the best choice for us. To have started over with an outside manager would have been a train wreck," she said. "I do agree that this salary and package are kind of stretching the town's affordability, but by God, she's worth it."
Mayor Robert Shorr said he would not have approved this contract back in June.
"I feel fortunate that she has had these few months to prove herself," he said. "She has eliminated two positions at town hall, saving us tons of money."
Maniglia made a motion to approve the contract, seconded by Councilwoman Marge Herzog, which was approved unanimously.
In other business:
• The council approved an overtime work request for the Lockhart Storage construction site at 14711 Southern Blvd., but not before demanding that the construction traffic stop using Tangerine Drive and access the site from Southern. The construction site is between the Loxahatchee AG Market and the Shell gas station.
The construction agreement sets the hours allowed for work at the site, but Brickell Group Construction asked for temporary overnight work on several dates in October and November to allow concrete trucks to pour concrete during the hours of 2 to 7 a.m. For each overnight work, Brickell will submit a 72-hour overtime work notice to the building department and inform neighbors of the property.
Project Manager Carlos Izquierdo addressed the council regarding the request.
"The time will be used to pour concrete, which requires many trucks," he said, explaining that the goal is to avoid disturbing traffic on the local roads, particularly Tangerine, where the trucks will be going in and out.
During public comments, resident Paul Coleman said just informing the neighbors is not enough.
"There is more than one family that is impacted by this," he said. "Those concrete trucks are not quiet."
The council, however, was more concerned about why the trucks were coming in through Tangerine.
"Why are you not coming off Southern?" Maniglia asked. "Tangerine is not equipped to handle those huge trucks."
"We were instructed by the building department to have everything in and out for the construction on Tangerine," Izquierdo replied.
Maniglia was not happy with that.
"I don't understand this," she said. "Tangerine is going to be a mess by the time those concrete trucks go in and out of it."
Izquierdo noted that there is not actually an entrance from Southern to the property right now. "You would have to go over a sidewalk, and we were told not to go over that with trucks," he said.
Danowski also did not favor access from Tangerine.
"One of the specific approvals of this plan was that there is to be zero in and out from this facility on Tangerine," she said.
Izquierdo said that his company would use Southern Blvd. if they're allowed to.
Once completed, access to the site will be through a connection with the AG Market.
"Why didn't you put that connection in now, so you don't have to go over the sidewalk?" Shorr asked. "I don't support using Tangerine."
The overnight work request was approved unanimously, but the trucks will be required to use Southern, not Tangerine, for access.
• The council considered two ballot questions to be placed before voters during the municipal election next March, deciding to move forward with one of them and rejecting another.
The first is similar to a ballot question that was rejected last year, that would allow the mayor to be the sole council representative signing ordinances and resolutions. It fixes the previous wording to clarify that the mayor can only sign the documents after they have been approved by the council, and that it is only a ministerial act. The change would streamline the process and not require additional trips by council members to town hall.
Maniglia opposed the referendum because she feels it is unnecessary and comes too soon after the previous version was rejected. "This gives the appearance of a strong mayor," she said.
The referendum was approved 3-2 with Danowski and Maniglia opposed.
The second would have allowed the town to purchase big-ticket items over more than three years. The charter currently places a hard cap of 36 months on loan repayment terms and requires any longer terms to win public approval at the ballot box. The council members, however, did not support the idea and rejected the proposed referendum unanimously.