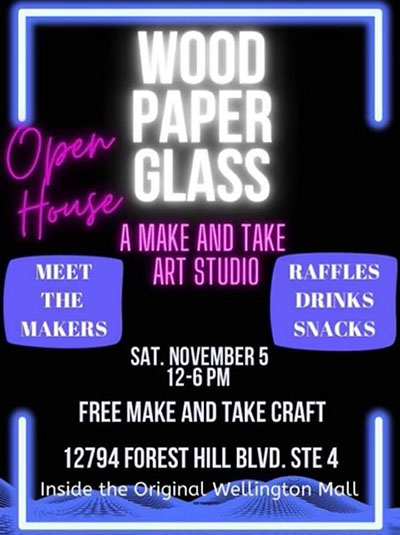 Wood, Paper, Glass, a "make-and-take" art studio, recently opened its doors in the original Wellington Mall.
Customers can register online and in person from a variety of sessions, including jewelry making, stained glass, wood décor, paper crafts and more. They can try something new, pursue a hobby or just indulge in a fun day or night out. Tools and supplies are included with every class.
The target audience is any person age 9 to 99 who is interested in learning, creating and making an art or skill. They also cater to home school groups, scouts, mommy and me groups, girls' night out and anyone in between.
Wood, Paper, Glass will host an open house on Saturday, Nov. 5 from noon to 5 p.m. with free make-and-take crafts, raffles, drink and snacks. The public is invited to stop by at 12794 W. Forest Hill Blvd., Suite 4 in Wellington.