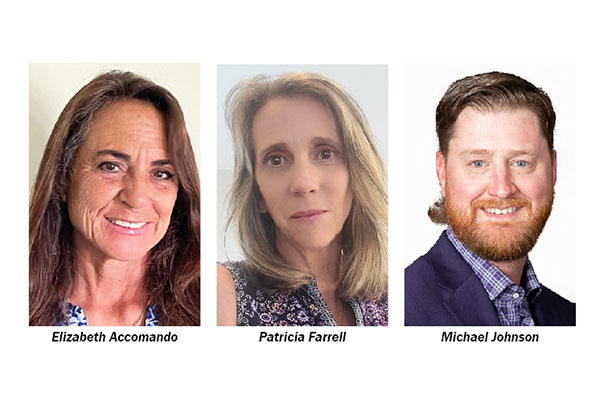 Two new members of the Indian Trail Improvement District Board of Supervisors will be seated at the Wednesday, Dec. 7 meeting, following the results of the Tuesday, Nov. 8 general election.
In the race for Seat 1, Elizabeth Accomando defeated Jerrad Jablonski. Accomando received 8,890 votes (55.12 percent) to Jablonski's 7,238 votes (44.88 percent). The seat was vacant due to the retirement of longtime Supervisor Jennifer Hager.
In the race for Seat 3, Patricia Farrell defeated incumbent Supervisor Joni Martin. Farrell took 8,199 votes (51.13 percent) to Martin's 7,836 votes (48.87 percent).
In the race for Seat 5, incumbent Supervisor Michael Johnson, who currently serves as the board's president, defeated John Rivera to win a second four-year term. Johnson received 8,711 votes (54.90 percent) to Rivera's 7,157 votes (45.10 percent).
Accomando, a Carol Street resident who has been active in the Acreage Landowners' Association, said she believed the difference in her race was residents doing their research and seeing what she could offer to the community.
"I'm not a politician. I'm Elizabeth," she said. "I'm not going to change my thoughts or opinions to get votes or be popular. Everyone is important. Every single vote was important."
Accomando, who has lived in the area since 2013, said she would love to see the community retain its rural feel, but "some hard decisions are going to have to be made."
Though Jablonski grew up in the area and operates a local business, he said that it was difficult to overcome Accomando's name recognition as founder of the well-known Barky Pines Animal Rescue & Sanctuary.
Accomando "has a big footprint in the community," said Jablonski, a resident of 61st Place North and a first-time candidate.
He also said he made mistakes in his early filings with the Palm Beach County Supervisor of Elections that did not allow him to collect adonations or spend on campaign materials.
"I was unable to really campaign," he said. "I don't do social media… My campaign was almost all word of mouth. It was a learning experience."
Jablonski said he wants to stay involved in the community and that he would consider another run.
Farrell, another first-time candidate, said, "I'm a bit shocked… [but] I'm happy for sure."
An active social media presence, a good reputation within the community and some creative campaigning at the annual Citrus Grove trunk-or-treat were the keys to her win, said Farrell, who lives on 87th Lane North. She and her supporters applied campaign stickers to hundreds of lollipops and passed them out at the Halloween event.
Farrell, who is part owner of KP Farrell Inc., an athletic training facility in Royal Palm Beach, said the rest of her strategy was to shake a lot of hands, meet a lot of people and "let them see me being me."
She also said that she believed her willingness to take a straightforward stand on the district's most controversial issue — incorporation — was a plus. "I didn't shy away," she said. "The more I talked to people, they're open to talking about it."
While all three races were dominated by early voting and vote by mail, a particularly strong election day vote for Farrell was crucial in the district's closest race. She topped Martin by 476 votes (2,866 to 2,390) after Martin showed strength among mail-in voters, winning that group by 492 votes (2,511 to 2,019). Farrell carried early voters 3,314 to 2,935.
Martin, a Hall Blvd. resident who was seeking her second term, wished Farrell the best of luck.
"Pattie is a nice lady. I wish her well. I wish them all well," Martin said. "I really appreciate the outpouring of support I got from the community. It was honor to serve."
While Martin said she continues to "care deeply about all the residents of the community," it is unlikely she will seek public office again in the district.
Johnson, a resident of 64th Place North, did not respond to requests for comment.
Rivera, a Tangerine Blvd. resident who previously ran for the board in 2018, said he was disappointed in voter turnout. He said he considered sending a mailer to ITID residents but opted against it, and that may have cost him.
"I wish good luck to [Johnson]," he said. "I hope the supervisors do the things that are important to the community. Who knows? In two years, maybe I'll try again."